Seven Reasons to Renew your Vegan Society membership

As a registered charity, the continued support of our members is especially important to us. We are grateful to everyone who joins or renews as a member as this contribution supports our vital work. Renew your membership in just a few quick and simple steps to continue to receive membership benefits, including exclusive access to our quarterly magazine The Vegan, access to our in-house dietitians and a variety of discounts.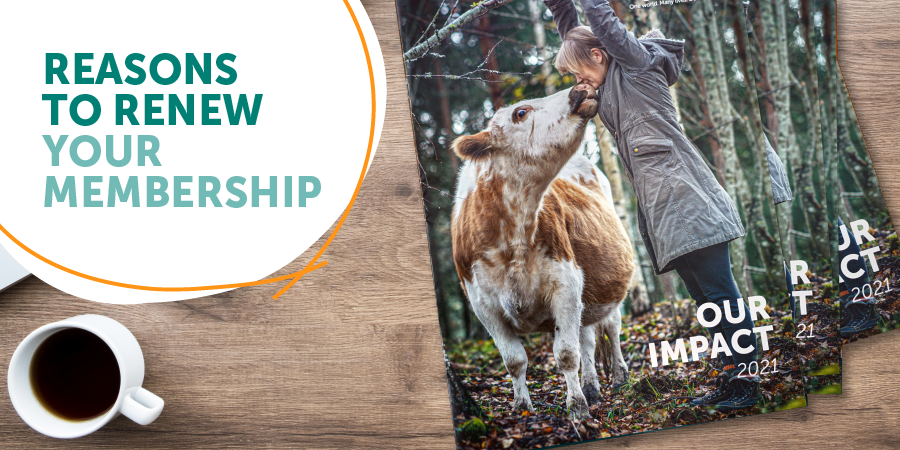 1. Support The Vegan Society to protect and further the rights of vegans.

Our International Rights Network works hard to raise awareness of the legal recognition of veganism and how vegans are accommodated for under terms and legislation.
For example, following several years of effective campaigning by The Vegan Society with its Play Fair with Plant Milk campaign the Scottish Government has agreed to include plant-based milk alternatives on a government-funded nursery and early learning milk scheme. You can find out more information by visiting our International Rights Network page.
2. Save money and receive over 100 third-party discounts

We pass on discounts to our members to use across a variety of stores and services. These range from food, books, beauty products, holidays and more.
3.  Receive 10% off VEG 1

VEG 1 is our own nutritional supplement that has been carefully formulated by vegans for vegans. It contains the essential vitamins we need such as vitamin B12, vitamin D, iodine and selenium. You will continue to receive 10% off VEG 1 from our online shop when you renew your membership.
4. Get exclusive advice and guidance from our in-house dietitians

Our fantastic in-house dietitians are at hand with the latest advice and guidance for members to get the most out of a vegan plant-based diet. Discover recipes and tips on how to prepare delicious vegan meals that meet your nutritional needs.
5. Exclusive access to our quarterly magazine, The Vegan

By renewing you will continue to receive our award-winning membership magazine, The Vegan. A digital copy is available online to all members and our paper-based members will also receive a physical copy.
6. Have your say on The Vegan Society at our AGM

The Vegan Society's AGM is the perfect opportunity to have your say as a member and get involved. We will give an overview of the year for The Vegan Society, you can help to select our Council of Trustees and raise and vote on important issues that will impact the society. 
7. Stay up to date with our monthly newsletter

Our newsletter subscription will keep you updated with the latest news from The Vegan Society as well as offer member-exclusive competitions and content
How do I renew?

Renewing is quick and easy with just a few simple steps. You will need to login to your Members' Area to confirm the membership options that are right for you and complete our form. You will then be able to either set up a Direct Debit or pay for your membership in full.
I am not already registered, how do I become a member?

You can join today by completing our quick and simple online form. As a registered charity we rely on our members, and we are so grateful to everyone who supports us. For just £2 a month, your membership will go towards helping us to spread the word of veganism and create a world where animals are free to exist in their own right.