Our policy work

The Vegan Society's Campaigns and Policy team works with policymakers on issues including sustainable agriculture, climate change, and public sector provision.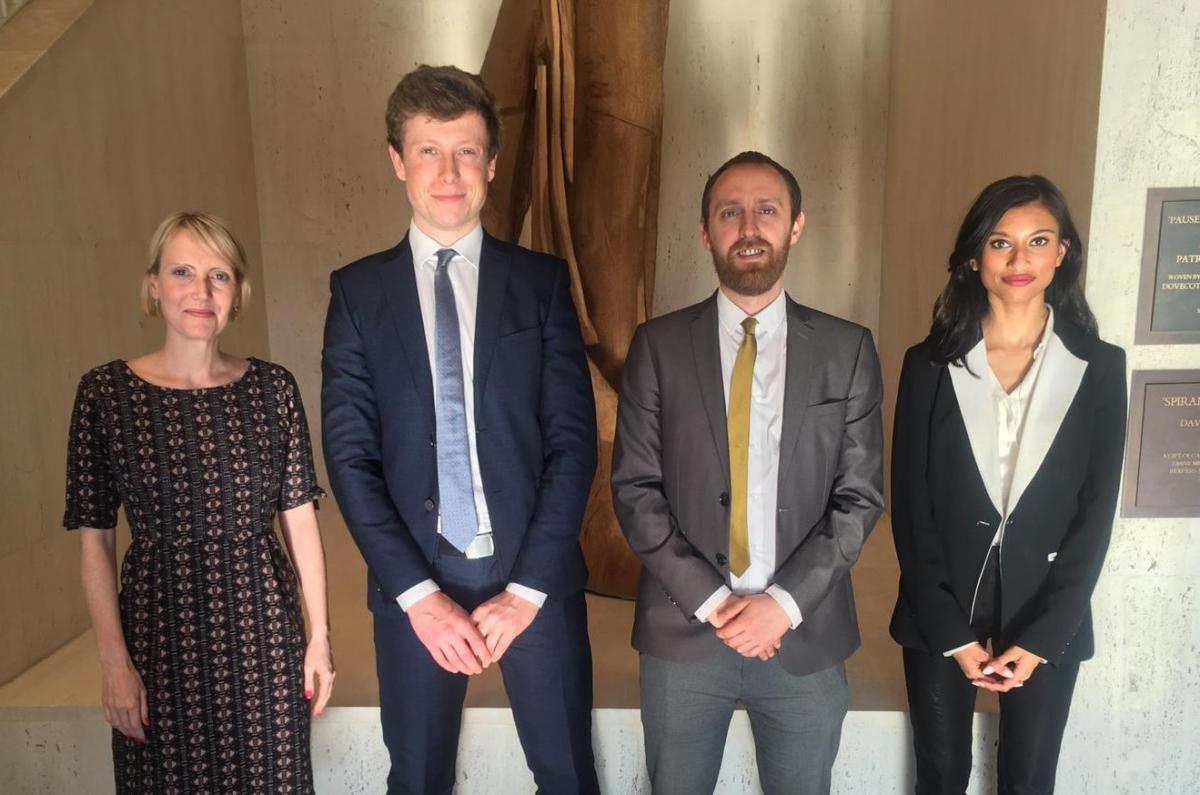 In particular, our policy work currently focusses on:
Encouraging more vegan provision in public-sector institutions
Securing more support for plant protein crop production
Measures to protect the legal rights of vegans
All-Party Parliamentary Group (APPG) on Vegetarianism and Veganism

The Vegan Society sponsors this parliamentary group along with V for Life. We bring guest speakers to parliament to discuss a range of issues including institutional catering provision, veganism as a protected belief, the impact of diet on climate change, and product labelling.
The Group's Officers are:
Christina Rees MP
Kerry McCarthy MP
Henry Smith MP
Baroness Jenny Jones of Moulscoomb
Darren Jones MP
Get involved: see the APPG's website here.
Our latest APPG meeting saw parliamentarians of all stripes sample vegan food and drink to celebrate Veganuary; speeches were delivered by actors Paul Higgins and Peter Egan.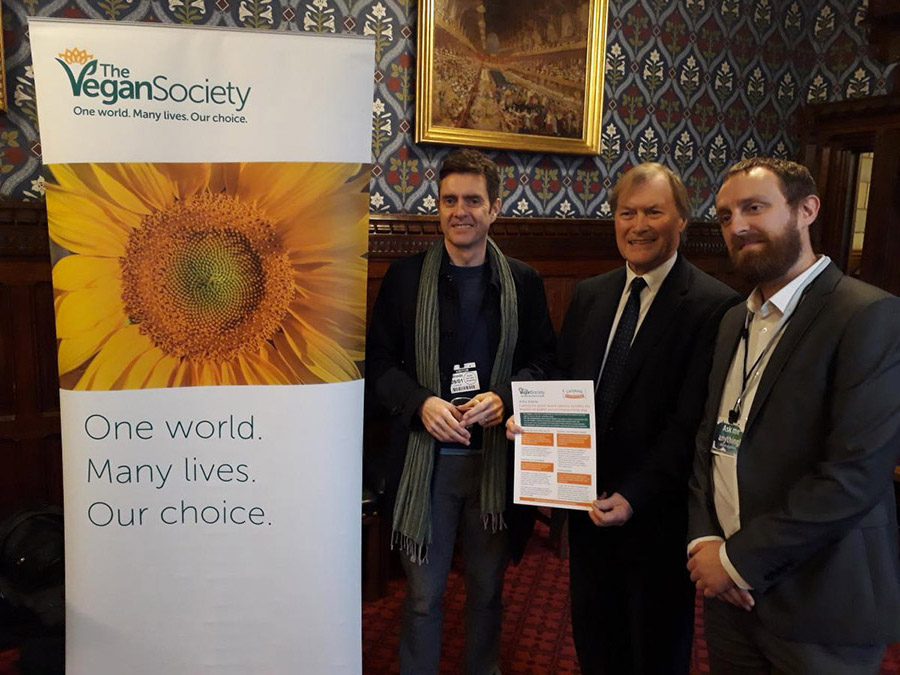 ---
Policy briefings

Find our current policy briefings here:
If you work for a representative, feel free to write to us for evidence on vegan-related issues at campaigns[at]vegansociety[dot]com
If you are a local campaigner, feel free to share relevant briefings with your local politicians, and send any feedback to campaigns[at]vegansociety[dot]com
Recent policy events

Grow Green conference
Farmers, policymakers, and academics descended on the British Library in droves for a conversation on the future of British farming. The Grow Green conference was hosted by partners including The Vegan Society.
The one-day Grow Green conference saw 200 delegates discuss the scale of the climate emergency, how farming is key to the solution, and how policy can support sustainable plant-strong farming.
Dr Helen Harwatt of Harvard University launched a fresh report entitled Eating Away at Climate Change with Negative Emissions. It details a vision of a plant-based UK farming system which would reduce emissions and even achieve negative emissions by reforesting a portion of land currently used for animal agriculture.
The UN's Marcela Villarreal explained how producing more pulses can help fix a "seriously flawed" food system in another keynote.
And the final keynote saw the Green Party's Natalie Bennett call for more fruit and veg production to help hit climate goals and health targets. The day saw amicable discussion, much agreement, and some real solutions offered to the challenges we together face.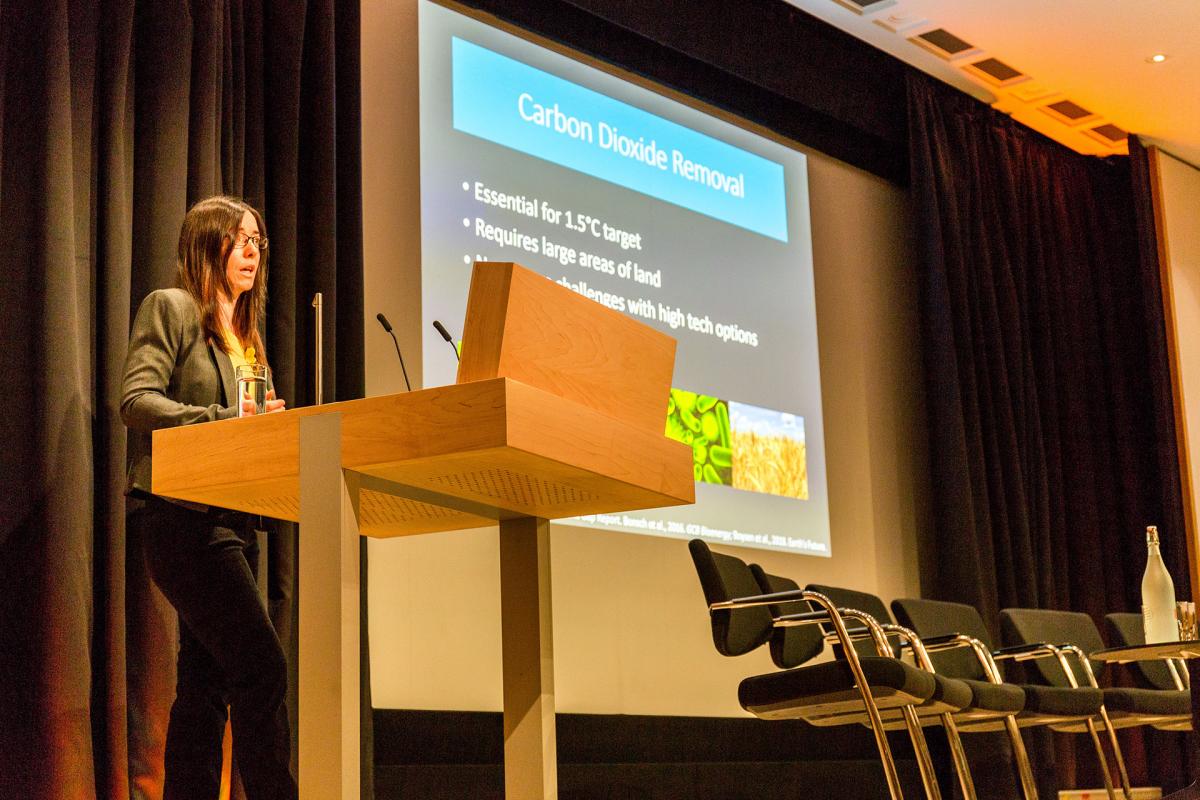 Plant-based entrepreneuers events
At the Scottish Parliament, we hosted an evening reception to inform Members about veganism. Speeches came from Richard Lyle MSP and plant-based entrepreneur Craig Tannock.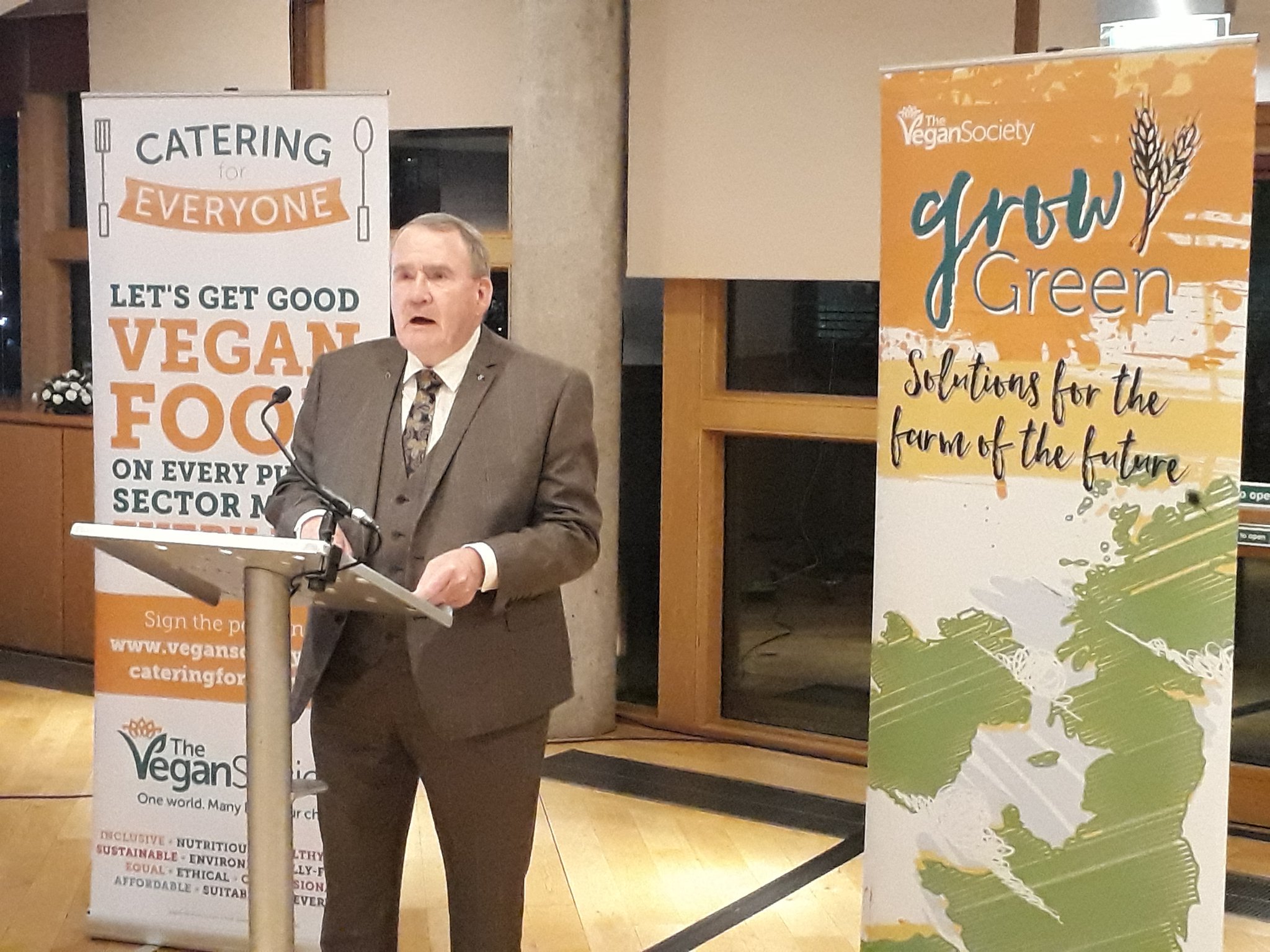 We hosted a celebration of veganism event at the National Assembly for Wales, with speeches by John Griffiths AM and Matt Pritchard, also known as Dirty Sanchez.​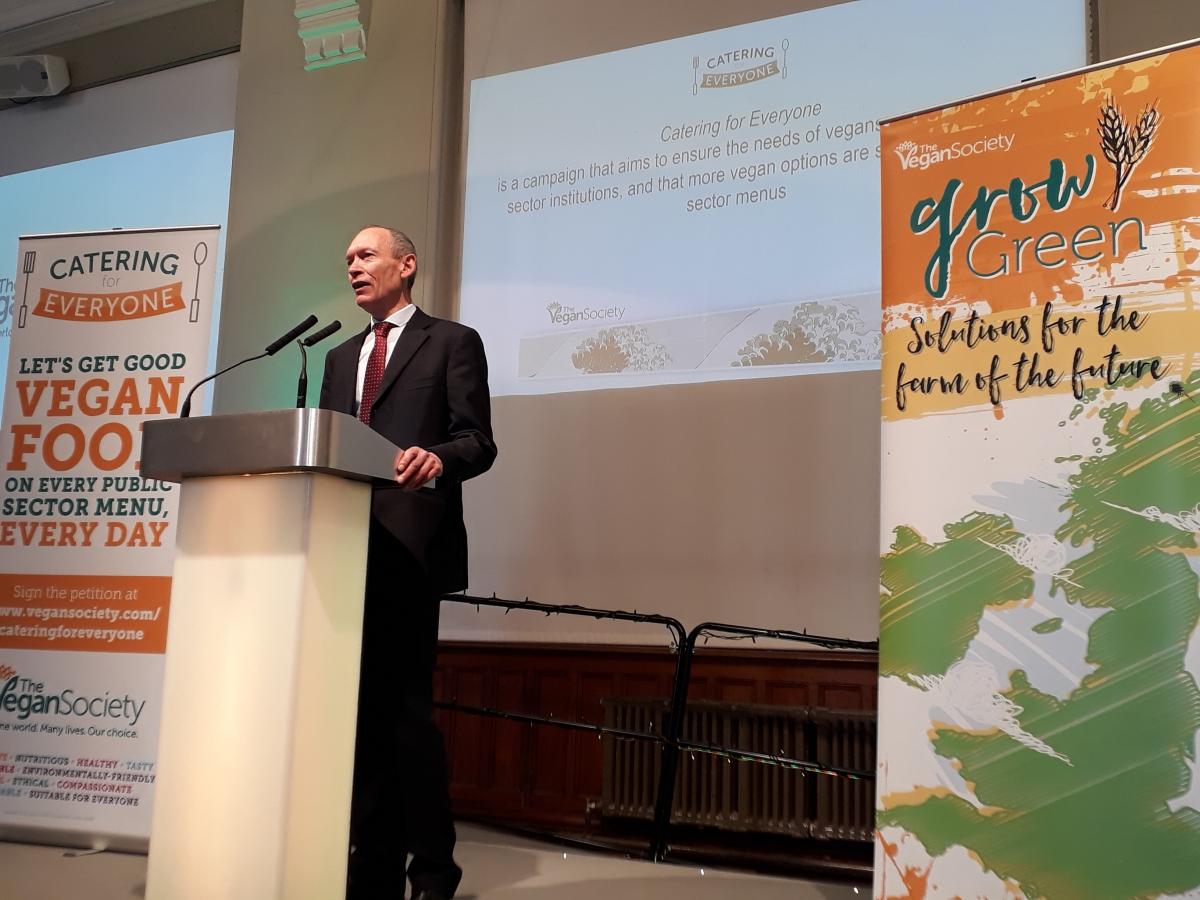 We participated in the CLA's Annual South East debate. See here for a 60-second summary video
Party Conferences 2018 summary video
Grow Green

We are calling for policy change to support sustainable agriculture to a greater degree, including plant protein production.
The New Economics Foundation wrote the latest Grow Green report, available here.
See our Agricultural Bill position paper here.
We tweet about the Grow Campaign from @GrowGreenTeam 
The inaugural Grow Green conference was held on the 11th April at the British Library. We are looking to set up a Working Group following on from the conference. Email contact[at]growgreenconference[dot]com for more information.
Catering for Everyone

Our campaign to guarantee a plant-based meal on every canteen menu in the public sector has won much political support.
The campaign has been backed by 25 MPs, MSPs, AMs and other politicians, giving the initiative cross-party support.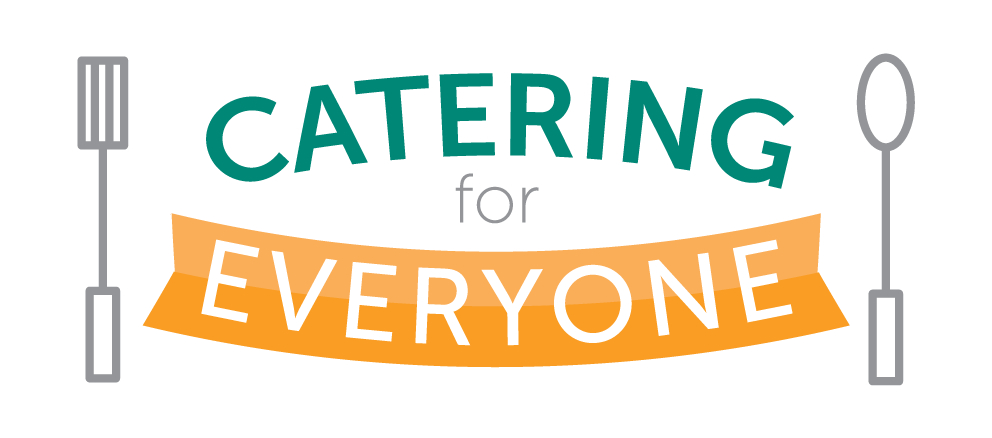 The petition to the Scottish Government received 8,778 signatures. We gave evidence to the Scottish Parliament Petitions Committee, which is now working to gather more evidence on the issue. We expect another hearing in April.
The Welsh Government's Petition Committee recently considered the Catering for Everyone proposal. The Committee is writing to the Health, Education & the Environment Ministers, asking what assessment or research has been done on the sufficiency of vegan options in schools and hospitals.
The petition to the UK government has recently closed with 27,211 signatures. See our response to the Government's commentary on the petition when it reached 10,000 signatures here.
October 2018's APPG meeting was on the topic of public sector vegan provision. The APPG wrote to Penny Mordaunt, the Minister for Equalities, asking her to:
Look into a legislative change that would guarantee a plant-based meal in every public-sector institution
Launch a review into public-sector provision of plant-based food, to establish the scale of the problems facing individuals concerned.
Consultation responses

Recently, we have responded to these consultations:
Our response to EU ruling on labelling of meat substitutes

Letter to EU in response to 'Compromise Amendment Number 41'
Vegan Labelling

SAFE - "Suitable for vegans": The European standard on voluntary labelling of foods