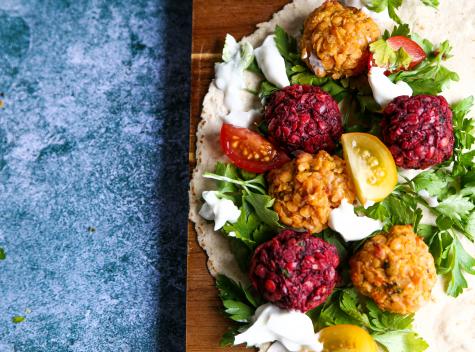 Ingredients

1 cup (180g) red lentils (3 cm short of a mug)
water
1 large onion
1 tbsp oil
1/2 cup fresh herbs (e.g. parsley, coriander)
4 cloves garlic
2 tbsps ground flaxseed
4-5 tsps ras el hanout spice (depending on how spicy you want to make them!)
½ tsp smoked paprika
1 tsp sea salt (or more to your taste)
1/4 tsp black pepper (or more to your taste)
3 tbsps plain flour (gluten-free flour, if necessary)
1.5 tbsps beetroot mashed
1.5 tbsps pumpkin mashed
Recipe makes approx. 18-20 falafel balls at 40p per serve.
Method

Peel pumpkin and beetroot and cut into rough chunks, approx. 3 cm square. Roast in the oven at 180C on separate baking trays, until tender and can be mashed. Use them to add to the mix at step 8.
Measure out your lentils, place them in a colander and rinse under cold water for a couple of minutes, until the water runs clear - this is to remove some of the starch from the lentils, which can make them a bit mushy when cooked.
In a medium-sized saucepan, put the washed lentils and enough water to cover them by at least 2 - 2.5 cm. You are going to cook them, but not all the way through, as we need them to be still slightly firm to start.
Bring the lentils to the boil over a high heat, then reduce the heat to low and simmer (without a lid), for about 4-5 minutes. The lentils should be slightly undercooked, not soft and mushy. (Whilst you are waiting for the lentils to cook, you can start peeling and chopping the vegetables – see step 4). Drain and rinse the lentils under cold water in a colander, and set aside to cool.
Add oil to a frying pan and gently fry the garlic and onion until soft. 
Pick the fresh herb leaves off their stems, and measure out ½ cup of leaves.  Really pack the leaves into the ½ cup (a mug is fine if you don't have a measuring cup).
Add the lentils, garlic, onion, fresh herbs, flaxseed, ras el hanout, paprika and salt and pepper to a food processor or blender. Pulse, using on/off pulses, until finely chopped, but not a paste.  You may need to carefully scrape the sides and bottom of the food processor/blender bowl a few times in between pulses, so that the mixture is evenly chopped.
Scrape the mixture into 2 separate mixing bowls. Add mashed pumpkin to one bowl, and mashed beetroot to the other, so that you have one bowl of orange mixture and one of purple mixture.
Stir in 1.5 tbsps of plain flour into each bowl, until it is all blended. Taste the mixture and add more salt and pepper, ras el hanout or paprika depending on your taste.
Preheat your oven to 190 C.
Shaping the falafel balls: get your baking tray ready, by lining it with baking paper, and brushing the paper lightly with some vegetable oil. Make small falafel balls of approx. ping pong ball size in each colour – orange and purple. Place each finished ball on the baking sheet on your baking tray, leaving at least 1.5cm gap between them. 
Once all the balls are shaped and on the baking tray, place the tray in the preheated oven and bake for 12 -14 minutes or until they start to become golden and crisp on the outside. If they are still slightly moist, put them back in the oven again for another 2-4 minutes.  Once the balls are golden brown and the surface appears dry, you can remove the tray from the oven.
Serving options are endless - the falafels taste great with a piece of pita bread or in a salad!
Recipe credit to Sustainable Kitchen