Irresistibly crunchy and so simple to make – there's no time wasted breadcrumbing the individual cauliflower florets. Mixing the wet ingredients and breadcrumbs on the baking tray means you get lots of extra crispy morsels of flavoured breadcrumb shards to serve with the nuggets. Switch up the spices if you fancy a change – these would be wonderful in a traditional fast-food style with onion and garlic powder or given an Indian twist with garam masala and ground cumin.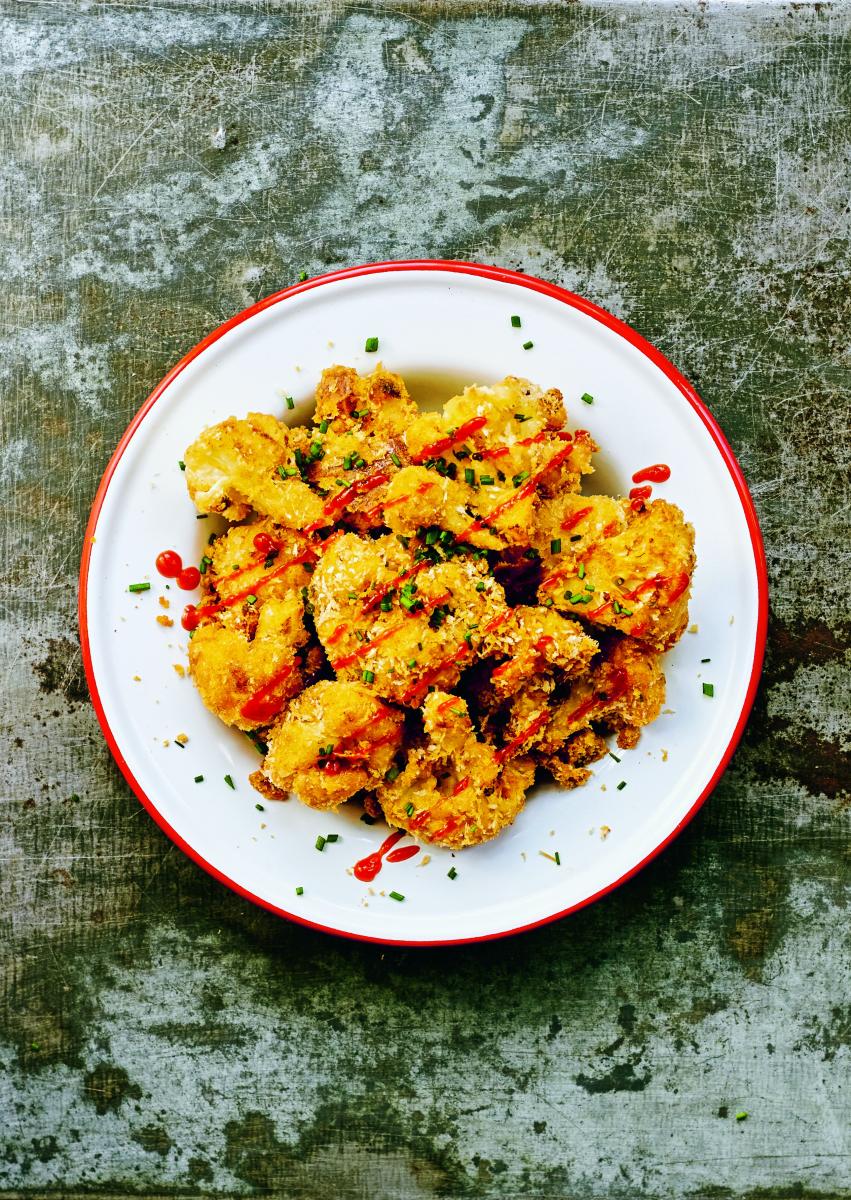 Serves 2 people
Ingredients:

1 medium cauliflower, broken into florets 
4 tbsp cornflour 
1 tbsp smoked paprika 
1 tsp ground coriander 
4 tbsp dairy-free milk 
100 g panko breadcrumbs or regular very dry breadcrumbs 
4 tbsp flavourless oil 
Salt and pepper 
To serve 
Small handful of finely chopped chives (optional) 
Hot sauce 
Method:

Preheat the oven to 200°C (400°F), Gas Mark 6.  
Steam or boil the cauliflower in salted water for 5 minutes until almost tender. Drain well and transfer to a large baking tray. 
Sprinkle the cornflour and spices over the florets and toss to coat. 
Pour over the dairy-free milk and toss to coat again, followed by the breadcrumbs, tossing a final time to make sure every crevice is covered in breadcrumbs. Season well with salt and pepper. 
Drizzle the oil over the breadcrumbed florets and bake for 15 minutes until the breadcrumbs are deeply golden and the cauliflower is cooked through. Serve with chopped chives, if you like, and hot sauce. 
Recipe from Broke Vegan: Over 100 plant-based recipes that don't cost the earth, by Saskia Sidey. Published by Hamlyn, December 2020. Photography by Jo Sidey. Hardcover 12.99 (octopusbooks.co.uk)