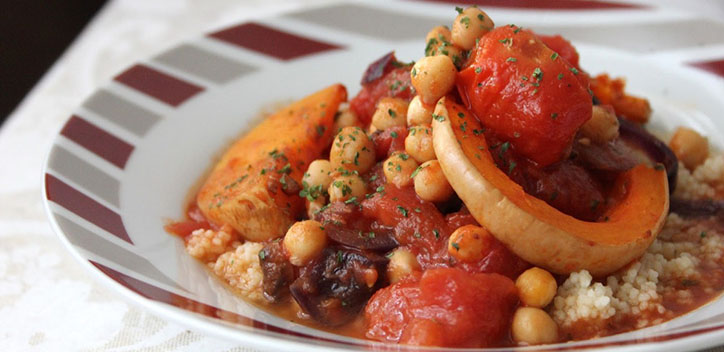 Ingredients

3 cups butternut squash (1 medium to small squash), sliced in half moons, roasted for at least 30 minutes
6 garlic cloves, minced
1 teaspoon cumin seeds
2 tablespoons vegetable oil (canola or coconut will do fine)
1 red onion, chopped
2 small chillies, seeds removed
12 cherry tomatoes, halved
2 cans chopped tomatoes
2 cans chickpeas, drained
2-4 tablespoons red wine (optional but definitely worth a try)
a pinch of cayenne and cinnamon
a pinch of dried parsley, to garnish
1 cup couscous, dry
1 cup boiling water
Method

Pour boiling water over the couscous in a heat-proof bowl and let sit while you cook.
Heat the oil in a large pan on medium heat. Gently fry the cumin seeds and garlic for 3-5 minutes, until browned.
Add the red onion and chilli and cook till soft (5 minutes approx). The onion should start to caramelise.
Add the cherry tomatoes, chopped tomatoes and chickpeas, and cook for five minutes. Add the roasted butternut squash and a few tablespoons of red wine, sprinkle over the spices, and cook for another 5 minutes until the vegetables are mellow and tender. The couscous will by now have absorbed all the water. Fluff it up with a fork–not a spoon, I beseech you. That'll only make it clump together in a most unappealing way. Serve the hot vegetables over the couscous and enjoy immediately.
From One Green Planet
Serves 4