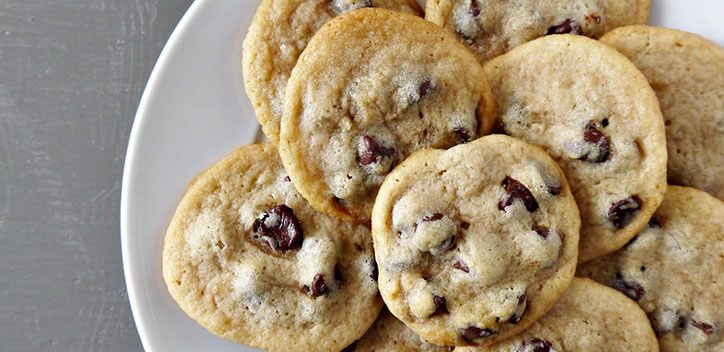 Ingredients

1/4 cup soy milk
1 teaspoon vanilla or vanilla paste
340 grams dairy-free chocolate chips
1 cup of softened soy margarine
1/2 cup brown sugar
1/2 cup sugar
2 1/4 cups all-purpose flour
1/2 teaspoon salt
1 teaspoon baking soda (NOT baking powder)
Method

Place the margarine, brown sugar and sugar in a medium bowl. In another medium bowl, place the flour, salt and baking soda.
With a hand mixer, blend together the soy margarine and sugars.  Once blended, add the soy milk and vanilla.  Mix well; the mixture should be a creamy consistency.
Add the dry ingredients to the creamy ingredients, mix with a hand mixer or a wooden spoon.  Fold in the chocolate chips.
Drop spoonfuls of dough onto a greased or parchment paper lined baking sheet.  (I like to use a tablespoon to scoop up the dough and make them consistent in size.)  Bake at 180 C for about 8-10 minutes or until edges are brown.  If you like chewy cookies, take them out of the oven right as the edges turn light brown.
Non-vegan chocolate cake generates 5.3 times more CO2e than vegan chocolate chip cookies, and crème brûlée generates 10.4 times more CO2e.
From Atiliay
Makes around 30 cookies