An Afro-Caribbean inspired dish perfect for sharing with friends and family.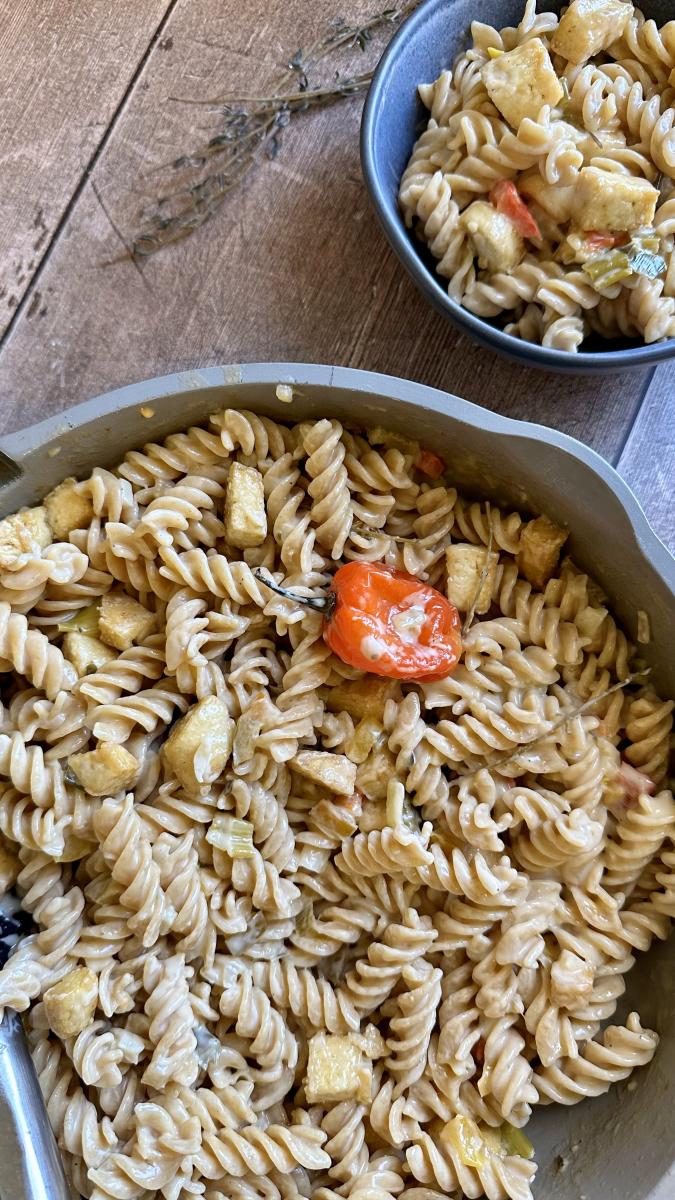 Serves 4 people
Ingredients

2 cups of pasta
280g pack of tofu
1 low-fat can of coconut milk
1/2 red pepper
1/2 green pepper
1/2 yellow pepper
3 scallions
1 white onion
4 cloves of garlic
1 tbsp wet jerk seasoning
1 tbsp dried thyme
1/2 scotch bonnet
1 cup vegan cheese
1 tbsp olive oil
Method

Cut your tofu into cubes, add your cornflour and tofu into an airtight container and shake until the tofu is covered evenly.
Add your tofu to a baking tray with greaseproof paper and bake for 18 mins at 200oC
Boil pasta until cooked then drain and set aside
In a large frying pan, add your olive oil, onions and peppers and fry for 5 minutes
Add your garlic, scallion and wet jerk sauce and fry for 3 minutes.
Add your scotch bonnet, coconut milk, and thyme and simmer for 8 minutes
Cook for a further 5 mins and add your cheese. Once the cheese has melted, add your cooked pasta and baked tofu to the frying pan
 Serve and enjoy
Serves 4 / Approximate cost* per portion: £1.97
Recipe credit to Daniel Grant (@dannylonglegz)
*Approximate cost based on 4 portions and calculated using average prices from main supermarket retailers in the UK. Price data accurate as of March 2023.