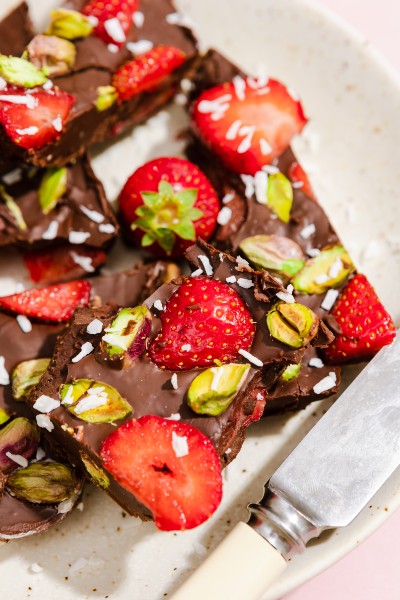 Release your inner child with this dark chocolate strawberry bark. Customising the ingredients is easy: swap strawberries for apricot, dried mango or banana chips, or skip the pistachio if you're avoiding nuts. 
Serves 2 people, flare up friendly.
Ingredients 

300 g dark chocolate  
1 tbsp olive oil  
2 tsp peanut butter  
1 tsp chia seeds  
30 g coconut flakes 
70 g chopped strawberries  
30 g crushed pistachios  
TIP: Any 70% dark chocolate or higher will be suitable for this recipe. 
Directions 

Place the dark chocolate and other ingredients in a heat-resistant bowl and microwave for 60 seconds, stir and repeat until melted. (Alternatively, if you don't have a microwave, bring a small pan of water to boil and then reduce to a simmer. Place the chocolate in a heat-resistant bowl, sitting atop the pan of water. The chocolate will melt while you stir it.) 
Once melted, add half of the chopped strawberries and pistachios to the chocolate and stir them in.  
Pour the mixture into a lined baking tin or tray, spreading the mixture out. I like the thickness to be around 1 cm, but you could make it thinner or thicker depending on which tray or tin you choose.  
Scatter in the remaining strawberries, pistachios and coconut flakes. Transfer to the fridge for at least 30 minutes, or until solid.  
Remove the chocolate bark from the fridge and break it into pieces with your hands or a knife. Store in the fridge and eat within 1–2 days. If you use fresh fruit, it will go soggy pretty quickly, so don't leave it hanging around for too long. If you want a longer-lasting bark, swap fresh fruit for dried.  
Recipe and photography from The Plant-Based Crohn's and Colitis Cookbook by Helena Rose Murphy. Find out more about Helena in our veganism and chronic illnesses blog.