Fish pie (or sometimes known as fish roll in some countries), is a very popular African streetfood snack that is great to eat on the go! It is particularly popular in Cameroon, Nigeria and Ghana. Traditionally it's a shortcrust pastry pie filled with sardines, packed with spices and fried to crispy perfection. This recipe is a vegan take on this classic street food snack and instead of frying it, they are baked to make them that much healthier. The addition of nori sheets, capers and soy sauce replicates the 'fishy' taste. 
Makes 6 pies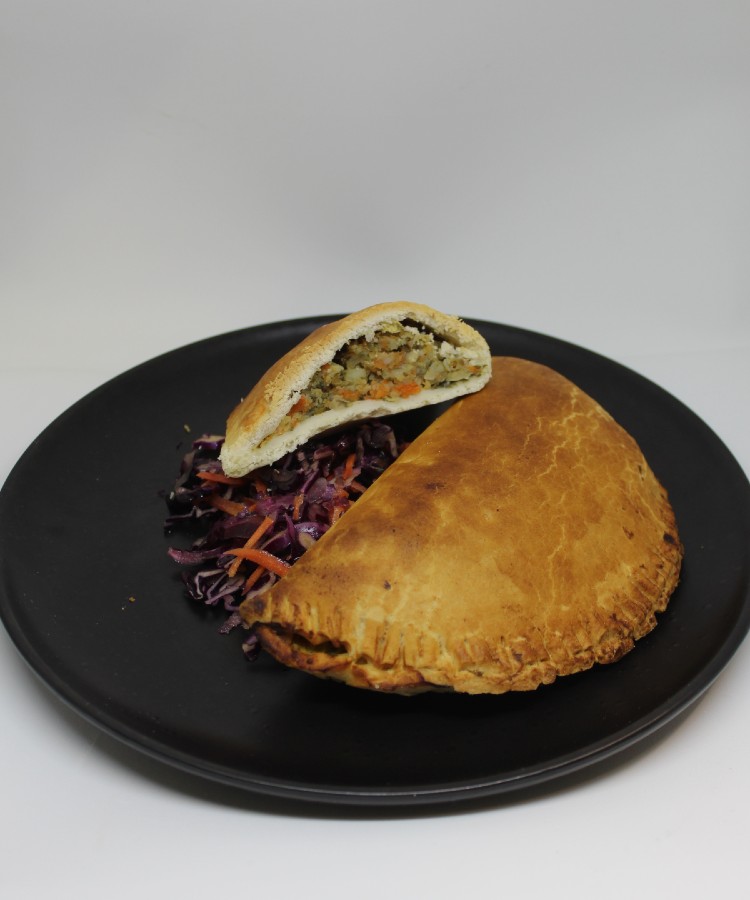 Prep time: 40 minutes (plus 12–24 hours to marinate) 
Prove time: 30 minutes 
Cooking time: 35 minutes (plus cooling)
Total time: 1 hour 5 minutes  
Ingredients 

Make the day before: 
Stage 1 

3 Large carrots
2 nori sheets – shred into pieces 
2 litre of hot water 
Stage 2 

1 large white potato – peels and roughly chopped
Stage 3

 2 tbsp soy sauce 
20g nutritional yeast 
1 tsp capers 
1 tsp black pepper 
3 tbsp lemon juice 
200ml of poaching liquid from stage 1
All the nori sheets from stage 1 poaching liquid
1 tsp garlic powder 
1/2 medium red onion – finely chopped 
Stage 4 

400g Store bough shortcrust pastry 
Method: 

Rinse and clean the carrots using a scourer. 

Place all of stage 1 in a medium-sized pan and bring to the boil. Once boiled, reduce to a simmer and cook for 30 minutes until the carrots have softened. Test it's done by passing a knife through the carrots. It should go all the way through. 

Once the carrots are cooked, remove from the water and let them fully cool down. 

Boil the potatoes in a large pan until softerned. You can tell its done by piercing a knife through the potato and it goes all the way through. Once cooked, drain, mash and allow to cool fully.  

While the carrots are cooling, mix all of stage 2 in a medium-sized container and set aside. 

Shred the carrots by lying them flat on a chopping board and use a potato pealer to thinly peel the carrot. Any part you can't peel, use a knife and finely chop. 

Place the thin pieces of carrot in the marinade along with the cooked potatos, mix well and leave to marinate between 12–24 hours. Or, if you can't, leave them at least 1 hour before baking. 

Heat oven to 220C/fan 200C/gas 7. 

Roll out the shortcrust pastry on a lightly floured work surface. 

Once rolled out, cut out a circle using a bowl (approx 15cm wide) and remove excess pastry around it. Place a 100g of 'fish' mixture in the middle of the circle, then tuck the pastry over the mixture to the other end and seal the edges with the fork. Set aside and repeat the process until the dough is used up. 

Bake for 10 minutes, then lower oven to 180C/fan 160C/gas 4 and cook for 25 mins more until golden. This is great when served warm. 

Store in the fridge for up to 3 days or can freeze for up to 3 months. Defrost fully the day before. Ready to eat cold or re-fresh in the oven.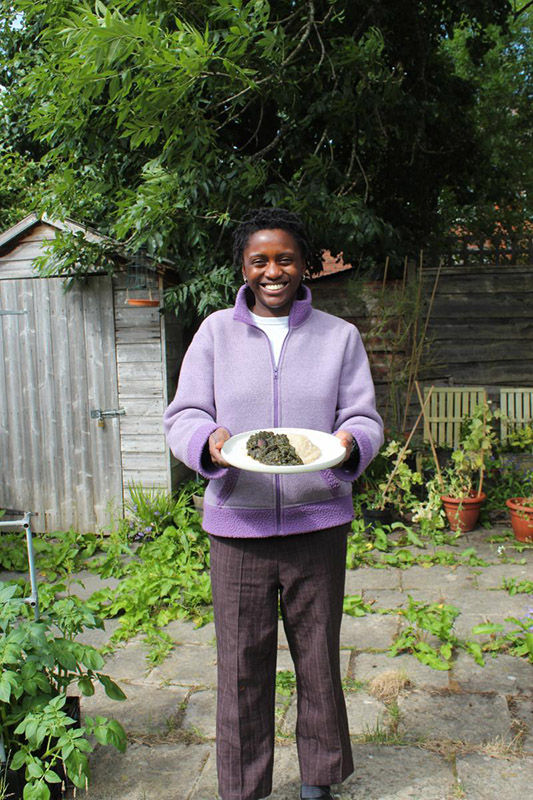 Recipe written and created by Ngwafu Tansie. Founder of gwafuvegan. As a black queer chef it's fundamental for me to represent within the hospitality industry and showcase my culture. Inspiring younger people that you can be whatever you want to be if you put your mind to it. 
Follow Ngwafu on Instagram and Facebook.