Katsu curry is a mildly spicy Japanese dish. This vegan twist uses chicken style seitan.
Serves four.
Ingredients 

Seitan steaks 
1 cup (128g) of vital wheat gluten 
1 tsp of basil
1 tsp of thyme
1 tsp of sage
4 tbsp of nutritional yeast 
2 tsp of garlic granules
2 tsp of onion granules
1 cup (250ml) of warm water
Breadcrumbs
Plain flour
1 vegetable stock cube
Seitan cooking broth
4 crushed garlic cloves
1 chopped onion
2 bay leaves
1 vegetable stock cube
Katsu curry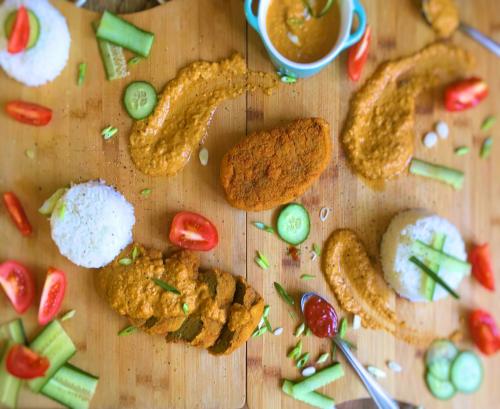 2 onions
1 bell pepper
4 fresh garlic cloves
Fresh ginger
1 tsp of Chinese 5 spice
1/2 tsp of madras curry powder
1/2 tsp of smoked paprika
1/2 vegetable stock cube
1 large tbsp of peanut butter
1 pinch of cayenne pepper or chilli powder
1 dash of liquid smoke
1 dash of tomato sauce
Method 

For the chicken steaks, into a mixing bowl add your dry ingredients, this will consist of 1 cup of vital wheat gluten, 1 teaspoon of basil, 1 teaspoon of thyme, 1 teaspoon of sage, 4 tablespoons of nutritional yeast, 2 teaspoons of garlic granules and 2 teaspoons of onion granules. Season with salt and pepper.
Into 1 cup of warm water add 1 vegetable stock cube and mix continuously until the cube has dissolved. Once the cube has dissolved pour this mixture into your dry ingredients and mix all together using your fingers until a dough has formed.
Once you have a doughy consistency lightly dust a clean surface with plain flour and kneed your dough for about 5 minutes. Be careful not to overwork the dough as you will run the risk of it turning hard.
Divide your dough into four equal balls, then mould your dough into fillet shapes.
Fill a large saucepan up with warm water and allow it to reach a simmer, but do not let it boil. Into the simmering water add 1 vegetable stock cube, 4 crushed garlic cloves, 1 diced onion and 2 bayleaves. Mix well until the stock cube has dissolved. Once this is completed, add your four seitan steaks to the cooking broth. Cook them for up to 40 minutes on a gentle heat. Your seitan steaks should almost double in size, so don't worry if your steaks go in looking small.
To make the katsu curry sauce you will need to chop 2 large onions, 1 bell pepper, 4 fresh garlic and a thumb size amount of fresh ginger. Saute the ingredients in a frying pan in water or oil. Once this your vegetables are soft, add your dry spices; 1 teaspoon of chinese 5 spice, half a teaspoon of madras curry powder, half a teaspoon of smoked paprika, half a vegetable stock cube and 1 pinch of cayenne pepper or chilli powder. Mix and continue to cook. Now add 1 large teaspoon of peanut butter, along with 1 dash of liquid smoke and 1 dash of tomato sauce. Finally finish with 1 cup of water. Allow the mixture to simmer gently.
Once soft, blend into a smooth sauce and set aside, or continue to simmer for more flavour. You might need to add more water if it is too thick.
After your steaks have cooked in the broth for 40 minutes take them out and allow them to reach a temperature where you can handle them. Once you can handle the steaks, coat in plain flour, salt, pepper, garlic granules and onion granules. Mix the flour and water together into a paste, coat the steaks in this paste completely and coat well in pre-made breadcrumbs (you can make your own if you wish).
Deep fry the coated seiten steaks on a high heat until they are golden and beautiful.
Now its time for you to plate up, cut your chicken into strips, serve with rice, katsu curry and mixed fresh vegetables.
For more recipes visit Ruell Smith's vegan food blog, Roo's Kitchen.