Jenny Edwards draws on her recent experience of Greek cuisine to provide 10 ways you can eat vegan in the beautiful Hellenic Republic.
The land of picturesque white villages atop high cliff tops, crystal blue waters, and beautiful temples everywhere you look, Greece is the perfect holiday destination for many. Brits in particular love Greece's party get-aways, as well its relaxing coves away from the noise. But can you get a decent vegan meal while there?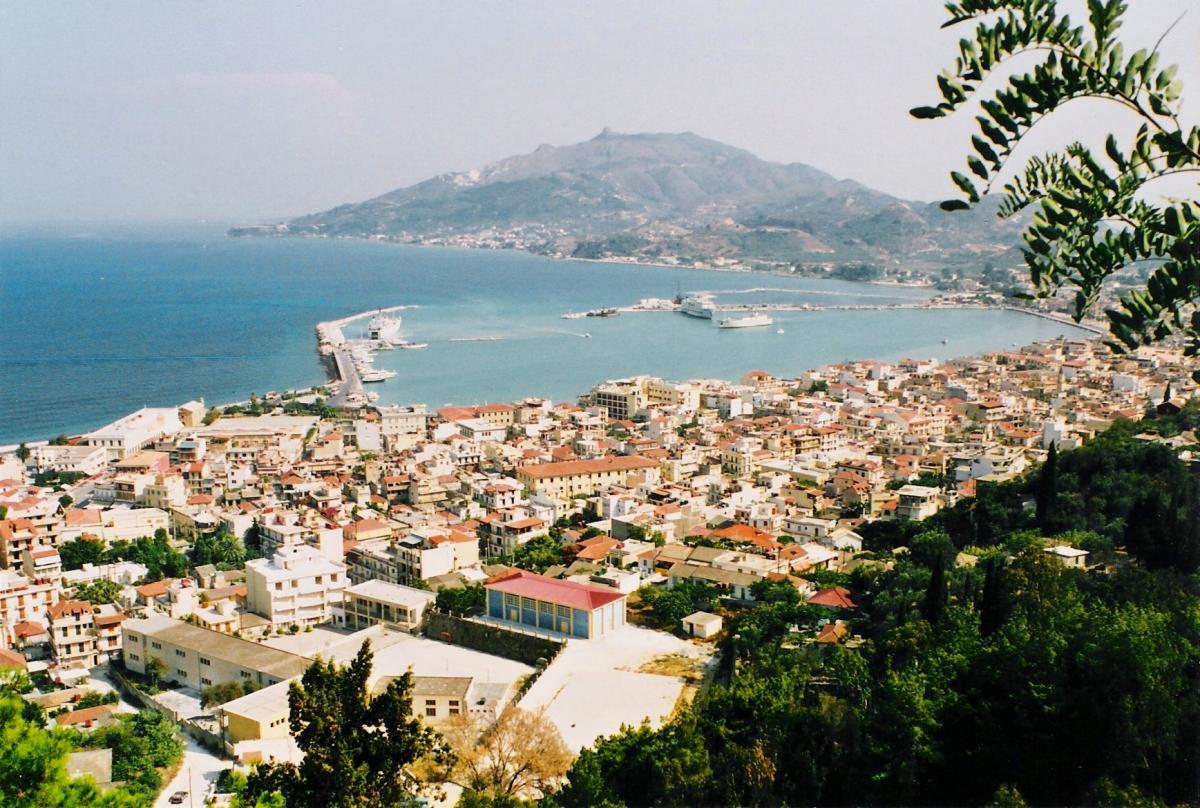 Although veganism is not common, or even well known in Greece, their food can be surprisingly vegan friendly. This is because Christian Orthodoxy is the main religion in Greece, a religion which involves 'fasting' periods at certain times of the year, such as Lent. During this time, animal products are not included in dishes. And even when Greeks aren't fasting, there are still many ways to eat vegan in Greece.
1) Re-purpose traditional dishes in restaurants
There are many traditional dishes that can be made vegan, such as domladakia – vine leaves habitually stuffed with ground beef and rice. You can try the vegan version, which is called Dolmadakia yalantzi, but ask the restaurant whether they use meat broth. 
Gemista is another favourite of mine. Their meat version involves tomatoes and peppers stuffed with ground beef and rice. Luckily they also have a vegan version of this, sometimes called orfana style. 
Spanakopita (savoury pies filled with spinach and cheese) is popular in Greece, but you can also find it as a delicious, flaky spinach pie, minus the dairy.
2) Embrace the gyro 
Although perhaps not the healthiest option, you can easily order a touristiko gyro, which means without meat, remembering to ask for no tzatziki. If you are lucky, you may come across a place that has falafel on their menu, so you could substitute the meat for that instead; however, you must ask whether they use eggs as a binder. 
3) Look for other cuisines
When I travelled to Greece I stayed on the island of Zakynthos in Tsilivi, which is fast becoming one of the main tourist resorts on the whole island. I was blessed with the choice of many different cuisines, Indian, Chinese, Mexican, and Italian. Walking further out of the centre of the restaurants and bars, I even managed to find a restaurant that advertised simple, but delicious vegan options. And of course, if you're visiting a mainland city such as Athens, you'll be bowled over with the amount of tasty vegan food options there are on offer.
4) Stock up on fresh fruit
Assuming that you have a fridge wherever you are staying, I would suggest buying a load of fresh fruit each day to snack on: it'll also keep you well hydrated under the hot Greek sun, assuming you're visiting in season. If you are lucky you may have a supermarket close to you, which (from my experience) usually sell appealing looking fruit in bulk – one of the supermarkets I went to even sold Alpro milk!
5) Learn the basics of the language 
In my opinion, it's polite to at least learn the basics of the language where you are visiting such as hello, goodbye and thank yo. It will particularly work in your favour to learn some food related phrases. 
• "I am vegetarian – Emeh hortofágos"
• "Greek salad with no feta cheese please – Horiátiki saláta horís tirí féta parakaló"
6) Be prepared to search
Although there were definitely options in the most popular area for restaurants and bars, I tended to find the best gems when I walked further out. Don't let this discourage you though: I had no form of transport and still managed to find plenty of options within the surrounding area.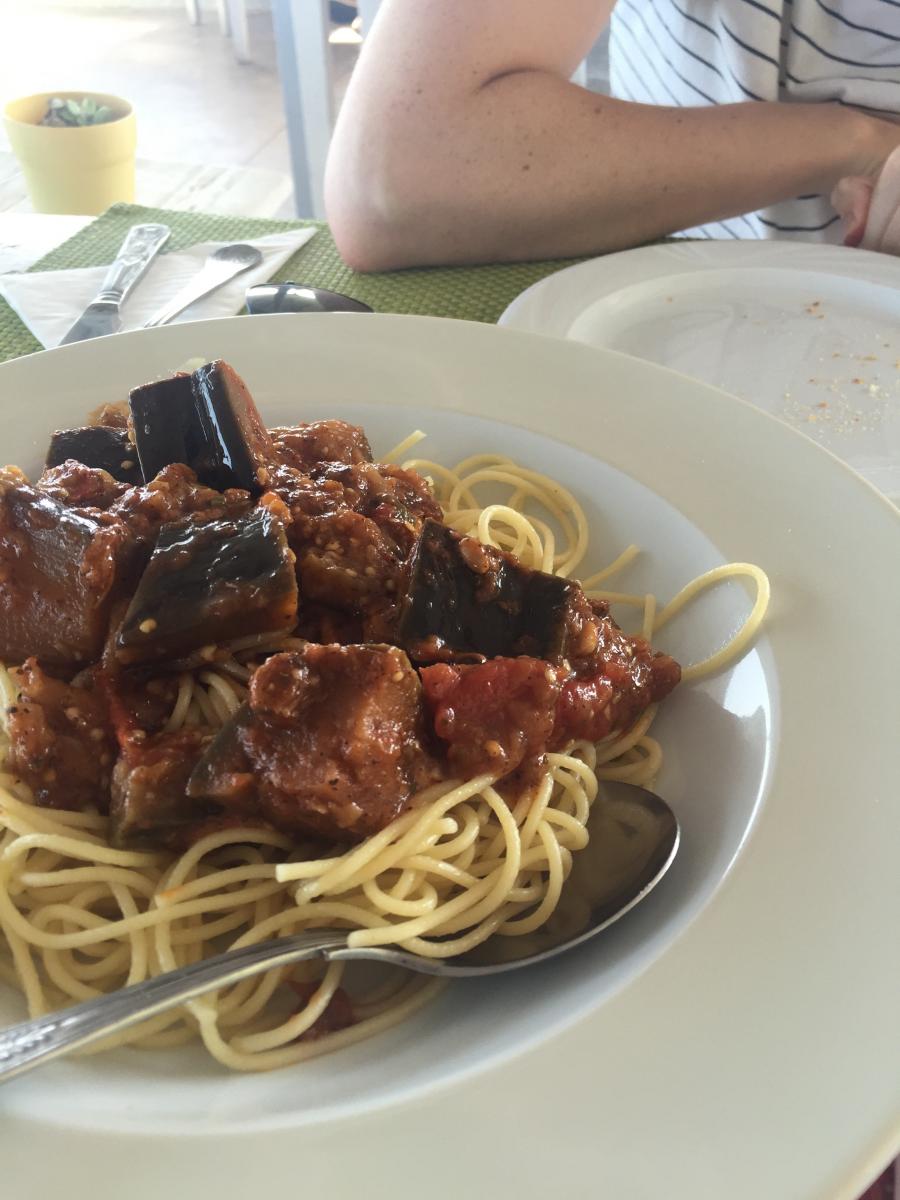 7) Research restaurants in advance
Vegetarian food is widely advertised on the menus of restaurants, and so I can assure you that you won't be living on morsels during your stay in Greece. In Zakynthos, there is a restaurant called Calypso that has a chef trained in allergy law, and their food is also of fantastic quality. Athens is possibly one of the easiest places to be vegan, with solely veggie cafes, several falafel places, and plenty of street vendors that sell nuts and fresh fruits. Be sure to use Happy Cow whilst you're abroad as it's a fantastic tool when researching where to eat.
8) Fill up on breakfast 
In my experience,  their restaurants do not open particularly early (about 10am), but the majority of them did sell affordable breakfasts that they are happy to customise for you. I was able to order toast (without butter), beans, mushrooms and hash browns in every place that offered breakfast. The popular destinations also advertise vegetarian breakfasts, which are easy to adapt. 
9) ...And on carbs!
My lunch for the majority of the time I was in Greece was tomato penne pasta, chips and fresh fruit from the supermarket – you can't go wrong with carbs! Of course you need to check if the pasta is made from egg, but I had no trouble finding it without.
10) Ask for fasting food
As previously mentioned, Greeks often participate in fasting: if you want to be extra cautious about the ingredients, simply ask if your dish is "nistisimo" (fasting food).
Happy hunting for great vegan food in the beautiful country of Greece!
By Jenny Edwards
Would you like to write for our blog? Read our guidelines then send your pitch to web[at]vegansociety[dot]com.
The views expressed by our bloggers are not necessarily the views of The Vegan Society.