This year, we raise a toast to quenching vegans' thirst with 30 years of the Vegan Trademark!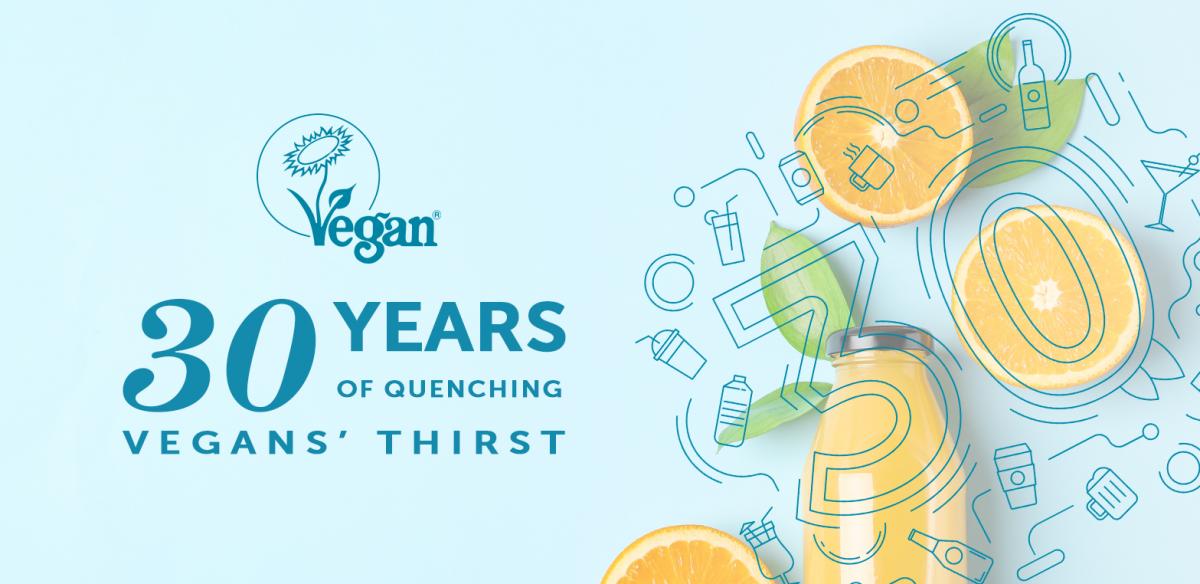 Did you know, the first product ever registered by The Vegan Society was plant milk? Since then, there have been well over 3000 drinks registered with the Vegan Trademark.
But apart from dairy based drinks, you might be wondering 'what could possibly be non-vegan about other drinks we consume regularly?' Well, you would be surprised at how many animal derived ingredients make their way into your drinks – both as added ingredients or through the processes involved in making the drink.
Here are a few things that can make your favourite tipples and soft drinks not suitable for vegans:
Flavourings

Many drinks like soft drinks, teas, kombucha and flavoured 'milk' drinks can contain non-vegan flavourings like honey (which can sometimes be listed as simply 'natural sweetener' so you would have no easy way of knowing). We would also look for ingredients like castoreum (which is obtained from beavers) to achieve flavours like vanilla, raspberry and strawberry.
The tricky thing about flavourings is that their formulations tend to be confidential. If this is the case, even though these flavourings might be in the final product, they won't be listed on packaging. Just another reason to look out for the Vegan Trademark!
Food Colouring

Food colouring is another one that can catch you out as they can sometimes be listed in the form of codes or e-numbers like E120. This red food colouring is derived from female cochineal insects.
Gelatine & Enzymes

Concentrated juices, for example, may be clarified using gelatine or animal derived enzymes to remove any pulp or cloudiness from the juice.
Nutritional Additives

Drinks that claim additional nutritional benefits would need to be checked. An example is sodium caseinate, an additive used as a protein source, which is derived from mammal milk. Drinks like plant milk or orange juice can be fortified with vitamin D derived from lanolin (the oil found in sheep's wool).
Fining Agents in Alcoholic Drinks

Many alcoholic drinks such as wine and beer go through a clarification process called 'fining' which can use animal ingredients. Because they are involved in the processing stage, these won't be listed on packaging as a final ingredient.
Before being bottled, several ingredients in alcohol can be used as fining agents to remove unwanted compounds – like tannins in wine. These fining agents include:
Egg albumen – derived from egg whites 
Casein – a milk protein
Isinglass – gelatine from fish bladder
Chitin – derived from crustacean shells 
Silica sol – a derivative of silicone which if used with gelatine is not vegan
Carbon or charcoal that can be sourced from burnt animal matter
The good news is that there are so many plant-based alternatives for these animal derived ingredients and processes which can be used to make delicious vegan drinks! Here are just a few that are registered with the Vegan Trademark:
Dairy Alternative Drinks

You can now enjoy the classic tastes of Galaxy, Bounty and Mars in tasty drink form with Galaxy Oat and Bounty Coconut which are both available in Asda, Morrisons, Sainsbury's, and the newest in this non-dairy trio; Mars Oat which you can find in Asda.
Other flavoured plant milks you'll love: 
Innocent's new dairy-free range including Almond, Hazelnut, Coconut and Oat milks. Available at all major supermarkets including Tesco, Sainsbury's, Asda, Morrisons, Waitrose and The Co-Op
Alpro's Strawberry, Chocolate and Vanilla drinks.
Rebel Kitchen's iconic organic chocolate and chocolate hazelnut mylk shakes.
Soft Drinks

Innocent have a huge range of juices and smoothies registered with the Vegan Trademark. Check which ones are registered here. Available widely. 
The Cracker Drinks Co. blend unusual but complementary flavours to make great tasting fruit juices. Available at Tesco, Asda, Sainsbury's, Waitrose and more. 
Lemonaid makes delicious lemonade from pure juice, cane sugar and sparkling water – and all for a good cause. Lemonaid supports fairtrade with every bottle purchased as well as a variety of social projects through its Lemonaid & ChariTea Foundation which supports social projects in the growing regions. Available here.
Flawsome! transform wonky fruit and vegetables that would otherwise go to waste into perfectly crafted cold-pressed juices! Available here.
Teas & Kombucha

Beyond the Bean's Cosy Tea range offers a lovely variety of organic teas from classic Breakfast to Blueberry flavoured tea. Look out for them in your local cafes and food establishments.
ChariTea make organic and Fairtrade iced teas with quality ingredients, giving an additional 5 cents for every bottle sold to the Lemonaid and ChariTea Foundation. Available here.
Kombucha Kat's organic kombucha is handcrafted in their eco-brewery powered by 100% renewable energy. Available at Ocado, Planet Organic, Selfridges, Yo! Sushi, Wasabi and more.
Coffee-Based Drinks

For days when you can't get your coffee shop brew, or just want a chilled coffee drink on the go or while you work, here's a few Vegan Trademark registered options:
Rebel Kitchen's organic Mocha and Iced Coffee mylks.
Vita Coco's Coconut Milk Cold Brew Coffee.
Nescafé Gold's Oat, Coconut and Almond vegan latte sachets. Available widely in supermarkets.
Alpro's hazelnut, caramel soya and almond Caffè Latte drinks. 
Alcoholic Drinks

From beer to wine, here are a few tipples registered with the Vegan Trademark:
Bateman's bottled beers by award-winning craft brewers. Find a pub serving Bateman's here.
Little Valley Brewery's vegan and organic beer. Available at www.littlevalleybrewery.co.uk plus selected Co-op, Morrisons, Booths, Tesco, Waitrose and some independent stores.
Brothers Cider have a range of flavours registered with the Vegan Trademark, along with their Mallets Cider Original and Dark Fruit. Available at Asda, Tesco, Morrisons, Spar, a range of convenience stores, major wholesalers and independent shops across the UK.
Red Leg Rum's spiced rum which you can find in Asda, Tesco and Sainsbury's. 
Proudly Vegan Wines have a range of  red, white, rose and sparkling wines.
The Straw Hat's red, white and rose wines. Available at Tesco, Iceland, Morrisons, B&M and more.
Whether you're shopping for yourself or vegan loved ones, we hope you've found this useful! Don't forget that you can check if a drink is registered with the Vegan Trademark by using our directory which is organised by brand name. 
Cheers to animal-free thirst quenching!
By Vegan Society Digital Marketing Officer, Nishat Rahman
 
The views expressed by our bloggers are not necessarily the views of The Vegan Society.