It's beginning to look a lot like Christmas but is it animal-free? It can be overwhelming catering for everyone's requirements and preferences at this time of year, but we're here to help!

We've put together a shopping list of some exciting festive products on the shelves this year to help you celebrate a very vegan Christmas. From treats to get you into the spirit in the lead-up to stocking fillers and essentials for the big day, the options are plentiful! They're all Vegan Trademark certified, so you can shop with ease and the confidence that we've verified that they're suitable for vegans.
Get cosy under a blanket and grab a vegan peppermint hot chocolate and snack – there's plenty on the list!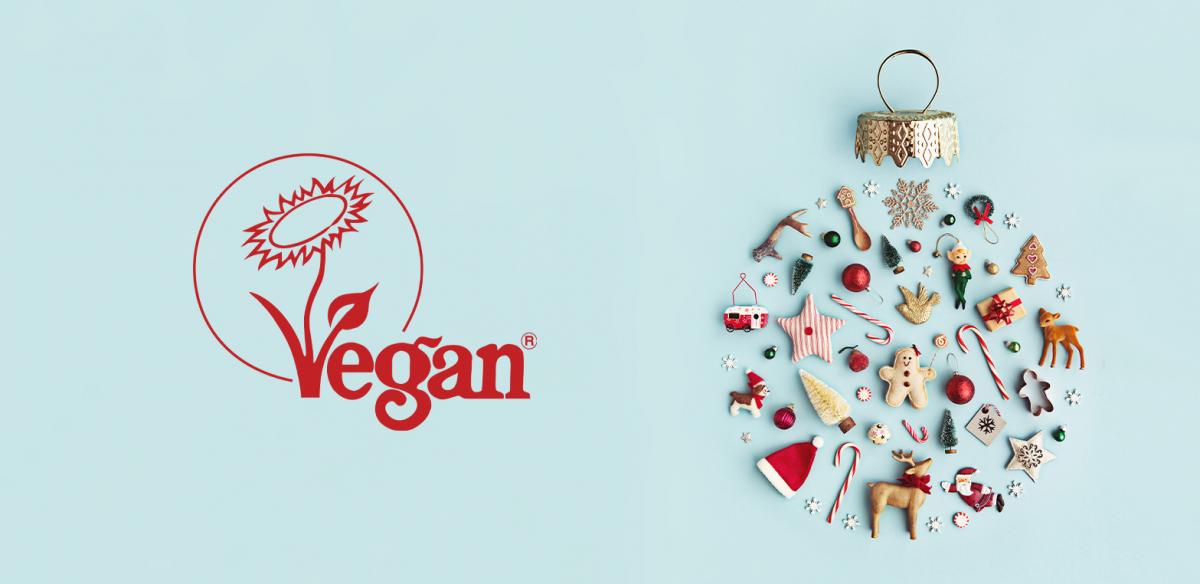 Sweet Treats

We Love Cake Mince Pies
What is Christmas without mince pies? Not only are We Love Cake's mince pies vegan, but they're also suitable for the gluten-free members of your family, friends or office! Ready after a few minutes in a hot oven, these mince pies double up as a delicious dessert when served with a generous scoop of vegan ice cream or whipped vegan cream. Available at Morrisons, Iceland, Booths.
ASDA Free From Bruce the Brussels Sprout Choc Game
ASDA's Bruce the Brussels Sprout Choc Game gives you permission to play with your food! This festive chocolate block doubles up as a fun game as well as a delicious treat, and it makes for a cute stocking filler. It's gluten-free too!
Whitakers Tin-Tations Chocolate Selection Box
There'll be no missing out on the chocolate selection boxes this Christmas if Whitaker's have anything to do with it! Their Tin-Tations luxury assortment of vegan foiled milk and dark chocolates and toffee, presented in a beautiful gift tin, is the UK's first vegan selection tin specifically designed for the festive market! The packaging is also fully recyclable or home compostable.⁠ Vegan or not, it's the perfect inclusive selection box to keep you going through the festive season or to take along as a token of appreciation on Christmas Day for your host's hard work! Get your hands on a tin at Whitaker's website, TheVeganKind Supermarket and Vegan Town.⁠
Doisy & Dam Salted Caramel Truffles
Salty, sweet and oh so festive, Doisy & Dam's new Salted Caramel Truffles are perfect for gifting your favourite chocolate connoisseur, or for you to indulge in! Think a sweet caramel chocolate ganache housed inside a rich chocolate shell, all wrapped inside a home compostable wrapper. They're also palm oil-free and made with ethically sourced fair trade cocoa. Shop at Doisy & Dam, Holland & Barrett and Ocado.
Seasonal Bites on the Go

Costa Vegan Turkee, Cranberry & Stuffing Bloomer Toastie
Packed with a 'Turkee' soya protein and wheat gluten shred, cranberry sauce, sage and onion stuffing, sage and onion vegan mayo, and fresh spinach in toasted white bloomer bread, Costa's festive toastie is the perfect munch to get you in the mood for Christmas! Available now at Costa (subject to store availability).⁠
Costa Christmas Cake, Mince Tart, Santa Gingerbread,
Christmas Cake: A rich, gluten-free and vegan fruit cake with a rich layer of marzipan and topped off with icing. Perfect as a little extra indulgence or as a sweet winter treat to enjoy with your vegan hot drink. And if you're after more festive sweets to try at Costa, check out their gluten-free Mince Tart (awarded the best gluten-free mince pie by the Good Housekeeping® Institute during their annual mince pie 2021 taste test) and adorable Santa Gingerbread!
Festive Self Care and Stocking Fillers

The Body Shop Love & Plums Bath Bomb, Shower Gel and Lip Butter
Start your day bright and merry with the help of The Body Shop's Love & Plums Shower Gel (belting your heart out to your festive playlist is essential). This Christmas cleanser is enriched with plum extract from Turkey and notes of plum sorbet, peony and comforting vegan musk. Keep Christmas on your lips with the Love & Plums Lip Butter. The rich, bright, fruity-floral scent of these limited-edition specials is guaranteed to give you the festive feels. Treat yourself or drop them into someone's stocking.
ASDA Festive Bath Treats
'Tis the season to be jolly… but it can also be rather stressful! Why not wind down and end those cold and hectic December days with a cosy Christmassy soak in ASDA's seasonal bath bombs? With jolly picks like the #BathHappy Santa Hat Bath Bomb, the shimmering Soak Star! Bath Fizzer and the adorable Twist and Sprout Bath Fizzer. For the slime-obsessed little ones in your life, there's the Elf Snot Bath Slime! ASDA currently have a '3 for 2' offer on these bath products, so they're perfect for some affordable Christmas fun.
Langtree Botanics Candlemas and Yule Candles
Fill your senses and your home with the scents of Yuletide with Langtree Botanics' Candlemass and Yule candles. They're also available as Wax Melts and soaps. Shop them as singles on Langtree Botanics' website or opt for the festive candle Duet or the Candlemas and Yule Bundles if you're looking for a larger present.
Sweets & Savouries for your Christmas Day Feast

Just Love Food Company's Festive Yule Log and Giant Cookie
Yule love these new treats from Just Love Food Company! Perfect for your vegan dessert on Christmas Day, the Festive Yule Log is a chocolate cake filled and covered with indulgent chocolate frosting in that classic log pattern and finished with a dusting of sweet sugar 'snow'. The Festive Giant Cookie makes for a fun pre-Christmas treat or stocking filler! It's a soft chocolate chip cookie made with dark chocolate chips, hand-finished with rich chocolate and caramel flavoured frosting, edible lustred stars and sprinkled with a caramel crunch. Shop the Festive Yule Log at TheVeganKind Supermarket and Waitrose; and the Festive Giant Cookie exclusively at TheVeganKind Supermarket.⁠
ASDA's Chestnut & Cranberry Yule Log
And now for a savoury Yule log and potential for your Christmas day main, or tasty option for the vegans in your family! ASDA's Chestnut & Cranberry Yule Log is the 2020 Quality Food Awards Winner. Seasoned mushroom mince, chestnut and sweet cranberry wrapped in our flaky puff pastry. No Artificial Colours, Flavours or Hydrogenated Fat. Suitable for Vegans. It takes just 25 minutes to cook, saving you lots of time and hassle so you can enjoy the big day, stress-free!
Clives Pies Mushroom Nut Roast
Clive's new take on its sensationally popular Nut Roast, now with the world's number one moist maker – mushrooms! Clive's handmade Mushroom Nut Roast comes with velvety butter beans and more nuts than you can shake a stick at. Creamy cashews, rich brazil nuts, sweet pecans – finished with their signature sprinkle of pumpkin seeds and crispy polenta. Another great vegan main option for Christmas Day. It comes in a two-person serving (but we totally support anyone who enjoys it as a single serving – it is the season of feasting!). All you need to do is add your festive vegan trimmings. Available at Waitrose, Mighty Plants and independent health food shops. Use Clive's Pie Finder for your nearest stockist.
Tofurky Roast with Herb Gravy
You really don't have to miss out on all the traditions you associate with Christmas! Carve up your very own roast with Tofurky's vegan roast, packed with flavourful wild rice stuffing and a herb gravy. Tasty and kind to animals! Available at selected Holland & Barrett stores and TheVeganKind Supermarket.
ASDA Extra Special Vegan No Pigs in Blankets
Year on year, the availability and variety of animal-free festive products continues to amaze us! This year especially, ASDA is giving people no reason to have animal products on their plate with a great festive vegan offering, including those traditional Christmas trimmings with products like their Extra Special Vegan No Pigs in Blankets.
ASDA Gravy Granules
No Christmas dinner is complete without gravy! Choose from ASDA's Vegan Trademark certified Onion Gravy Granules, Vegetable Gravy Granules, Free From Gravy Granules (milk and gluten-free) or their Free From Chicken Gravy Granules (milk and gluten-free).
Ilchester Vegan Festive Selection
You can even get yourself (or your vegan loved ones) involved in the cheeseboard fun with Ilchester's Vegan Festive Selection, which includes four vegan cheeses; Ilchester Melting Mature, Mexicana, Ilchester Blue and Applewood. Pick this up at Sainsbury's, Waitrose, TheVeganKind Supermarket and serve up with grapes, Rakusen's Matzo Crackers and Stokes Sticky Pickle!
Festive Tipples

BrewDog Hoppy Xmas Beer
Buckle up for this seasonal Simcoe sledge ride with BrewDog's Hoppy Xmas beer. It's a fruity festive fellow that delivers an all-out Blitzen of citrus flavour by the sack load, with citrus and tropical fruits on the Red nose, tangy citrus, papaya and pineapple dance across the palate, all resting on a firm malty undercarriage!
Tappers Figgy Pudding Gin
Tappers Gin's limited-edition Figgy Pudding Gin is the UK's first and original gin based on the traditional dessert, made with a medley of fruits and spices with figs, raisins, sultanas as its key botanicals. Its all-natural amber hue reflects the traditional method of skilful cold compounding, lending a full-bodied mouthfeel and festive flavours of Christmas pudding.
Believe it or not, this is not an exhaustive list of the wonderful vegan treats registered with our Vegan Trademark that are available this year – there's so much more to explore. Whether you're shopping for your own vegan festive spread for guests or recommending options for a vegan host this Christmas, be sure to share our blog to make Christmas simpler, more fun – and less awkward – for everyone!
Look out for our trademark when you're shopping to help you find more vegan products, and be sure to share your suggestions with friends, family and colleagues.
Wishing you a safe and jolly festive season and a Merry Christmas from us all at The Vegan Society!
By Vegan Society Brand Marketing Officer, Nishat Rahman.
The views expressed by our bloggers are not necessarily the views of The Vegan Society.