Tuesday, 23 November, 2021
Count down to a kinder Christmas with these delicious vegan advent calendars!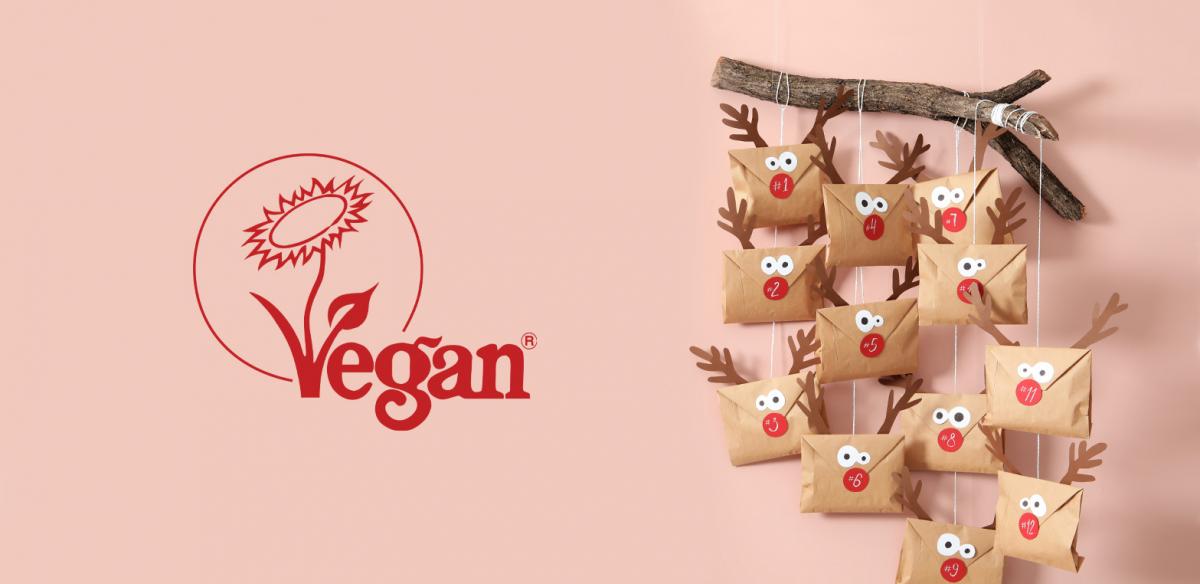 If there's anything we all need to round off the year, it's a plentiful supply of chocolate and some festive cheer. And with such great milk-free advent calendars on offer, there's no reason you should be missing out.
We've put together a round-up of vegan advent calendars that are perfect for all the family – vegan or not. As always, they are registered with the Vegan Trademark so you can shop with the peace of mind that we've ensured they're suitable for vegans.
Moo Free Original 'Milk' Chocolate Advent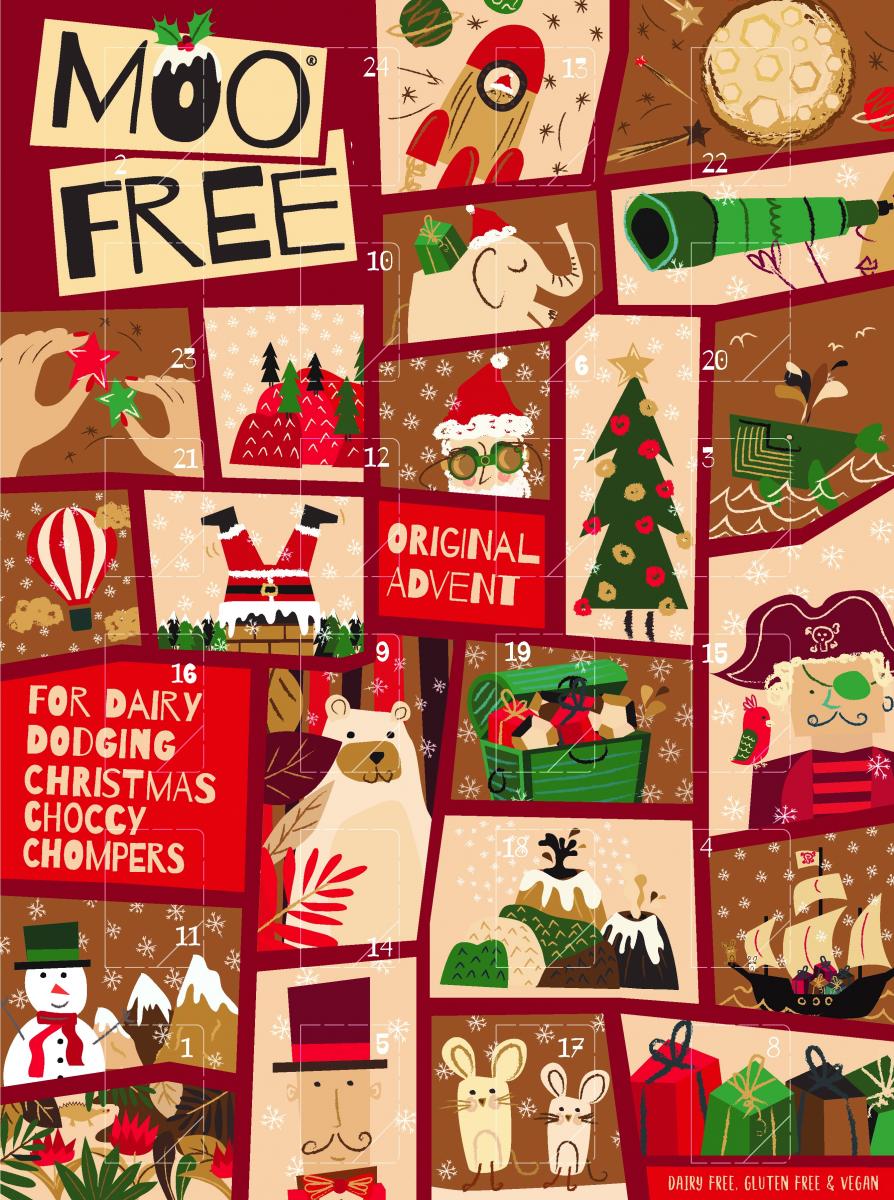 Moo Free's fun-packed, free-from advent calendars are great for kids and adults alike. With new shapes behind the doors, there's a surprise for every day. The Original 'Milk' Chocolate Advent Calendar is perfect for milk chocolate loving dairy dodgers. In addition to being vegan, it's dairy free, gluten free and soya free.
Available at Sainsbury's, Lidl, Aldi and Moo Free's website.
Moo Free White Chocolate Advent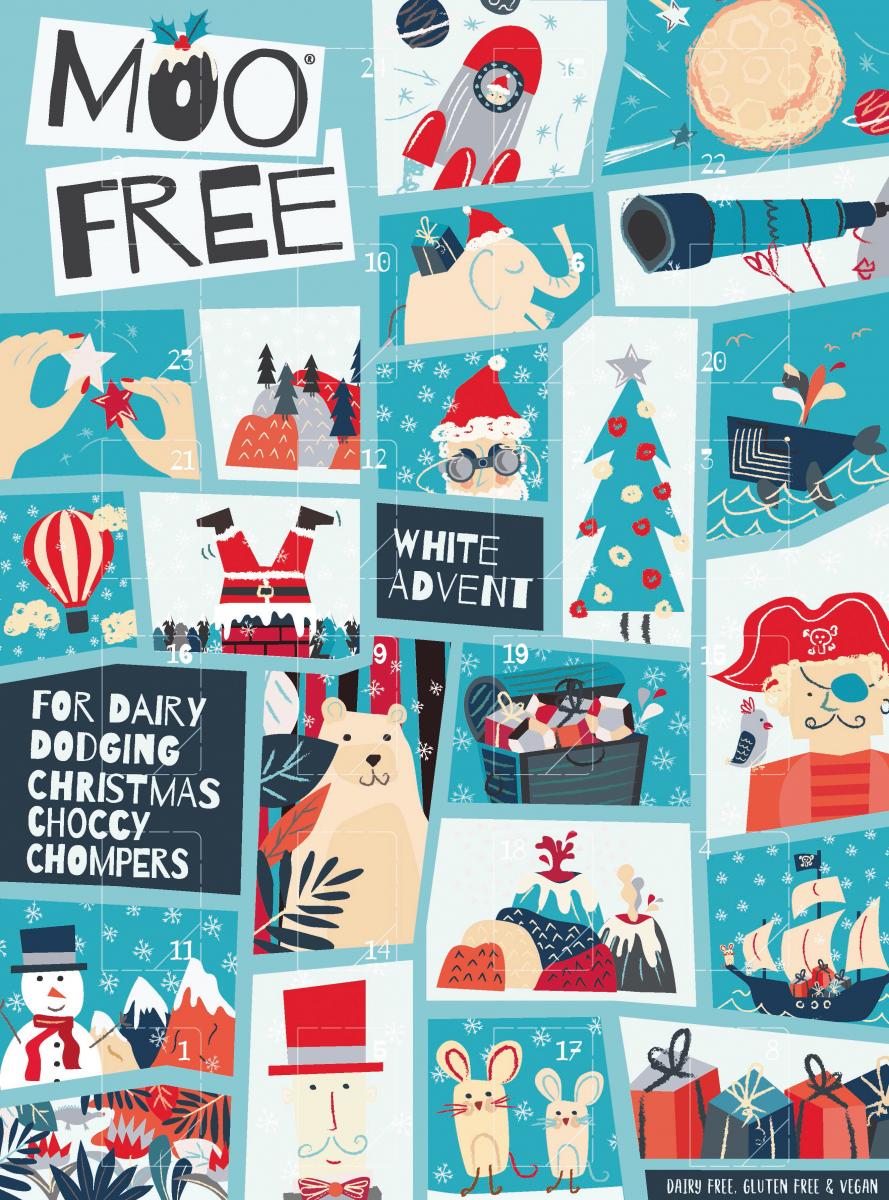 In 2020, Moo Free developed their now much-loved dairy-free white chocolate, which they've now popped into an advent calendar for white chocolate fans! Again, they're dairy free, gluten free and soya free so no one has to miss out.
Available at Sainsbury's, Lidl, Aldi and Moo Free's website.
Moo Free Organic Advent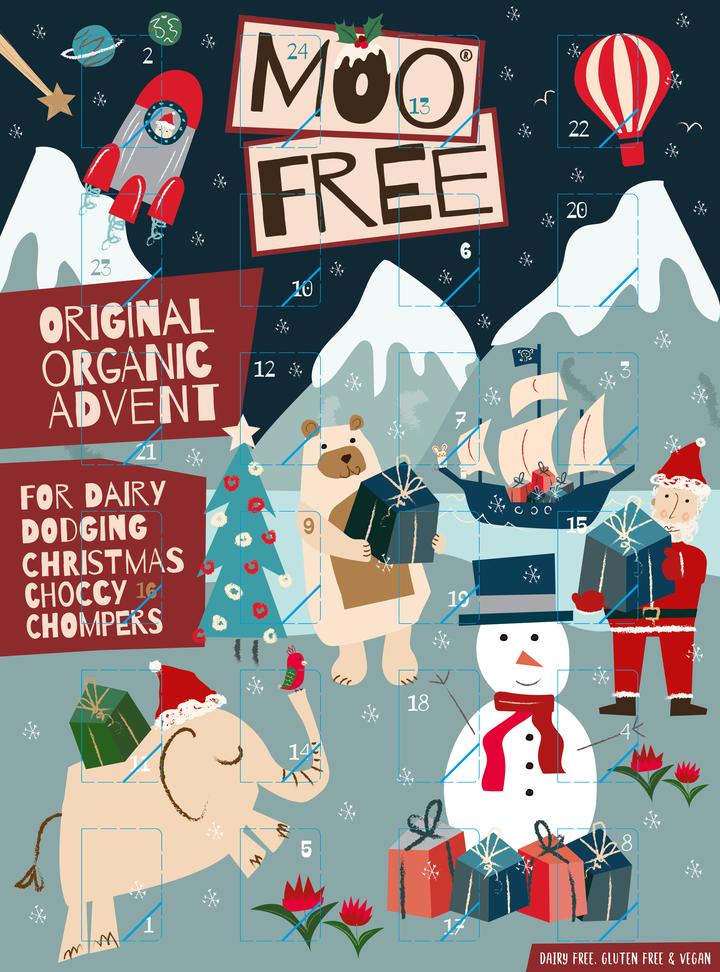 If you like your chocolate organic chocolate, then the Organic Advent Calendar is just the thing for you. Filled with Moo Free's multi award-winning, organic, gluten free, soya free, dairy free "milk" chocolate, it only contains 39% sugar (compared with the 55-60% in their regular milk chocolate). The organic chocolate is made using high-quality, ethically sourced, ingredients including the finest, single origin organic cocoa from plantations in the Dominican Republic. It's then combined with unrefined, organic cane sugar and organic rice powder to produce a velvety smooth, milk chocolate flavour that melts in the mouth.
Available at Sainsbury's, Lidl, Aldi and Moo Free's website.
All the trays used in Moo Free's advent calendars are not only made from recycled material, but you can recycle them again along with the rest of the packaging. The factories where the calendars are made send 0% waste to landfill and Moo Free's team includes several amazing people with autism.
PLAYin CHOC 24 Day Advent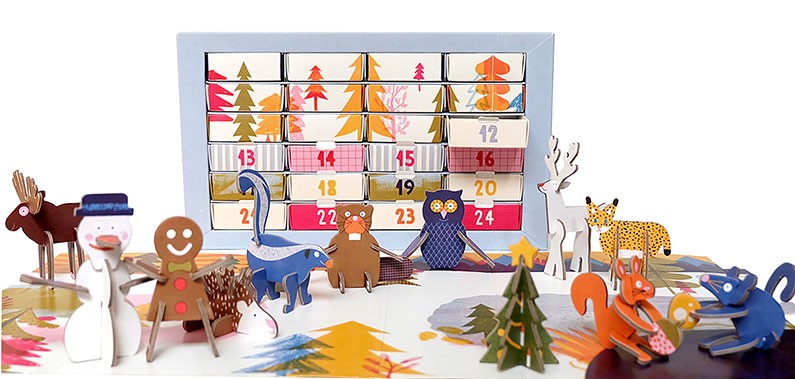 PLAYin CHOC's 24 day advent calendar brings you the joys of chocolate and play, all encased in fun packaging!
Each drawer contains a mini organic vegan milk chocolate, a 3D puzzle toy and a 'fun facts' card. Once the drawer is removed, replace it back to front to form a new picture which will be completed on Christmas Eve. The outer sleeve of the advent can also be opened up into a festive landscape to play with all 24 toys.
Available on PLAYin CHOC's website.
PLAYin Choc 12 Day Advent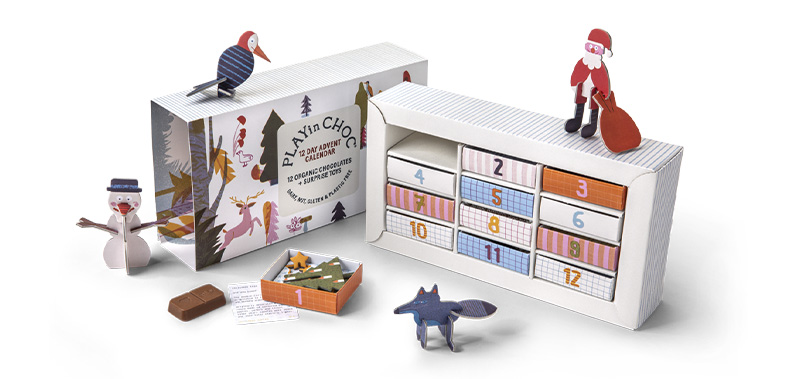 Offering all the same features as the 24 day advent calendar but with 12 drawers, the 12 day advent calendar is a more condensed version if 24 days of play and chocolate is too much excitement for you or your little one! Start later in December with this advent or open the drawers on alternating days to extend the fun.
Available on PLAYin CHOC's website.
PLAYin Choc use only organic ingredients, no refined sugars and fair trade cacao from small, family owned farms in their chocolate. Their packaging is also bio-degradable, recycled and recyclable.
Happy Christmas and don't forget to tag @vegantrademark in pictures of your vegan advent calendars on Instagram and Twitter!

By Vegan Society Digital Marketing Officer, Nishat Rahman.
The views expressed by our bloggers are not necessarily the views of The Vegan Society.