Reminder: WEAR SUNSCREEN. Yes, even if it's grey outside!

This week marks Sun Awareness Week (2-8 May). As much joy as the sun can bring, it can also be harmful to our skin. According to the British Association of Dermatologists, skin cancer is the most common cancer in the UK, and rates continue to rise, so it's extremely important to protect ourselves from the harmful effects of the sun.
If you're stuck on where to start with vegan sun care, we've got you covered with our round-up of Vegan Trademark certified sunscreens and after sun products! Certification with our trademark means they're free of animal ingredients and have not been tested on animals, so you can protect your skin from sun damage without harming animals. There's a mix of mineral and chemical sunscreens as well as child-friendly and mosquito-repellent options and, of course, we've directed you to stockists, too.⁠⁠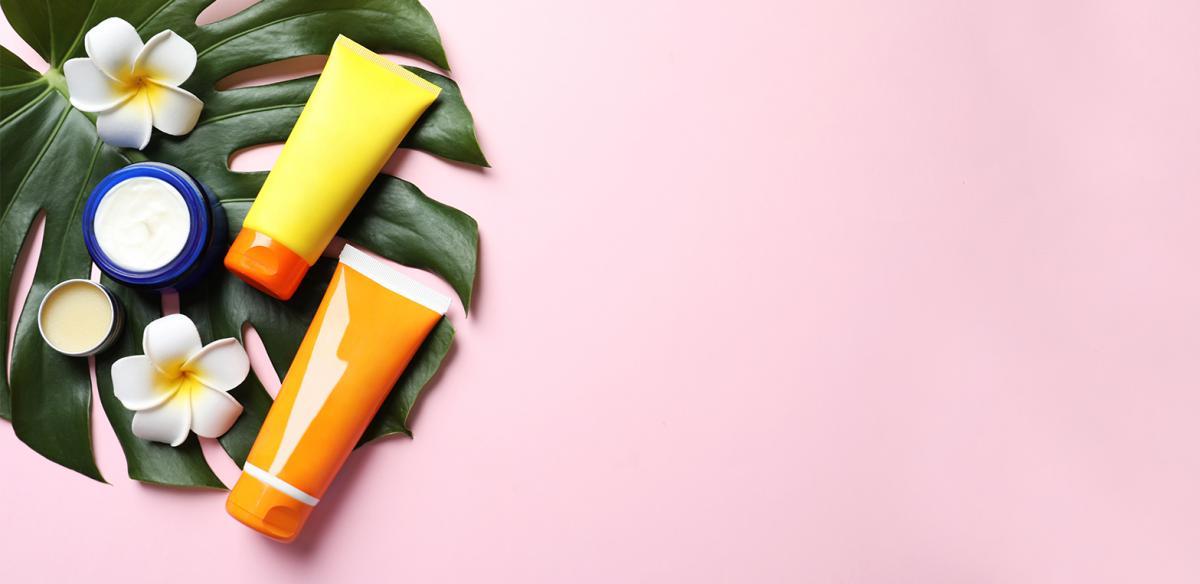 But first, a little reminder to apply sunscreen liberally to exposed areas of skin, and make sure to top up every two hours and straight after swimming, sweating or towelling to maintain protection. You can find more tips from the British Association of Dermatologists in this article.
The Inkey List

The Inkey List's daily SPF 30 Sunscreen offers broad-spectrum protection from both UVA and UVB rays. The mineral formula, containing zinc oxide, is non-greasy and leaves with a natural, mattified finish. It has an added low-level, non-cosmetic tint to help it blend into the skin. It's suitable for layering with other skincare and make-up products and for those with oily, blemish-prone or sensitive skin. Shop via the website, Lookfantastic, Cult Beauty and Boots online and in-store.⁠⁠
⁠⁠Riemann P20

Riemann P20's sunscreen in SPF 20 and SPF 50 are designed for sensitive skin, durable for up to 10 hours, water resistant and have a lightweight formula making them ideal for holidays and outdoor activities. They're available via the website, Boots, Superdrug,  Ocado, Sainsbury's, Lookfantastic and more.
Pai Skincare

Pai Skincare's British Summer Time SPF 30 (and British Summer Time SPF 30 Double) are non-greasy, non-nano zinc oxide sunscreens for sensitive skin that protect against UVA and UVB, and sit comfortably under makeup. The reef-friendly formula boasts blue light and infra-red protection, too.
Pai also has a British Summer Time After Sun – a light and soothing cream-gel hybrid for sun-stressed skin. Fast-absorbing, fragrance-free, alcohol-free and packed with prebiotic inulin, it's ideal for sensitive skin.
Shop these at Pai's website, Cult Beauty, Lookfantastic and Naturisimo.⁠⁠
⁠⁠Childs Farm

If you're looking specifically for baby and child sun care, check out Childs Farm. They use ethically sourced, natural and naturally derived ingredients to make products suitable for sensitive skin. Their SPF 50 Sun Spray, SPF 50 Roll-On Sun Lotion, SPF 50 Sun Cream and After Sun Lotion are currently on offer at 20% off for Sun Awareness Week on their website. You can also shop these products at Superdrug and Boots.⁠⁠
The Body Shop

The Body Shop has a Skin Defence range covering sun care including a Protective Lip Balm with SPF 50, Multi-Protection Face Lotion with SPF 50 (also in 60ml), Multi-Protection Face Mist with SPF 30 (perfect for top-ups and on-the-go!) and an ultra-lightweight, super-fluid Multi-Protection Light Essence in SPF 50 that's great under makeup. Available online and in-store at The Body Shop.
Ecooking

Ecooking's Sunscreen for the body SPF 30 is fragrance-free and contains broad-spectrum, chemical filters which protect against both UVA and UVB radiation. They also have an After-Sun Lotion with ingredients like aloe vera and natural squalene.
Lucy Bee

Lucy Bee's SPF 30 Serum Drops help protect your skin from UVA and UVB rays all year round with this palm oil-free, broad-spectrum, lightweight, silky serum which is suitable for sensitive skin. It can be used after your moisturiser under makeup, or on its own.
Wilko 

Wilko has several affordable vegan sun care products in its Skin Therapy range costing from £3.50 to £4.50, including an SPF 50 Lotion, SPF 50 Sun Spray and SPF50 Sun Lotion Mini in 100ml so ideal for travel, as well as an Aftersun Lotion and sun care suitable for children including an SPF 50 Lotion, SPF 50 Roll-On and SPF 50 Sensitive Spray.
ASDA

ASDA also offer affordable and accessible sun care in their ASDA Protect range from £1.50 to £5.60. Products vary from SPF 50 Face Q10 Anti-Age Sun Cream, SPF 30 Glow Shimmer Sun Lotion, easy to apply sprays and mists to products for children including this Kids Strawberry Fragrance Coloured Sun Lotion to help bring some fun to sun care application, and after sun treatments like their After Sun Body Butter. Shop them online or at ASDA stores.⁠⁠
Green People

Green People's Scent Free Facial Sun Cream SPF 30, Edelweiss Sun Cream with Tan Accelerator SPF 15 and Hydrating After Sun are organic and suitable for all skin types including sensitive skin. Scent Free Facial Sun Cream gives broad-spectrum protection against UVA and UVB rays and can be worn alone or under make-up. Edelweiss Sun Cream with Tan Accelerator can help you tan 28% faster, it's reef safe and water-repellant and the tube is fully recyclable. The Hydrating After Sun provides a cooling effect on sun-heated skin, helping to moisturise as well as maintain a tan and minimise peeling. Available at Green People's website, Holland & Barrett, Ocado, and more. We're currently running an Instagram giveaway with all three of these products so be sure to enter before 10am on 5 May 2022 for a chance to win!
⁠⁠Incognito

Incognito's anti-mosquito sun care products are useful if you're headed somewhere tropical or spending a lot of time outdoors with the potential of insect bites. They have a Mineral Suncream & Insect Repellent SPF 30 and a Moisturiser & Aftersun that help protect against both sun damage and biting insects. As well as being Vegan Trademark verified, they're also Soil Association COSMOS Natural certified, and their recyclable tubes are made with renewably sourced sugar cane plastic. Shop them at lessmosquito.com, Holland & Barrett and Ocado.⁠⁠
⁠Organii

Organii's award-winning and ICEA certified organic SPF 50 Mineral Sun Milk and After Sun Cream provide gentle sun protection for all the family. You can buy them at Organii's website, Ocado, Wholefoods, Abel & Cole, Big Green Smile, Planet Organic and more.⁠⁠
⁠⁠Primark

Primark has a huge variety of vegan sun care essentials in its PS... range including sun creams, an SPF 30 face tint, after sun, mini sun care products suitable for travel, hand and nail and hair and scalp sun protection as well as sun care for babies and children (including a Kids Roll-On SPF 50 in green!) Make sure to look out for the Vegan Trademark to identify certified vegan products in store.
Don't forget to follow Vegan Trademark on Instagram and Twitter for all the latest skincare and product updates, and tag us in your favourite Trademarked sun care products!
By Vegan Society Brand Marketing Officer, Nishat Rahman.
The views expressed by our bloggers are not necessarily the views of The Vegan Society.