Wednesday, 16 March, 2022
With any job, there are perks and benefits that come with working for your chosen organisation. At The Vegan Society, there are countless, from working for a cause that you are deeply passionate about to discounts on great vegan products such as our own VEG 1 multivitamin.

Since starting at The Vegan Society in October 2019, I have been taking VEG 1 every day. As someone who struggled with supplementation prior to this, VEG 1 has been a great product and 'staff perk' for me as I've finally found a supplement that I enjoy (and remember!) to take. As it's Nutrition and Hydration Week (14th-20th March 2022), I thought what better time to celebrate and champion our nutritional supplement. I set off to collect some feedback from my colleagues to find out if they love VEG 1 as much as I do. 
A little about me
I'm Beth, and I work in the Business Development department here at The Vegan Society. I went vegan back in 2014 and was quickly faced with a concerned mother questioning where I would get my B12. At 17, this was the least of my worries, and the question was typically met with defensive remarks. Eventually, I tried a few daily supplements, but often they were large and difficult to swallow, so I just couldn't get used to taking them every day. 
I also felt confused about what I should be supplementing. Supplementation can be controversial, with many conflicting opinions and myths online. I often flip-flopped between unnecessary panic: "I must go out immediately and buy 5 different supplement products covering hundreds of nutrients" to the other end of the spectrum: "nah, I don't need to supplement, I'll be fine." (Pssst if you're feeling the same, check out this blog post covering what vegans need to supplement.)
Finally, in 2019 when I joined The Vegan Society, I discovered VEG 1. Not only is it chewable, but it is also more affordable than the supplements I had been taking, even without our staff discount. Interested to find out more, I read a blog by our in-house dietician Heather, Why I take VEG 1. Heather draws from her own personal experience as well as nutritional insight into the individual nutrients VEG 1 contains; vitamins B12, D, iodine and selenium. I found it useful to read straightforward nutrition advice from a vegan health professional. I was sold and haven't looked back since. 
I now look forward to taking my once-daily VEG 1 with breakfast and recommend this product to every vegan I meet. Being affordable and plastic-free are added bonuses, and another big tick from me is that it is chewable.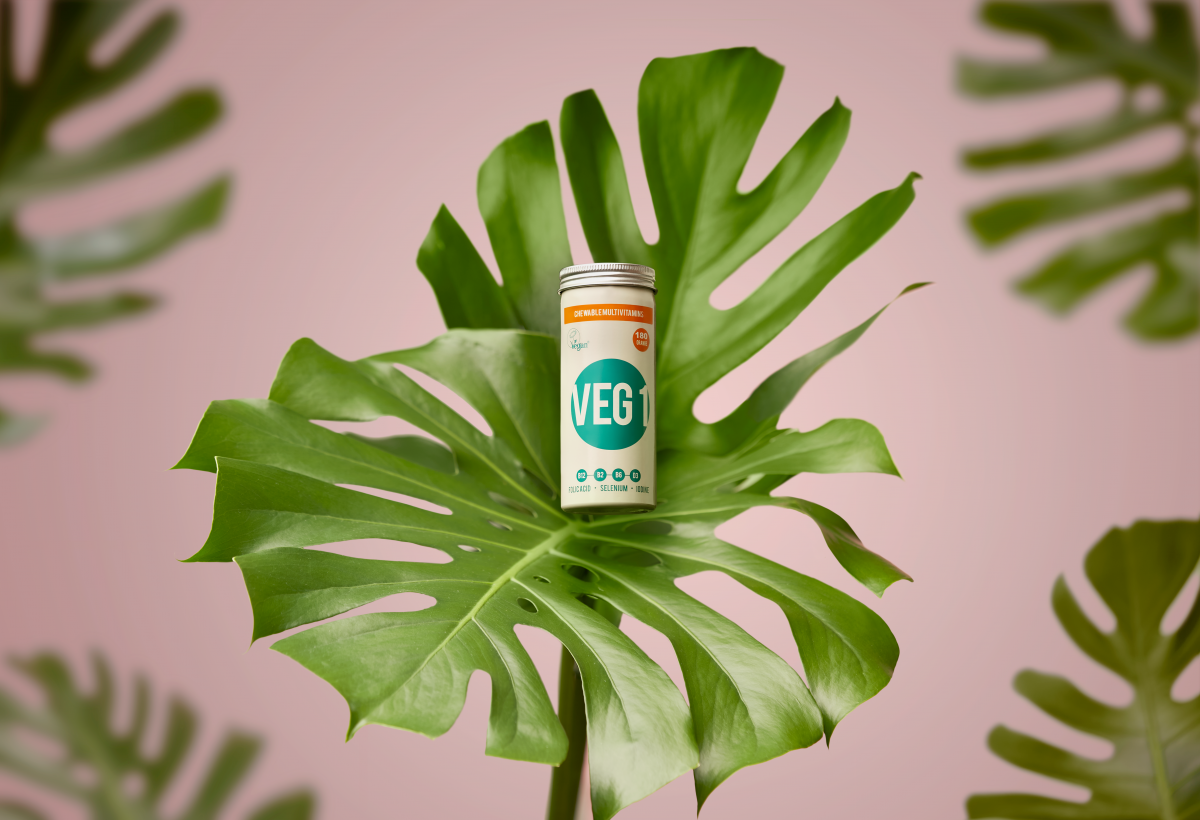 So, do other staff members feel the same?
After putting out a request for VEG 1 feedback in our staff newsletter, I was pleased to hear my laptop ping as my inbox filled with emails confirming that my colleagues shared my enthusiasm for the product. 
First to share her thoughts was Elena Orde, Senior Communications and Campaigns Officer. Here's what she said:
"When I first went vegan I didn't know too much about nutrition. I saw so much conflicting information about supplementation and vegan diets. I felt like I didn't know which sources were reliable. I've been taking VEG 1 every morning for around five years now. Keeping the tin next to my kettle ensures that I won't forget it, and I can start each day knowing that I've already covered several important areas of nutrition.
VEG 1 is the first daily supplement I've ever taken. At first, I was sceptical about taking a supplement as I thought that I should be able to get all my nutrients from my diet. However, knowing that VEG 1 was formulated by experts in vegan nutrition, I feel confident in the knowledge that it's the right choice for me."
Although I was delighted to hear Elena is using and loving VEG 1, I learned that she experienced similar confusion around nutrition when she first went vegan. Drawing on my own and other staff members comments, it seems that feeling lost about supplementation at the beginning of your vegan journey is a common experience. If you are feeling this way, we'd like to send you some love and direct you to our nutrition and health resources. These resources have been mindfully crafted by our in-house qualified dieticians, Chantal, Andrea and Heather, and cover a range of topics from a nutrition overview to advice for different life stages. 
As more feedback came in, I noticed that we loved VEG 1 for similar reasons and the same key points kept popping up. VEG 1 gets a big tick from staff for three areas:
The price. VEG 1 is the most affordable vegan supplement of its kind on the market, with a 6-month supply available for £13.90. If you're a member of The Vegan Society, that price is even lower with an exclusive 10% discount on every order.
It's chewable. VEG 1 is designed to be chewed, ideally with a meal, to promote reliable absorption of its contents. This is preferred to supplements that you need to swallow or spray as it is more convenient and reduces the anxiety around 'pill tastes'.
It's designed specifically for vegans by experts. While many supplements happen to be vegan, few are designed specifically for a vegan diet like VEG 1. Staff can trust the product more readily as it is produced by The Vegan Society.
Here's some more snippets of what staff members had to say.
Amelia Wallage, Account Assistant: "VEG 1 has all the essential things we need without breaking the bank. I'm not very good at swallowing tablets, and I used to take a multivitamin that was spray because I couldn't find a vegan one that would dissolve in water. It cost me £14 for just a month's supply – a 6-month supply of VEG 1 is less than that! I love that it's just one tablet and not a whole bunch too as it's so hassle-free."
Eleanor McGregor, Business Development Events and Communications Officer: "I swapped from standard multivitamins to VEG 1 when I joined The Vegan Society, and I feel so much more energetic! I've never had chewable tablets before, but the orange flavour is nice. The price is really good too, I'd definitely recommend it to any vegan!"
Cheryl Pierpoint, Trademark Team Leader: "I have taken VEG 1 since becoming vegan in 2018. Knowing that it is produced specifically for vegan health by The Vegan Society provides me with peace of mind. I recently had a full blood screening, and all my levels are completely normal (I am sure that VEG 1 helped a little here!)"
 More about VEG 1
VEG 1 contains (and exceeds in some cases) EU Nutrient Reference Values (NRVs) of vitamins B12, D3, iodine, selenium, B2, B6 and folic acid. It's plastic-free and available in orange and blackcurrant flavours. If you're interested in buying VEG 1, you can do so from our webshop, Etsy, or eBay stores.
It's great to hear what our staff think, but we also love to read through customer comments on our review platform Wherefrom. Here you can rate us on factors such as packaging, ingredients, and quality, so please leave us a review.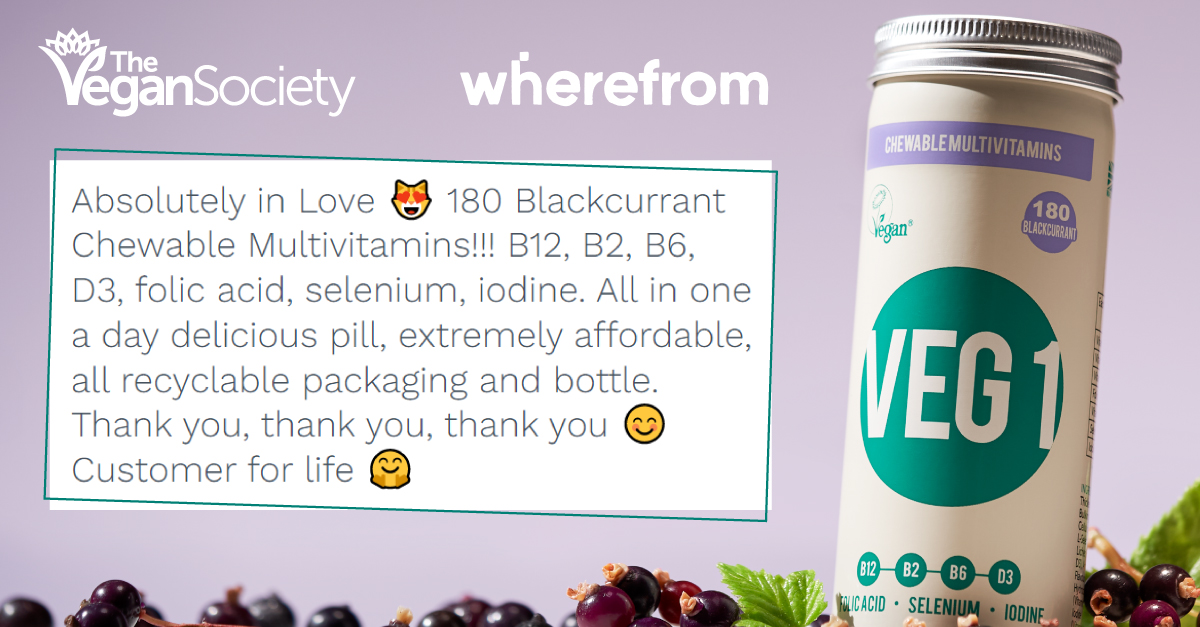 Got a question? Check out our FAQ's 
Interested in stocking VEG 1? Become a wholesaler 
The views expressed by our bloggers are not necessarily the views of The Vegan Society.