Robin Raven gives her top five tips for having a great Easter, from alternative egg hunts to vegan takes on traditional recipes.
Easter is synonymous with springtime joy for many people. It is a significant celebration for Christians, yet it has pagan roots. Now it is so ingrained in our culture that it also means a lot to people with a variety of religious beliefs. With its pastel decorations, delectable sweets, and timeless traditions, it's easy to delight in the holiday. It's easier than ever to re-imagine Easter so that the focus is on kind activities, meaningful celebrations, and ethical treats. 
Tip #1: Plan a creative search game to replace the old-fashioned egg hunt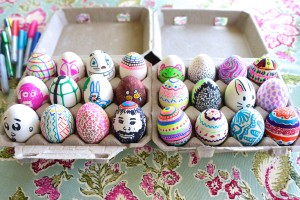 Replace an old-fashioned Easter egg hunt with other search games, then set up different prize goals so that all the participants have a chance to win a reward. For example, you may set up a simple photo game. Have a list of things in your backyard that searchers should find and photograph. For every photograph that the searchers capture from the list, they should receive one point, and you can offer vegan rewards after the search.
If you do prefer an Easter egg hunt, you can still veganize it and enjoy all the fun. You may try filling reusable eggs with small bags of treats. Alternately, have kids paint, dye then search for ceramic Easter eggs like eggnots. 
Tip #2: Fill up Easter baskets with a  variety of sweets
It used to be tough to find fun vegan candy to rival the festive designs in stores, but now the problem is choosing from the delicious treats that are available. Sjaak's is one creator of vegan Easter sweets like chocolate lollipops, chocolate-covered peanut butter eggs, and chocolate bunnies. One of the things I love about Sjaak's is that they make non-dairy vegan 'milk' chocolate (which they cleverly call melk) that will satisfy the palate of people like me who grew up on Reese's peanut butter cup eggs.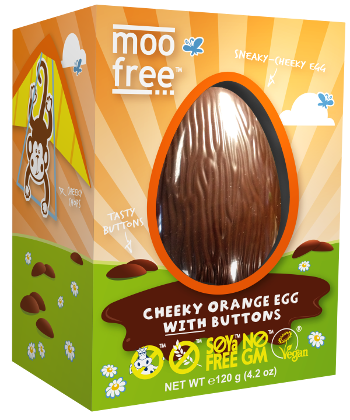 Lagusta's Luscious is a gourmet chocolate shop that offers an upscale alternative to Cadbury eggs with vegan English cream eggs. Vegan Trademark holders Moo Free offers a lot of Easter goodies. Other chocolate makers who offer vegan-friendly Easter themed sweets include Rose City Vegan Chocolatier, Amanda's Own Confections, Rescue Chocolate, Divvies, No Whey, Mama Ganache, and Premium Chocolatiers.
Tip #3: Bring vegan alternatives to traditional dishes to Easter gatherings
Let's face it. Some Easter traditions are downright disturbing. The idea of killing and eating a gorgeous, innocent lamb frolicking in a spring field is repulsive to vegans, and the casual enthusiasm about eating such baby animals can be tough. However, you don't have to go to a gathering of omnivore friends and family members without being prepared to offer delectable alternatives to animal-based dishes. Consider these vegan recipes for great Easter dishes:
Vegan Deviled Eggs from Lagusta's Luscious 
Lightened Up Spring Stuffing from Oh She Glows
Spring Vegetable Tart from VegKitchen
Cucumber and Cream Cheese Sandwiches from The Kind Cook
Truffled Tofu Scramble from Healthy Happy Life
Mushroom Dill Red Lentil Roast from Connoisseurus Veg
Chimichurri Avocado Salad from VegNews
Purple Sweet Potato Gnocchi from One Green Planet
Barbecue Potato Salad from The Vegan 8
Rainbow Vegan Cheesecake from Rainbow Nourishments
Happily, there are now vegan alternatives for any dish you can imagine. 

Tip #4: Bake your favourite desserts from childhood with egg alternatives 
You can transform nearly any dessert recipe into a vegan masterpiece with egg alternatives and a little creative experimentation. Jackie Day, the talented author of The Vegan Way, has an in-depth post about egg substitutes on My Vegan Journal. On The Vegan Society site, Sarah Cook has written a blog that goes through the different egg alternatives for various sorts of baking, too. It is helpful to reference whether you are creating your own recipe or veganizing a tried-and-true classic one you loved long before giving up animal products. 
Tip #5: Decorate with vegan Easter art 
Decorations are generally vegan, but why not display meaningful art along with the other decorations of the season? Kara Maria Schunk, a talented vegan artist who illustrated my debut children's book Santa's First Vegan Christmas, has many beautiful original paintings and prints on her Kara's Art website. Peter Max, the iconic vegan artist received the Preserve Putnam Award for his work for animal rights, offers a variety of posters and prints. Ruby Roth, whose books like We Don't Eat Animals have struck a chord with parents and kids, offers original art and prints as well. Other vegan artists include Dana Ellyn and Julia Feliz Brueck.
Finally, as you plan an Easter for you and your guests to always remember, focus on the fun of it all. Easter should be a time of joy and renewal. By staying true to your vegan ideals and indulging in all the delicious treats of the season, you can feel great about your choices on every level. 
By Robin Raven
Become a member today to enjoy three new great rewards, including Dietitian Corner, Podcast Extra and the V Museum, as well as 120+ discounts, free quarterly magazine The Vegan and more.
The views expressed by our bloggers are not necessarily the views of The Vegan Society.