When was the last time you stopped to smell the roses? Too often, we forget to slow down and enjoy the little things in life. However, our plant cousins bring beauty to our lives — and so much more.

Throughout history, herbalists have used flowers to treat a variety of ailments. Religious leaders sprinkle the blooms during celebrations. And who can imagine a western-style wedding without the bride tossing a bouquet? In symbolism and their practical uses, flowers deserve a party — which is why you should get festive this Plant a Flower Day!
The History of Plant a Flower Day

The history of this holiday lies in mystery, but the secrecy isn't due to any conspiracy. Many cultures celebrate a variation of this holiday around the same time of the year, so it's challenging to pinpoint a precise point of origin.
However, the festival generally takes place in the spring, around the beginning of planting season. In the United States, the celebration occurs on March 12. 
Scientists have classified over 350,000 species of flowers. While no one knows for sure how many exist on earth, the number could soar into the millions. Like a fingerprint, each plant is utterly unique. No two daisies look precisely alike, even if they share the same number of leaves and petals. More importantly, each plant has individual chemistry and many have healing properties.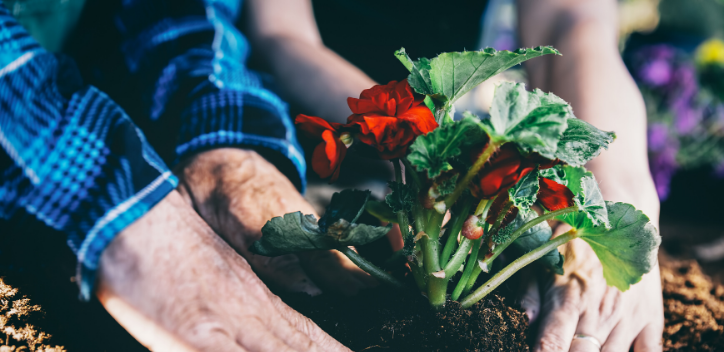 Medicinal Properties of Flowers

Many of the medicines you rely on to make you healthier when you feel sick "stem" from flowers. For example, have you ever used a witch hazel astringent on acne-prone skin? If you have, you should know the magic comes from a flowering plant.
You can harness the power of flowers by using them to make herbal tea remedies. For example, if you have a cold or flu, a hot cup of echinacea boosts the immune system and provides a hefty dose of nutrients like vitamin C. You might know the bright yellow root of the flowering turmeric plant for its anti-inflammatory action, and it comes from a beautiful Asian bloom. And if you're looking to detoxify your liver, few plants in nature aid in this task like the milk thistle, with its showy purple heads and fluid-filled stems.
Are you having trouble getting your Zzz's at night? Why not brew yourself a cup of chamomile and lavender tea to help you unwind? Both flowering herbs have noted calmative properties. If you're plagued with perpetual insomnia, try adding valerian to your brew. While this substance does need to build up in your body, you should find that sleep comes more readily after a few weeks of use.
You can use flowers topically, as well. People have long used rosewater to hydrate their skin and give it a dewy glow. You can learn how to make a homemade version to celebrate this holiday and keep a small spray bottle in your purse. Anytime you need to perk up dull indoor skin, you have the remedy on hand.
How Flowers Bring Joy to Life

If you love to take a walk in the garden to observe festive blooms, you're far from alone. Who hasn't oohed and aahed when a colleague received a bouquet at her desk? Throughout history, people have used flowers to beautify their environment and host celebrations.
In the west, for example, many people use roses as an expression of love, and they play a prominent role in many wedding arrangements. In India, flowers also play a starring role in wedding celebrations. They make varmalla, or traditional Indian flower garlands, usually consisting of roses, chrysanthemums and jasmine. As they do in the west, some brides adorn their hair with blossoms instead of a veil, and they may wear a nosegay on their wrist.
Flowers traditionally mark life's milestones. When a friend gives birth, chances are good you send a festive bouquet to her hospital room. If someone loses a friend or family member, blossoms show that you recognize their loss and mourn with them. Could you imagine Mother's Day or Valentine's Day without ads for florists?
Ideas for Plant a Flower Day

How can you celebrate Plant a Flower Day? Give these ideas a try:
Work in your garden: If the weather proves cooperative, get out and dig in the earth. If it's too cold to plant where you live, you can prepare the soil.
Buy a houseplant: A NASA study famously found that houseplants help clean indoor air toxins, as well as beautify your home.
Send a "just because" bouquet: Is there someone in your life who could use cheering up? Get them a bouquet just because you can. Look for florists in your area who operate under sustainable, vegan practices. If you can't think of anyone to send flowers to, you can always have a batch delivered to a nursing home to cheer up a random lucky resident.
Celebrate Plant a Flower Day

Flowers enrich our lives in many ways. This March, take a moment to appreciate this beautiful planet we call home, and add to its beauty by planting a flower!
Kate Harveston is a health and sustainability journalist from Pennsylvania. She is proud to live a fully vegan lifestyle and share that experience with others through her writing. If you enjoy her work, you can visit her blog, So Well, So Woman.
The views expressed by our bloggers are not necessarily the views of The Vegan Society.