Tuesday, 23 January, 2018
Chopsticks at the ready! Wagamama has registered its new vegan dishes with our Vegan Trademark, including six mains, four sides and two desserts. Dominika Piasecka rates the new dishes. 

My friends don't even ask me anymore where I want to eat out or what food to order – they know I will always choose East Asian as it is by far my favourite cuisine. When cooking at home, I experiment with my collection of oriental vegan cookbooks and try to recreate the recipes that vegan YouTubers MommyTang or Peaceful Cuisine have beautifully crafted. Needless to say, I was over the moon to learn that Wagamama, a restaurant chain inspired by the flavours of Japan, has launched a new vegan menu.
The Vegan Society staff were kindly invited to the Solihull branch by its manager Jonaid to try out the new range and we got just what we expected – flavoursome, satisfying food served by members of staff who really understand the importance of veganism. The new menu was developed by the vegans of Wagamama who had got together to brainstorm ideas.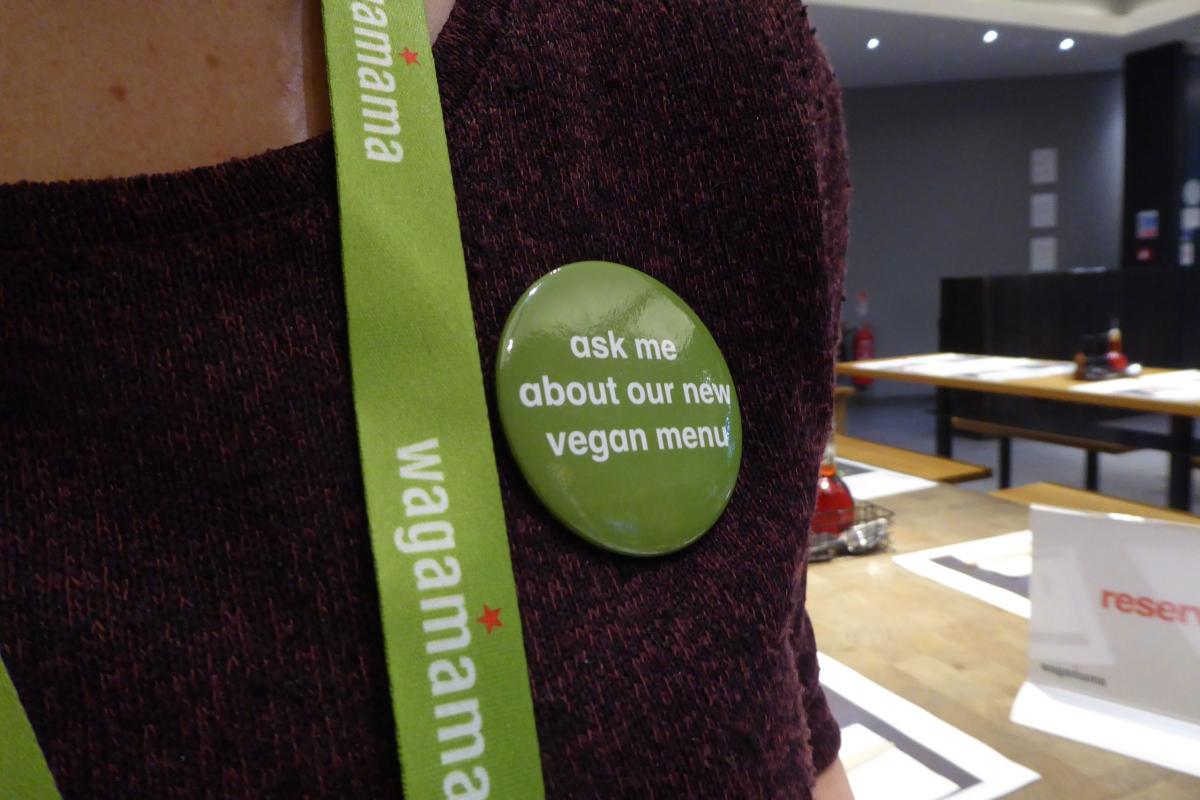 We were positively surprised by the big green badges every member of staff was wearing that said 'Ask me about our new vegan menu' – what a brilliant idea to promote the new vegan dishes! As we opened the brand new menu cards, we couldn't wait to tuck in. 
For starters we ordered freshly made gyoza dumplings with a dipping sauce, and wok-fried greens in a deliciously sweet oily sauce. Amongst the mains, I chose the newly crafted kare burosu ramen consisting of vegetables and udon noodles in a curried broth, accompanied by coated silken tofu, a kick of chilli and a fresh coriander garnish.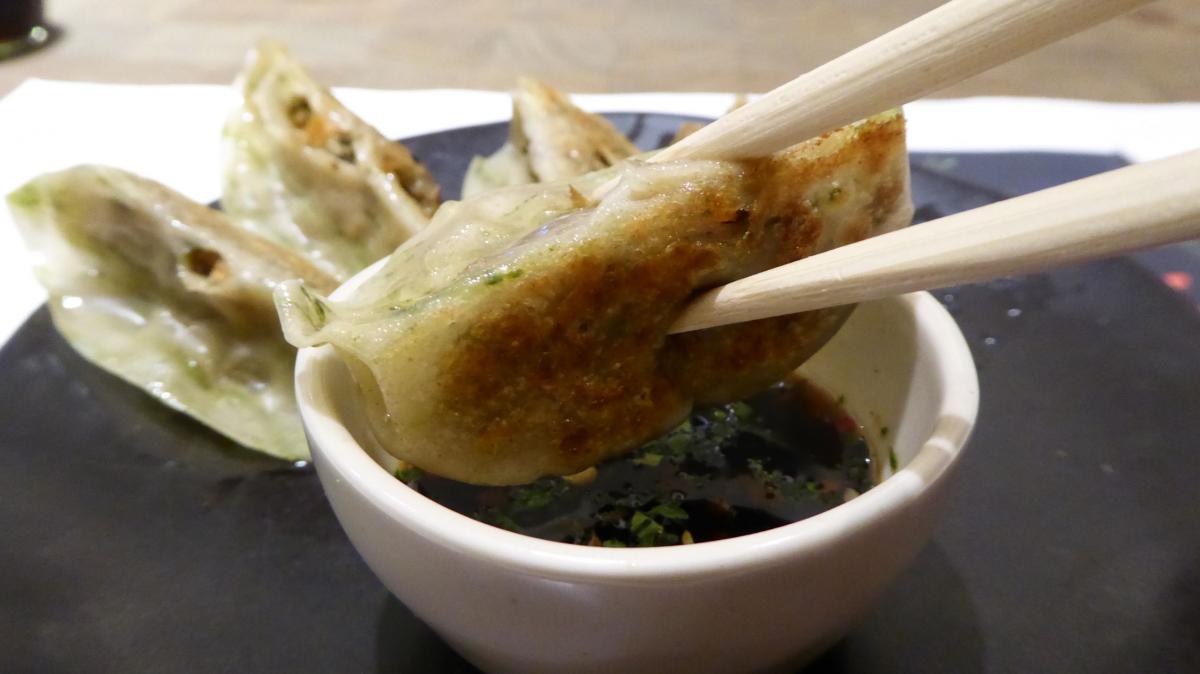 As I was served, I was warned that it would be very spicy which made me worried considering my inability to take spice and how spicy oriental food can get. Surprisingly, it didn't even meet my humble idea of 'spicy' – Wagamama is, after all, inspired by East Asia but amended to suit out Western palates where our food is usually much more bland.
The real gem was yasai pad thai, ordered by my dinner companion Danielle. It's made up of rice noodles in sweet amai sauce with tofu, beansprouts, leeks, chilli and red onion and garnished with fried shallots, peanuts, mint, coriander and fresh lime.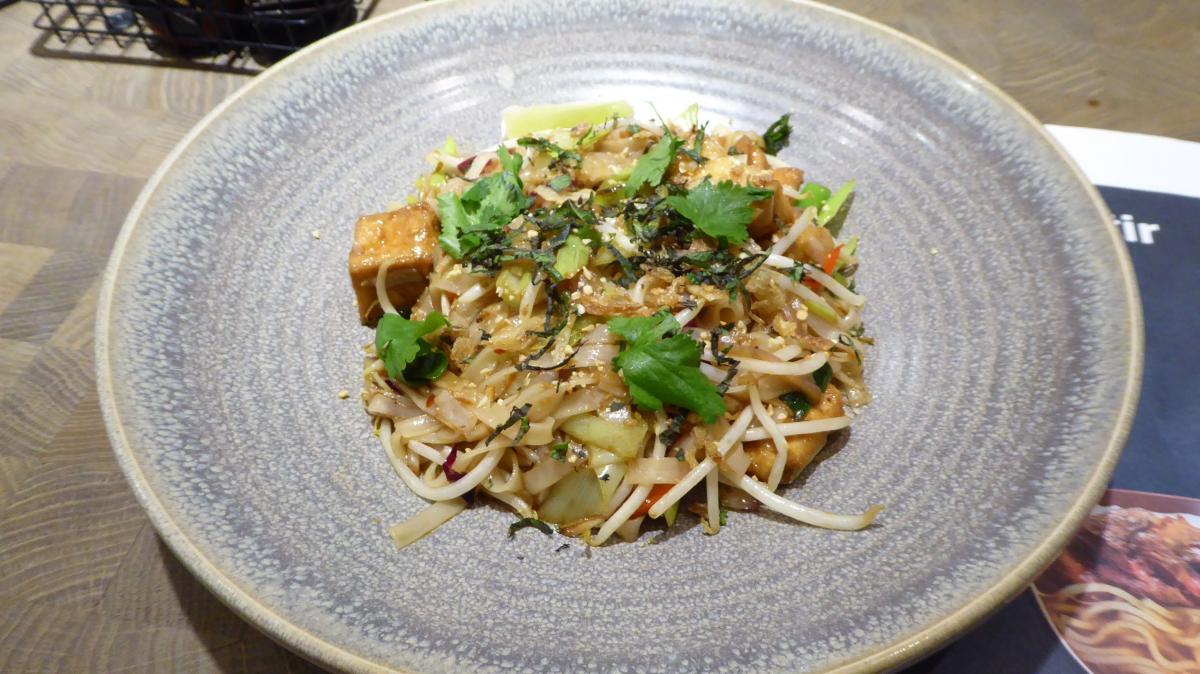 Oriental food can be quite oily but we were told the pad thai has just under a tablespoon of oil. Danielle described it as satisfying and with a good balance of flavours. By the end of it we were both so full we could hardly find some room for dessert!
We tried both sorbets: lemongrass and lime, and passionfruit and pink guava. The former had a bitter aftertaste, leading to the sweet passionfruit and guava winning over our tastebuds. Both sorbets had a nice, powerful taste, enabling us to get rid of the oily/garlicky feeling that the food left in our mouths.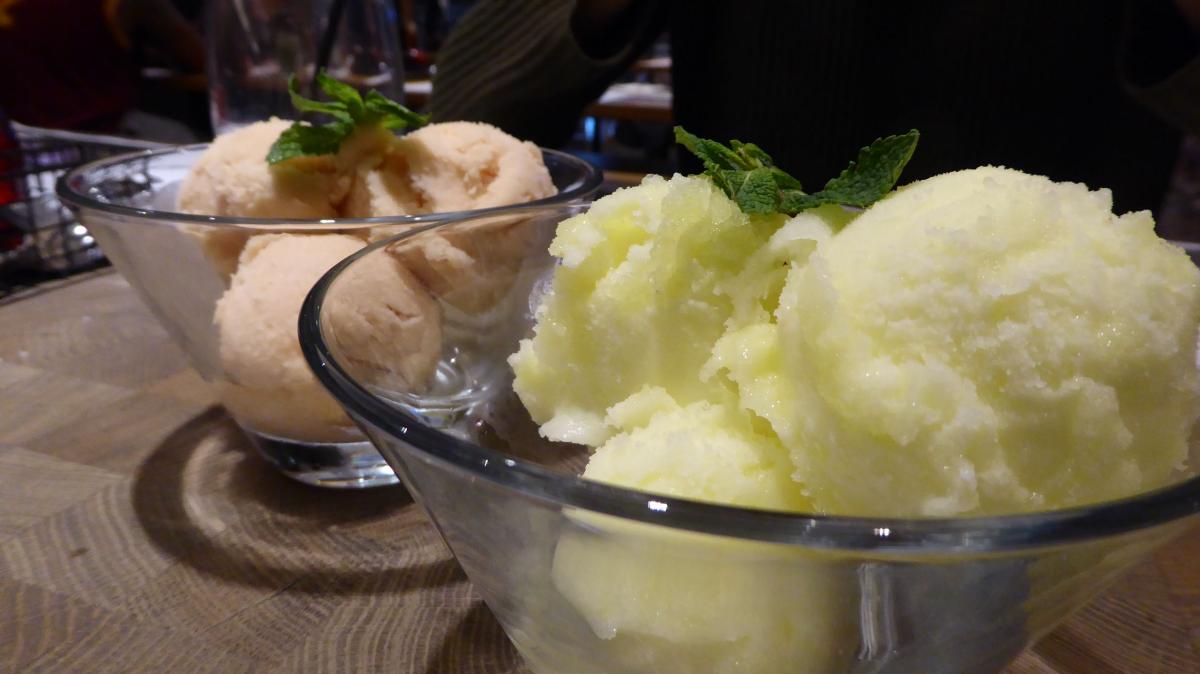 The vegan menu also includes beers, wines, tea and soft drinks which is a huge bonus. As vegans, we often have to ask waiters about alcohol or visit barnivore.com to find out if it's suitable - something not necessary at Wagamama anymore with the great new labelling. 
Now, fingers crossed that the next step for Wagamama is a vegan katsu curry… If you've been anywhere near their Facebook page in the last few weeks, you will see their timeline flooded with requests for this currently non-vegan dish. 
Why not thank Wagamama for all the lovely dishes they've launched for us or share your thoughts with them? Visit wagamama.com for more.
By Dominika Piasecka 
The views expressed by our bloggers are not necessarily the views of The Vegan Society.