Something we often hear about from transitioning vegans (or would-be vegans) is their struggle to part with cheese. We're here to show you that vegan cheese is not only a kinder, more planet-friendly choice, but that your choices are both abundant and seriously delicious!

We've thought of everything, from melty pizza cheese to vegan cheese board heroes, so keep reading for some great vegan cheeses that will melt your heart! They're all registered with our Vegan Trademark, so each cheesy delight is free of animal ingredients and free of animal testing.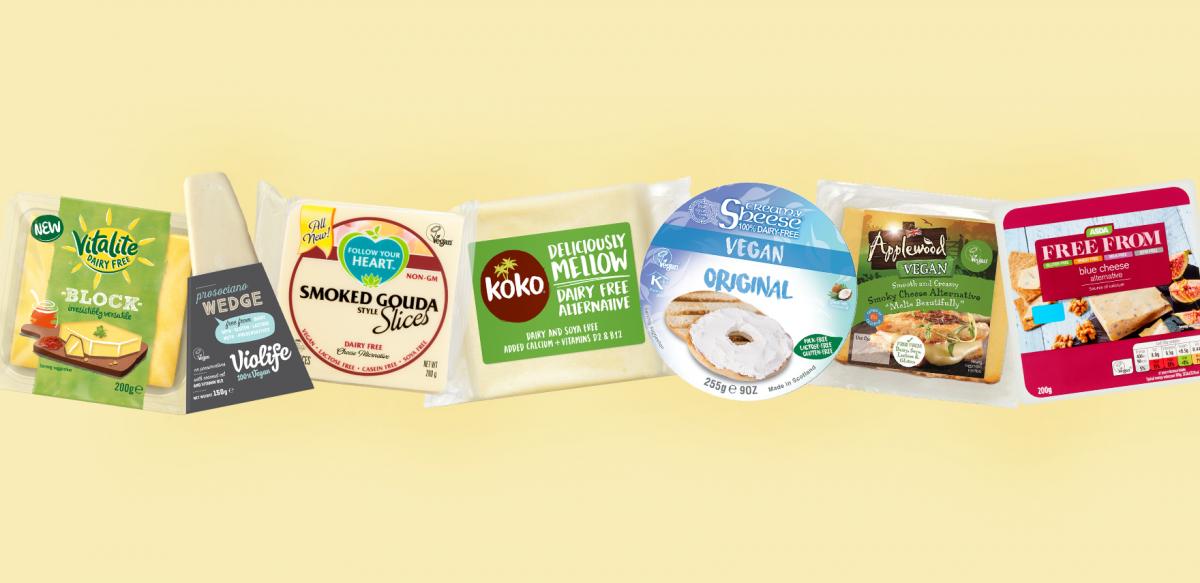 Pizza

To up your vegan pizza game, you'll want to get a pizza Vitalite's brand new vegan cheese block with added calcium and vitamin B12. As well as being free from dairy, it contains no palm oil, dairy, lactose, soya and gluten. It melts beautifully over your pizzas but this versatile cheese can also be used in a variety of other dishes! Available exclusively at Asda. 
Pasta

Thought that you wouldn't be able to recreate that classic parmesan taste? Violife's irresistible prosociano cheese is here to prove otherwise! A generous sprinkle of this delicious alternative to parmesan over your pasta dishes will give it that authentic Italian taste and richness. It's also great shaved over your salads! Widely available at major supermarkets, online retailers and independent stories. 
Burgers

Elevate your vegan burgers with Follow Your Heart's decadent, hickory-smoked gouda style slices. Pair it with lashings of caramelised onions for even more depth of flavour. So goud you'll savour every single bite of that deliciously loaded burger! Available at Ocado, The Vegan Kind Supermarket and various retailers. Find your nearest stockist here. 
Sandwiches

Koko Dairy Free's mature but mellow cheddar cheese alternative will add amazing flavour to your sandwiches. And if you don't believe us, it recently won 'Best Vegan Cheddar' in the 2019 Vegan Cheese Awards! It's the perfect pick for you if you prefer milder tasting cheeses. Bonus tip: try grating some into your mashed potato for extra flavour and creaminess! Find out where you can buy it here.
Bagels

Bute Island's Original Creamy Sheese is a versatile, dairy free cream cheese alternative and the perfect partner for your bagels, topped with fresh chives and any other vegan topping that takes your fancy. It can be used in exactly the same way as non-vegan cream cheese in a wide range of sweet or savoury dishes from vegan cheesecakes, to creamy mushroom pies or melted over hot vegetables. Bute Islands Original Creamy Sheese is widely available at these retailers.
Cheese Board

Bring some edge to your cheese boards with the iconic Applewood Vegan with its signature smokiness (available at Asda and The Vegan Kind Supermarket), Violife's After-Dinner Cranberry Wedge and their Block With Herbs (both widely available), along with these tasty and affordable options from Asda's Free-From range: Asda Free From Blue Cheese Alternative, Asda Cheddar Alternative with Garlic & Chives and Asda Free From Double Gloucester with Onion & Chive Alternative.
Whether you're taking your Veganuary journey a step further, wanting to show the Februdairy brigade just how delicious cheese can be without the dairy, or you're just a die-hard vegan cheese fan, we hope we've opened up a world of opportunities for you, minus the cruelty and the environmental impact! 
Make sure you're following Vegan Trademark on Instagram where we'll keep you in the loop with all the latest vegan cheese releases registered by us.
By Vegan Society Digital Marketing Officer, Nishat Rahman
The views expressed by our bloggers are not necessarily the views of The Vegan Society.