Friday, 24 September, 2021
What is it like and how can you get involved?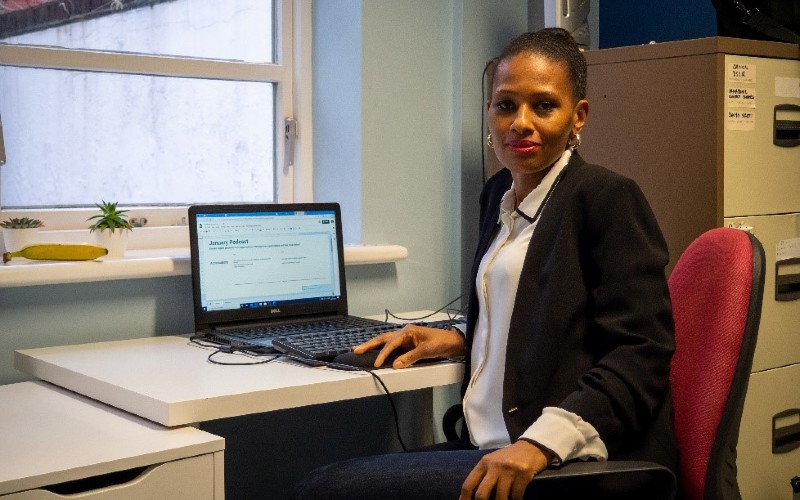 What did volunteering used to be like?

The volunteer programme at The Vegan Society has changed significantly over the course of the pandemic. Pre 2020 volunteering involved lots of office-based and face-to-face work, events and public outreach. It was not unusual for volunteers to join staff in the office on lunch breaks, where we would sit and share vegan food while hearing more about the projects our volunteers were working on.
What is volunteering like now?

Now, most of our volunteers do their roles remotely. They are based mainly in the UK, but we also have volunteers from Europe and right across the globe, from Australia to the United States. Because we're all in different locations and different time zones, a lot of our communication happens over email. Staff from across our entire organisation work with volunteers. Some are put in contact with volunteers only when they have a specific task. Other staff members, such as our PR and Media Officer, Web Officer and Fundraising Manager have a specific volunteer that they work with every week.
Who are our volunteers?

Pre-pandemic, we had around eight office volunteers coming in every week, each with their own unique role and a supporting member of staff. While we hope to be able to work with volunteers in person again, we have also learnt that remote volunteering has lots of benefits too.
At the time of writing, we have 32 active volunteers in our main volunteer programme, and 259 volunteers in our Community Network. The Community Network is made up of Community Organisers and Community Advocates who advance our campaign work in their local communities.
When it is safe to do so, The Vegan Society attends large events across the UK to promote our work and support people to go vegan. Volunteers help here too! Staff and volunteers work alongside each other at our stands, interacting with the public and educating them on our work.  
Volunteers come from a wide range of backgrounds too, each bringing their own specialist knowledge and interest to our work. When they are not giving their time to us, these people are science editors, attorneys, teachers, software testers, translators, and business owners, to name a few! 
You can get to know more about our volunteers through our volunteer profiles.
What happens once you start volunteering?

This depends on your role! All volunteers will complete an induction, typically involving reading our volunteer handbook and signing our volunteer agreement. For office roles or Community Organiser roles, you'll need to complete two references. Office volunteers will also be given a tour of the building and a health and safety induction, as well as being introduced to staff members across different teams. For ad hoc roles such as Researchers and Proofreaders, you'll be provided with all the information you need to do your tasks, including our Style Guide and Brand Guidelines. The Volunteering and Engagement Officer will check in with you after you complete your first task, and again within 3-6 months for a one-on-one chat where you'll be asked how your experience is going and have the opportunity to give feedback and suggestions.
What is the volunteering culture like?

Due to the Covid-19 pandemic shaking up the way we do things, we're still working on developing our new culture for remote volunteers. An important part of this is open communication. We might not be working face to face (or even meeting at all, for those of us working in different countries), so it's especially important that our volunteers feel included and part of The Vegan Society.
The Volunteering and Engagement Officer is a full-time employee, who is available within regular working hours from Monday to Friday. We encourage questions, feedback or even just a chat, as it all helps to keep us connected. For some roles, there are monthly meetings alongside other volunteers and a staff member, to discuss tasks and projects. We've also recently started to hold regular online socials, attended by Vegan Society staff and volunteers, with some companion animals even making an appearance!
How can you get involved?

We aren't always recruiting for new specialist volunteers, because we wait until there is enough need in a specific area to justify creating a new role. This works well and prevents us from wasting potential volunteers' time. Applications are through our website: to ensure the system is fair for everyone, we can't accept other methods of application, such as CVs over email.
Once you have applied, our Volunteering and Engagement Officer will review your application and may discuss it with other staff members. This process can take around 10 days, especially if we receive lots of applications for the same role. If we think volunteering with us would be a good fit for you, we'll get in touch and ask to meet. This could be over the phone, via video call or in person. The meetings are in the form of an informal interview, and serve as an opportunity to for us tell you a bit about The Vegan Society, our roles, and how the volunteer role fits in. We might ask you some questions about whether you've volunteered before, and what you're hoping to gain from taking on this role. We'll also talk logistics, such as time zones, support and working hours. We'll finish off by answering your questions, and if everyone is happy; discussing how to begin your volunteering journey with us!
We are always recruiting for the Community Network. Come on board as an advocate or an organiser today!
The views expressed by our bloggers are not necessarily the views of The Vegan Society.