Politics is going through a very interesting phase at the moment, to say the least. Whilst the Brexit crisis looms large, it's probably no surprise that the climate crisis is playing catch-up and that the role of plant-based diets as a solution is low down the pecking order.

The Vegan Society policy team have spent the last few weeks hotfooting around the country on the party conferences trail. We've been trying to engage with politicians and party members to explain that a plant-based food and farming system could be part of the solution to the climate crisis. Of course this would be a win for animals too, but with the climate crisis at least on the political agenda, we know this is the best route for action. We went armed with a body of recent studies on the environmental impacts of various diets, most of which concluding that a diet rich in plant-based foods and with fewer animal source foods results in both improved health and environmental benefits.
For example, the Intergovernmental Panel on Climate Change has said, "Consistent evidence indicates that, in general, a dietary pattern that is higher in plant-based foods, such as vegetables, fruits, whole grains, legumes, nuts, and seeds, and lower in animal-based foods, is more health-promoting and associated with lower environmental impact."
Our Campaigns and Policy Officer, Sabrina Ahmed, in conversation with the Shadow Environment Minister, Sue Hayman MP.  
The Committee on Climate Change has said, "Changes in people's diet, if this leads to reduced UK production of products such as beef, lamb and milk, could have a significant impact on emissions."
The EAT Lancet report recommends "increased consumption of plant-based foods while in many settings substantially limiting animal source foods".
But despite the science, politicians seem unwilling to take any action. 
A couple of weeks ago the Welsh Environment Minister, Lesley Griffiths AM, said she doesn't think we need to eat less meat, and that in Wales "it's very, very sustainable". 
We also have the challenge of the loudest farming voice ignoring the science. The NFU has said that reducing the number of animals farmed is a red line for them; in fact, they believe we can produce more yet still hit ambitious emission reduction targets. Given that there is no available technology to reduce the inherent emissions of ruminant animals, this is simply unrealistic.
However, even without any incentives, more people are eating plant based. Mintel report that sales of the meat-free market are forecast to increase by 44% over the next five years. 
So as it stands, we could be producing food that people don't want to eat, that is bad for the environment and that the scientific community is saying we shouldn't produce, and – certainly for the next three years – we'll be paying for it through the subsidy system too. 
The food system is complex, and of course different types of animal farming have different impacts. There's a lot of discussion surrounding the benefits of having grass-fed animals as a climate-friendly method of farming. Tara Garnett from the Food Climate Research Network, however, has concluded that this method is flawed – the carbon sequestered is outweighed by the methane produced, and by a significant margin. We should also note that it's not possible to maintain anywhere near the existing animal protein production through grazing systems without causing deforestation and further contributing to the already high levels of emissions produced by animal agriculture.
Clearly, farmers do a lot to support biodiversity, protect our land and put food on our table. We're simply suggesting that the food they produce should be different.
Our Grow Green campaign makes the case for a shift from animal agriculture to plant protein agriculture. We talk specifically about the benefits of pulses: peas, beans and legumes, which are nutritionally valuable and have good iron and fibre content, would be an ideal source of protein if people are to reduce their meat intake. Pulses have a host of environmental benefits – they are nitrogen-fixing crops, taking their nitrogen from the air and depositing it in the soil, so resource-intensive nitrogen fertilisers are not usually required. 
By transitioning away from animal proteins and towards protein crops, we would be reducing methane emissions, reducing water use and respecting animal rights.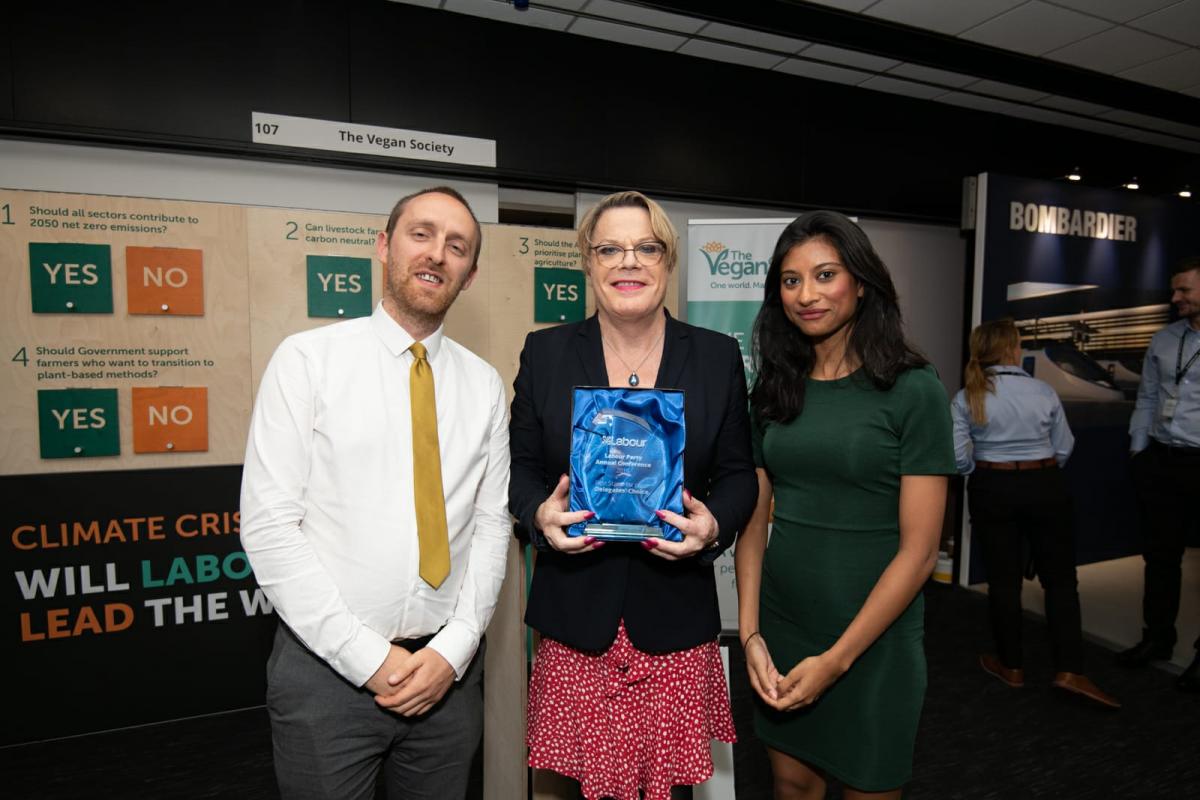 Winning the best exhibition stand award at the Labour Party Conference, presented by Eddie Izzard  
We could certainly be growing more crops for human consumption on our land than we currently do, but of course not all land is suitable for growing pulses. This is where we need to look at reforestation and rewilding. Much of our land would naturally be ancient woodland, but currently 87% of the UK is unwooded. Those rare pieces of land which have been grazed for hundreds of years and contain unusual biodiversity mixes can be retained by free-living animals or animals who are supported for conservation grazing purposes but need not form part of our food production system.
These are radical ideas - we know - but we desperately need some vocal political support, along with the collective actions of society, to encourage a transition that's reflective of the needs of our planet.
We've seen bold ideas from other European countries and it's time that the UK stepped up. In the Netherlands, Liberal MP Tjeerd de Groot has called for livestock production to be halved. Admittedly, this caused protests from farmers and was accused of ignoring the impacts of motor racing, airports and multinationals. However, at least there is a voice pulling the discussion in the right direction.
In Ireland, the government has committed to plant 22 million trees every year for 20 years. 22 million trees a year! This will involve farmers setting aside land for tree planting and implies a reduction in animals farmed – though this needs to be explored further.
Our political engagement has not yielded such wins so far, but good conversations were had over recent weeks, and more meetings lined up. We can be confident that the scientific evidence and the sway of public opinion will eventually push the political discourse towards a plant-based future, and we will continue to speak truth to power.
The views expressed by our bloggers are not necessarily the views of The Vegan Society.