Tuesday, 2 November, 2021
The Vegan Society is hoping to catch the attention of Scotland's First Minister Nicola Sturgeon with humorous adverts running in the Scottish Metro during COP26.

The 26th UN Climate Change Conference of the Parties (COP26) has taken over Glasgow City Centre until 12 November. The conference is an annual meeting of global leaders to discuss how to tackle climate change.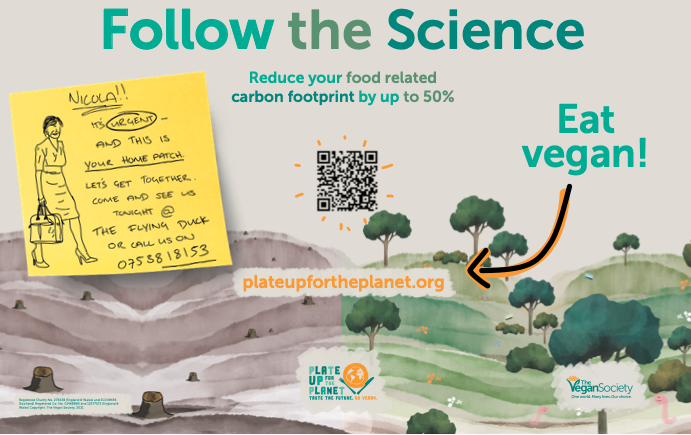 The eye-catching advert features a bright yellow post-it note for Nicola – telling her that she needs to urgently talk to The Vegan Society. It suggests she comes to The Flying Duck where The Vegan Society and bluedot are hosting The 'Plate Up for the Planet' festival featuring a talk by Chris Packham and musical performances by Pleasure Pool and Aurora.
The ad also includes a QR code that directs commuters to our Plate Up for the Planet campaign which asks people to eat vegan for just 7 days.
There are four adverts running concurrently, with the other three aimed at Prime Minister Boris Johnson, Duke of Cornwall, Prince Charles and US President, Joe Biden.
Louise Davies, CEO of The Vegan Society, said: "There's no doubt that the growing climate crisis is a very serious issue. We've tried so many tactics to get the attention of global leaders and policy makers, but so far the impact of animal agriculture remains ignored at COP26. So, we thought we'd try a more light-hearted approach to grab attention. Wouldn't it be great if the Prime Minister or Scottish First Minister spotted our adverts and came to chat to us about the benefits of a vegan diet? Failing that, we can hope that Metro readers take note and make climate friendly dietary choices."
The ads, which were designed by bwa for The Vegan Society, are running from 1 Nov – 13 Nov. Other Plate Up adverts will also appear on billboards and on bicycles around Glasgow City Centre.
Are you going to be in Glasgow for COP26? If you see one of our posters, please do take a picture and tag us on social media @TheVeganSociety. Head over to the COP26 Hub to read more about The Vegan Society's work at COP26, the latest news and what you can do to support.