Wednesday, 6 September, 2023
Veganism is popular among students, with 4.1% saying they are already vegan - more than double that of the general population - and a further 10% reporting that they plan to adopt a vegan diet soon.

Whilst interest in veganism is strong, considerations around affordability remain at the forefront for students, with Vegan Society research finding that 28% of students believe a vegan diet is too expensive for them. In response to this, The Vegan Society have released new, student focussed resources as part of their Live Vegan For Less Campaign, as well as making membership to the society free for those under 26 years old.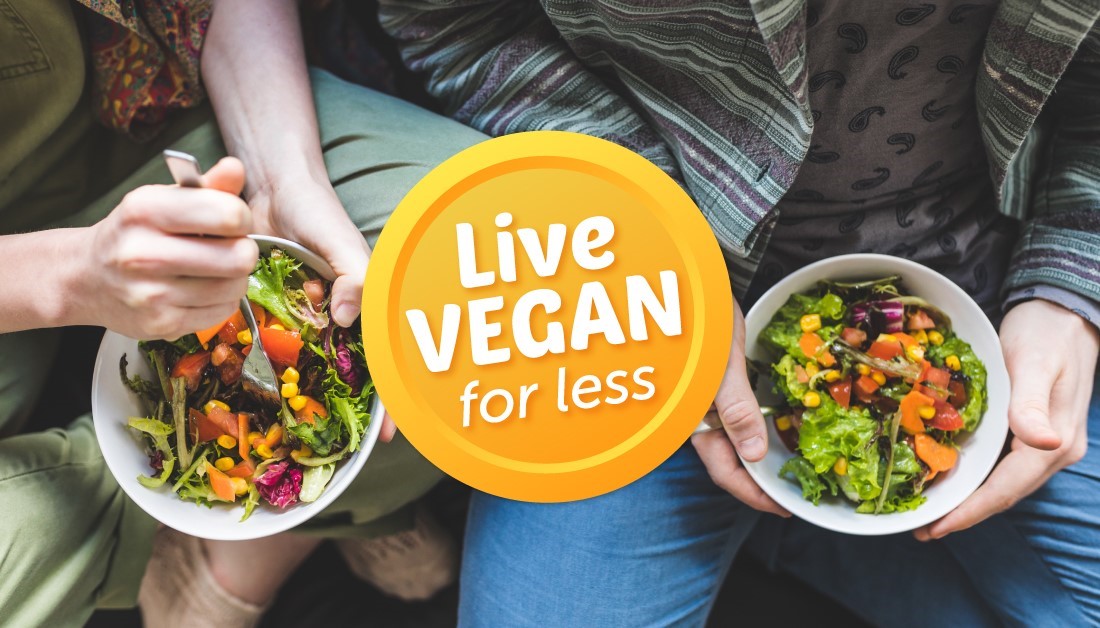 Rapidly increasing bills for essentials such as food and utilities have been affecting the UK public since 2021 and students are no exception to this ongoing issue. The Office for National Statistics reported that 92% of students felt that their cost-of-living had increased compared to last year, whilst research by The Sutton Trust has found that two thirds have said that they're spending less money on food and essentials as a result of the crisis. Spending money wisely has become more imperative than ever for young people.
Last year, The Vegan Society's Live Vegan For Less research found that a third of shoppers were cutting down on products such as meat and dairy in response to the cost-of-living crisis. Despite the shift in reducing spend on animal products, students are still concerned that plant-based options are too costly for their budgets with 28% reporting that they feel a vegan diet is too expensive for them.
The perception that veganism is expensive is largely unfounded. Previous cost-comparison research has shown that vegan sources of protein – such as lentils, peanut butter and beans – are actually some of the cheapest food options. Eating vegan on campus needn't break the bank for students either, with nearly half of vegan students saying that they felt the affordability of vegan catering options on campus were good or very good and 32% believing that they were fairly priced. The affordability of vegan food will be of interest to money conscious students, with 87% of those interested in veganism reporting that they would consider adopting a vegan diet if it was proven to be more affordable than a non-vegan diet.
The Vegan Society are aiming to tackle the perception that veganism is costly head-on – in addition to recently making membership to the society free for those who are under 26, they have created a number of resources that illustrate how affordable the lifestyle can be. They are hoping these resources will inspire even more students to explore a vegan diet which, with access to a wealth of discounts from the society's Trademark holders as a member, will help to keep costs down.
Campaigns Manager for The Vegan Society, Hannah Coyne, says: "It's encouraging that so many young people are interested in trying a vegan diet if it's proven to be cheaper than a non-vegan one. We understand that a shift in lifestyle and purchasing habits might seem daunting – especially for those under financial strain – but the evidence from our Live Vegan For Less research suggests that a plant-based diet can be affordable and can often be much cheaper than a non-vegan one. 
"We have a variety of resources to help those who are on a budget and looking to make a change. Our Live Vegan For Less student basket takes the guess work out of food shopping, whilst our recipes and student menu illustrate how straightforward, tasty and nutritious vegan cooking can be!"
To view The Vegan Society's student basket visit: Vegan Society | Live Vegan for Less Student
Sign up for a FREE! Youth Membership here: Vegan Society | Become a Member
Find further resources on The Vegan Society's website: Vegan Society | Live Vegan for Less