Options for eating out when on the move or with friends and family.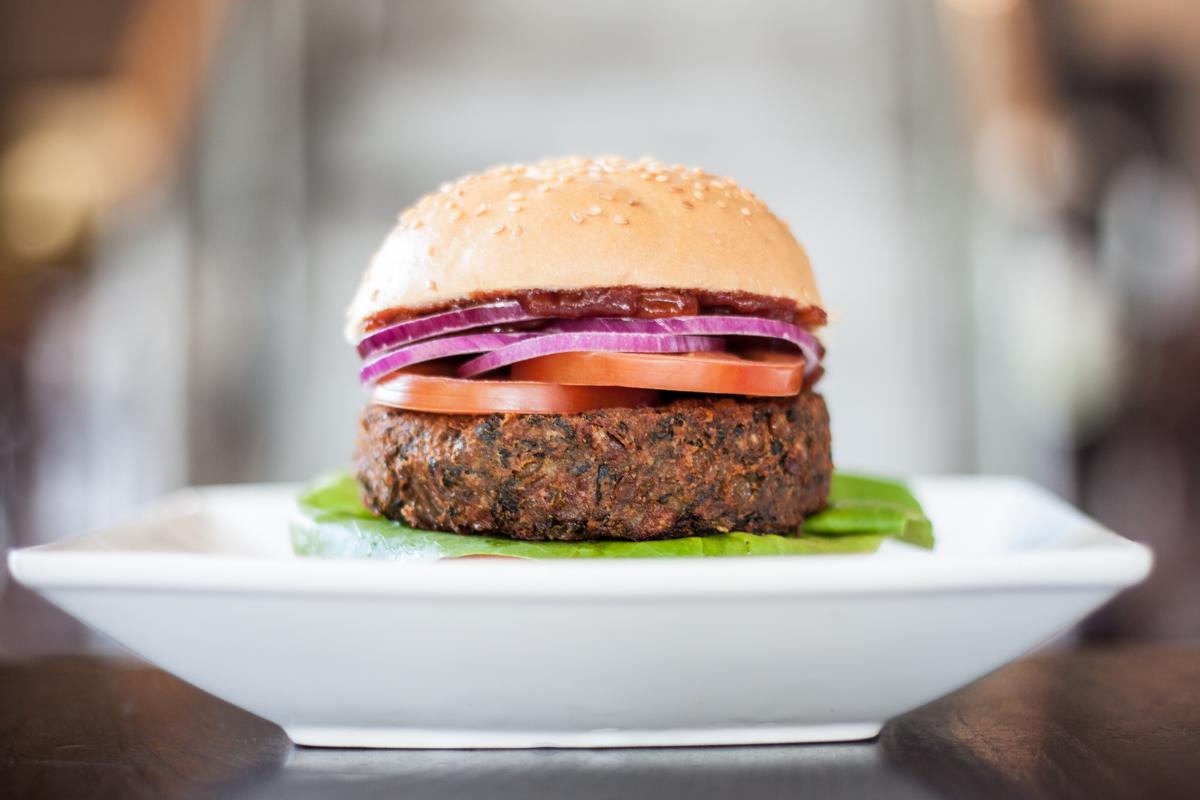 The following list is based upon feedback from customers and companies: however, The Vegan Society cannot verify that the listed products are vegan unless the products are registered with the Vegan Trademark, as is the case with many of the items of the Wetherspoons vegan menu, Handmade Burger Co's vegan burgers, Costa Coffee's fruit/crimbo crumble and Zizzi's vegan pizza. Why not contact your favourite chain asking them to apply for our Vegan Trademark today, so you're secure in the knowledge that their products are free from animal products and animal testing.
Customers should also be aware that some chains may change their products/ingredients without notice, and that some franchises may differ from the norm, so always ask before ordering. This list correct as of 07/01/16.
Note: The Vegan Society does not endorse any of the below chains. This is a list aimed towards making eating out in the UK easier for vegans.
You can also check out HappyCow for local vegan and vegan-friendly cafes and restaurants in your area.
Vegan-friendly options at UK chains
All Bar One - lots of vegan-friendly small plates, tapas, mains and desserts.
Ask Italian - a vegan menu including pizza and pasta
Bella Italia - ask for pizza without cheese, as well as a few vegan pasta dishes and new vegan cake
Boots - hummus sandwich and salads.
Caffé Nero - offers a vegan-friendly wrap, salad pot and pasta pot.
Carluccio's - has a vegan menu that offers pasta, sides and a dessert.
Costa Coffee - offers a Vegan Trademarked fruit crumble snack and a salad with more options coming.
Chipotle - allows you to make your own vegan-friendly burrito.
Frankie and Benny's - order tomato soup and sorbets. Some franchises use vegan pasta/dough while others do not, so check before ordering a pizza/pasta without cheese.
Go Falafel - vegan falafel chain, includes mayo
Greggs  - offer a Belgian bun and iced fingers that are vegan-friendly but only in certain areas - check their allergy book in store for more details.
Handmade Burger Company - have a fine selection of vegan burgers and other sides, now registered with The Vegan Society.
Harvester - used to offer vegan options but no longer. Email them to complain.
Hungry Horse - try their veg skewers and dips.
KFC - ask for the veggie rice box without mayo
Las Iguanas - some good options from their vegan menu menu, including curries and three mushroom fajita.
Leon Restaurants - curries, salads and more for vegans.
Loungers - a vegan menu which includes a burger and falafel among other items.
Marks and Spencer - two vegan sandwiches and salad bowls.
McDonalds - fries, hash browns and the veggie delite (ask for without mayo) are vegan-friendly in UK.
Nando's - try the veggie wrap (just remember to hold the dairy). The soy burger may or may not be vegan dependent on the franchise.
Pizza Express - offers Pianta pizza, pizza without cheese, dough balls and sorbet.
Pizza Hut - selected items from the salad buffet and their classic base pizza without cheese, though check as they often change the ingredients in their bases - e.g. deep pan used to be vegan but now has whey powder.
Pound Bakery - do vegan sausage rolls.
Pret - a range of lunch items like sandwiches and soups, as well as a vegan 'Bounty' and almond milkshakes.
Prezzo - offers salad, reports mention their pizza base is no longer vegan.
Sainsbury's - has a hummus and roast veg wrap.
Starbucks - offers a vegan-friendly salad, porridge and other options dependent on the franchise as well as vegan soy-based drinks.
Subway - ask for a veggie delite without cheese, and not on the flatbread or the honey oat sub.
Tesco - a falafel and hummus wrap.
Thaikun - everything marked with a V on the menu is vegan, except the Phai Tai, which can be requested as vegan. Please ask the staff for more details.
The Stable - offers vegan pizza.
Toby Carvery - main meals such as vegan-friendly pies and bakes as well as desserts.
Tossed - offer wraps and salads.
West Cornwall Pasty Co - can rustle up a wholemeal vegetable pasty and a thai vegetable pasty.
Wahaca - a range of vegan options
Wagamama - a large selection of Asian-inspired sides and mains.
Wasabi - offers vegan-friendly sushi.
Wetherspoons - a vegan menu with items registered by The Vegan Society which includes curry, pasta, chili and apple crumble.
WHSmith - vegan-friendly wraps and sandwiches. 
Yo Sushi - a large selection of Asian-inspired sides and mains.
Zizzi - order a Vegan Trademarked vegan pizza, and other options from their vegan menu.
Have we missed any, or is the list out of date? Email us with the subject 'UK Chains' to let us know.
Since you're here...
...please join us as a member and support the vegan movement from just £2 a month. Since 1944, our members have been integral to supporting us as we spread the vegan message, help vulnerable vegans in need and work with institutions and governments to turn the world vegan. As a reward, you'll receive over 120 vegan-friendly discounts, The Vegan quarterly magazine, access to a community of vegans and much more.