Ingredients 

For the crust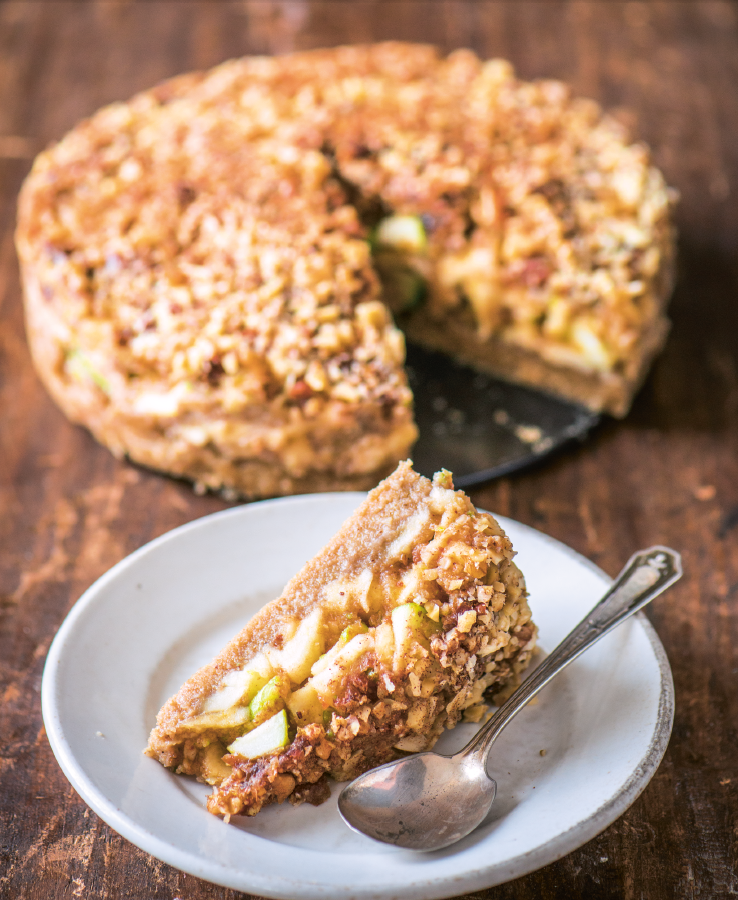 200g macadamia or cashew nuts
150g pecans or walnuts
50g dates
Large pinch of sea salt
For the filling

150g dried apples, roughly chopped
480ml apple juice
375g apples (about 3 or 4)
1 tbsp lemon juice
8 dates, soaked
½ tsp cinnamon
Large pinch of nutmeg
1 tsp vanilla extract
1 tbsp maple syrup
Small pinch of sea salt
For the topping
90g pecans or walnuts, finely chopped
4 big fat dates, finely chopped
½ tsp vanilla extract
Large pinch of ground cinnamon
Method

Soak the dried apples in the apple juice for an hour.
To make the crust, pulse all the ingredients in a blender until a rough, sticky crumble is formed.
Gently press the crust down into a shallow pie dish or plate roughly 23cm in diameter. Pop it into the fridge for 1 hour to firm up.
Drain the dried apples, which should now be soft and plump. Core and chop the fresh apples, leaving the peel on, and put them in the lemon juice.
Put half the fresh apples into a blender with the dates, cinnamon, nutmeg, vanilla extract, maple syrup and salt, and pulse until well combined. Pour in a little of the apple juice from the dried apples if the filling is too thick. Add the rest of the fresh and dried apples, then spoon on to the pie crust and smooth out.
To make the topping, mix together the pecans, dates and vanilla in a bowl and spread over the top of the pie to form a crust. Sprinkle with the cinnamon.
Cover and place in the fridge for an hour to chill. Serve at room temperature.
From Peace & Parsnips by Lee Watson, published by Michael Joseph
Since you're here...
Join us as a member and support the vegan movement from just £2 a month. Since 1944, our members have been integral to supporting us as we spread the vegan message, help vulnerable vegans in need and work with institutions and governments to turn the world vegan. As a reward, you'll receive over 100 vegan-friendly discounts, The Vegan quarterly magazine, podcast extra, access to a vegan dietitian and a community of vegans and much more.