Trifle is easy, but takes at least a day to make as you need to wait for each layer to set. Make it the day before, it will keep happily in the fridge.
Ingredients 

2 packs of red vegan jelly
1-2 pints of custard
1 can of coconut milk
For the sponge cake

100g vegan margarine
150g golden caster sugar
200g self raising flour
1 tsp baking powder
200ml plant milk. 
Method

Put a can of coconut milk in the fridge overnight. When you open it, there will be solid / thick white and a clear liquid. Pour out the liquid and put the white coconut mix into a bowl. Whisk up until it is smooth and spreadable. Leave in fridge until you need to use it.
Find a glass dish such as a pyrex bowl.
Bake a sponge cake about the size of your serving bowl: bake it in the bowl if it is ovenproof. To do this, take the sponge cake ingredients and whisk them in the bowl. Put into greased baking tin or the heatproof bowl. Bake at 180 degrees celcius for approxmately 30 minutes (all ovens are variable, you'll know yours best). It's ready when it's golden on top, firm and springy to the touch and a skewer comes out clean.
Leave the cake to cool. If you like you can prick the sponge and add brandy.
When the cake is cool, make up 1 pack of red vegan jelly according to the pack. Pour over the sponge. Some will soak into the cake. That's fine. Put in the fridge to set.
When the jelly is set, get another pack of red vegan jelly and this time make it up using a little boiling water (to melt the crystals) then plant milk to make a blancmange. Put in the fridge to set.
When that layer is done, make up 1-2 pints of custard. Vegan-friendly custard powder is readily available, like Bird's. let it cool a little then spoon the custard over the blancmange, and gently smooth it over. Put in fridge to set.
When the custard is set, spoon the thick coconut cream over the top.
Optional: decorate with hundreds and thousands, as show below.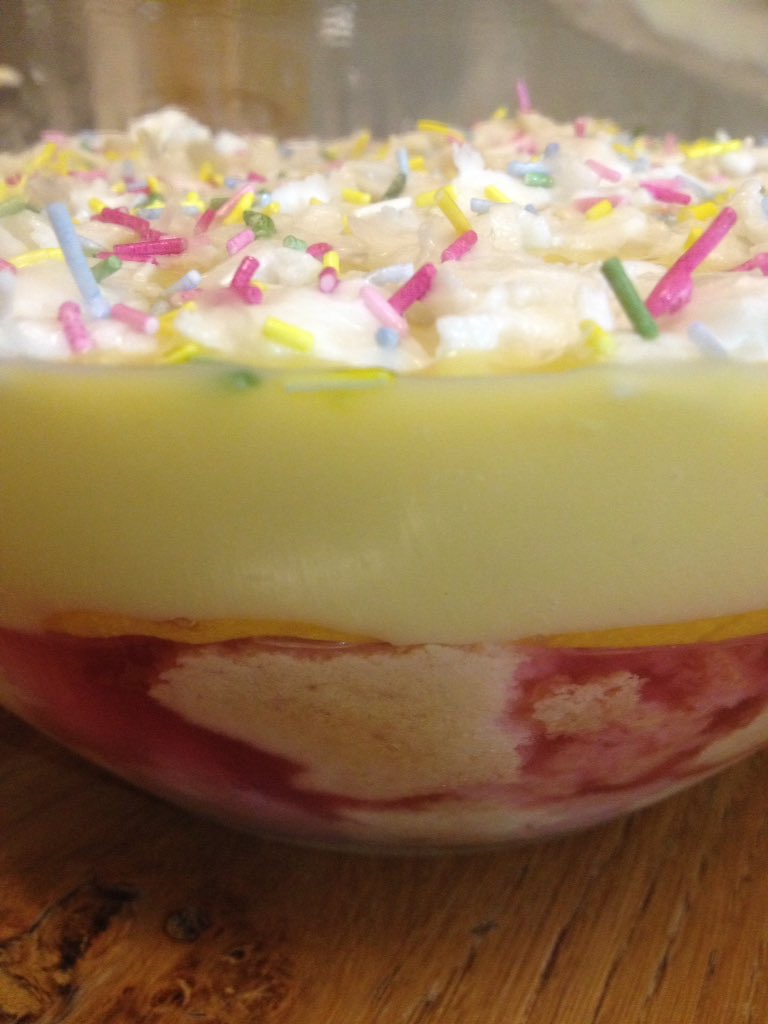 If you are enjoying this recipe then why not try our delicious vanilla sponge cake, which only takes 30 minutes to bake!
Enjoying this recipe? Then why not try making this simple vegan fruit jelly with only five ingredients!