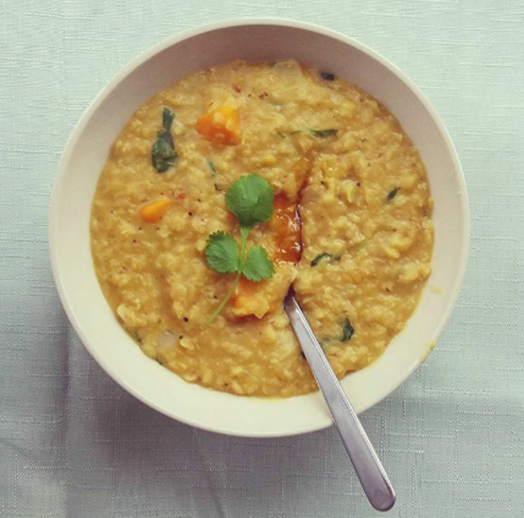 Ingredients

2 tbsp coconut oil 
2 small onions – diced
3 cloves garlic – minced
1 tbsp fresh ginger – peeled and minced
2 tsp curry powder
1 tsp turmeric
½ tsp chilli powder (optional)
½ tsp black pepper
1 tsp salt
½ tsp chilli flakes
400g red lentils (2 cups)
1 can coconut milk (full fat works better)
450ml of water (2 cups)
Bunch of fresh coriander – roughly chopped
Method

Put the oil into a large saucepan with the onions, ginger and garlic and cook for around 5 minutes, stirring frequently until the onions are softened.
Stir in the spices, lentils, coconut milk and water.
Cook for 35- 45 minutes until the lentils are soft and the mix has thickened up.
Remove from the heat and stir in the coriander, saving some to garnish.
Serve with brown rice or quinoa. 
Recipe by Rosie Martin. Read her blog on gluten free vegan living here.