Nasu dengaku is one of my favourite dishes to cook at home – simple, sweet, tangy and delicious, while still tasting fresh and healthy, it works well atop a pile of fluffy rice, cold as a salad, as a snack or, my favourite, stuffed into soft white bread rolls with a heap of salad and some pickles and devoured warm, sticky, sweet and indulgent. If you can't find rice wine vinegar in the supermarket, use half the amount of a light white wine vinegar instead.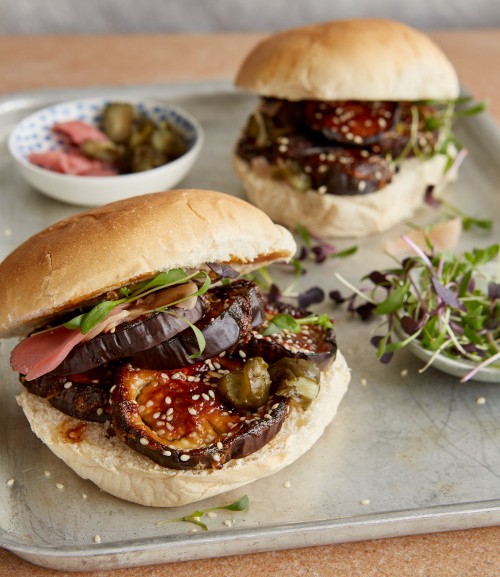 Makes 2 generous buns
Ingredients

4 tbsp white miso paste
2 tbsp Japanese rice
wine vinegar
2 tbsp brown sugar
1 tbsp soy sauce
1 tsp freshly grated ginger
Oil, for greasing
1 large purple or
black aubergine
1 tbsp sesame seeds
2 soft white bread
rolls, sliced
To serve

Method

First, make your glaze. Measure the miso, rice wine vinegar, sugar and soy sauce into a small bowl and beat well with a fork to combine. Add the ginger and set to one side.
Lightly grease a baking tray and heat your oven to 190°C (fan 170°C/375°F/gas 5). Cut your aubergine into slices around 8mm thick, and lay the slices on the baking tray. Brush generously with the glaze. Place the tray on the middle shelf of the oven and cook for 20 minutes.
Remove, and turn over the aubergine slices. Brush again with the glaze and top with a sprinkle of sesame seeds and return to the oven for 15 minutes.
Remove from the oven and pile into soft white bread rolls. Add salad leaves and pickles, and serve.
Approximate cost* per portion: 69p
Vegan (ish) by Jack Monroe is available to buy now (Bluebird, £16.99)
*Approximate cost calculated using average prices from three main supermarket retailers in the UK. Price data accurate as of April 2020.