This recipe is easy, simple and quick to make and full of delicious flavour!
Ingredients

For the pizza base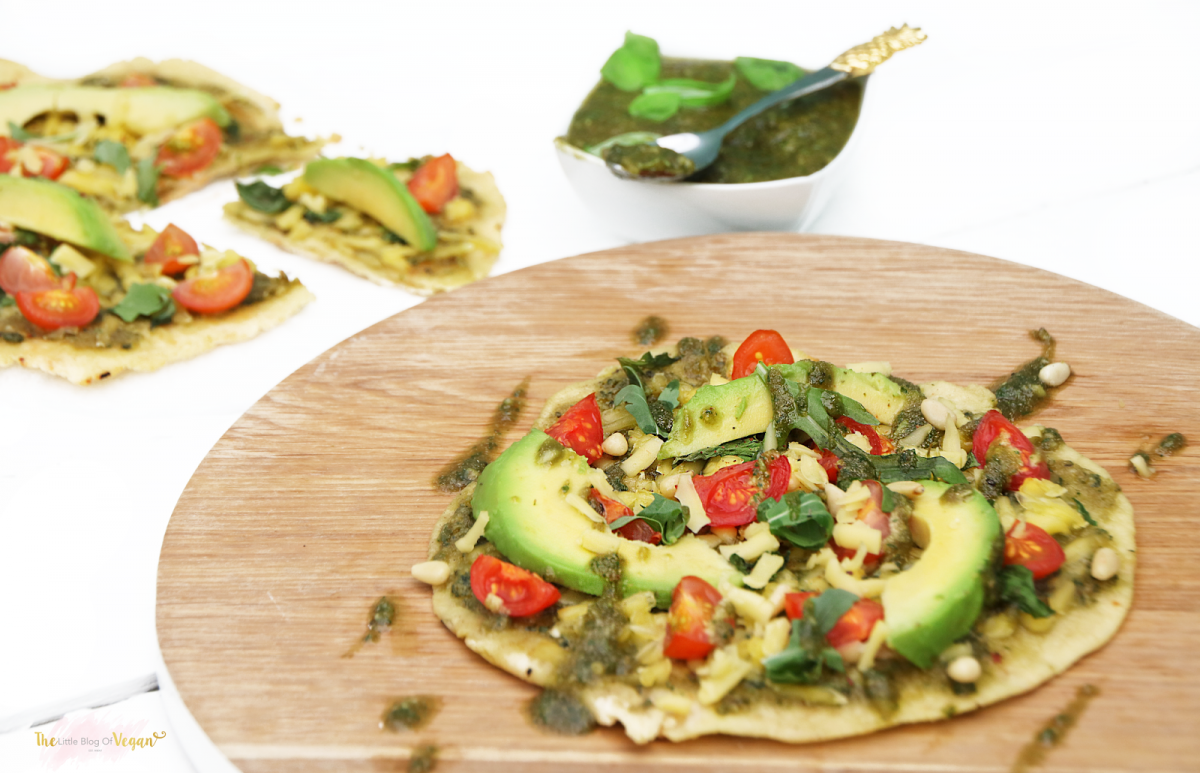 See flatbread recipe or use a ready made pizza base from the supermarket, or even a pitta
For the pesto sauce

3 garlic cloves
2 large handfuls fresh basil leaves
1/3 cup (45g) pine nut kernels
2/3 cup (155ml) light olive oil
1/3 cup (20g) nutritional yeast
Pinch of salt and pepper
For the toppings

1 avocado (sliced)
1 cup (200g) cherry tomatoes (sliced)
Pine nuts (optional)
Rocket leaves
Basil leaves
Vegan cheese 
Method

For the basil pesto 

Place the pine kernels into a large wok/pan and lightly roast until light brown.
Place the roasted pine kernels, garlic cloves, basil leaves, oil, yeast and seasoning into a food processor/blender and whizz up until smooth.
This will take around 2 minutes on high.
Spread a good amount of pesto onto the flatbread base and top with your favourite toppings.
Pop the pizza into the oven and cook for around 2-5 minutes, or until the vegan cheese has melted.
Peel, de-stone and slice the avocado and place on top of the pizza.
Serve and enjoy!
Recipe taken from Holly Jade at The Little Blog of Vegan
Since you're here...
Join us as a member and support the vegan movement from just £2 a month. Since 1944, our members have been integral to supporting us as we spread the vegan message, help vulnerable vegans in need and work with institutions and governments to turn the world vegan. As a reward, you'll receive over 100 vegan-friendly discounts, The Vegan quarterly magazine, podcast extra, access to a vegan dietitian and a community of vegans and much more.