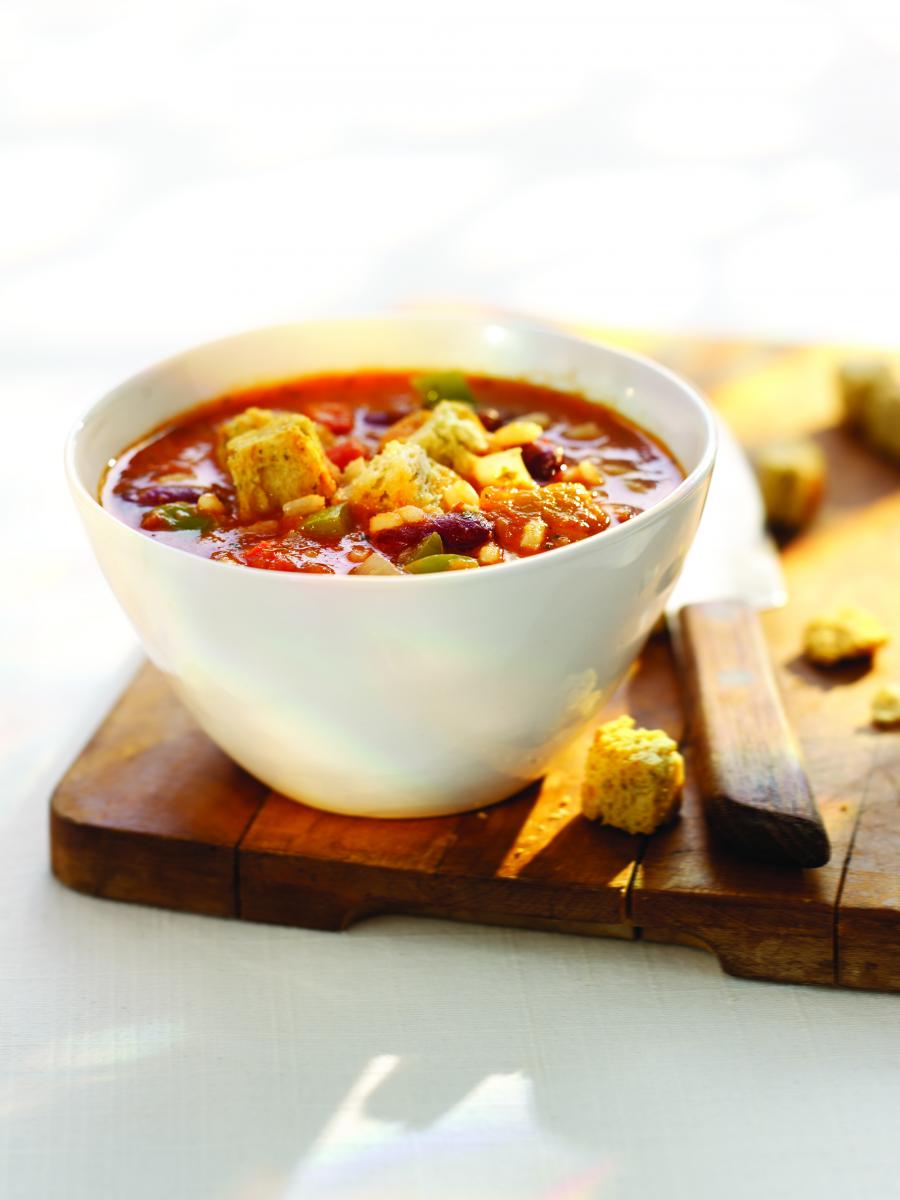 Ingredients 

1 tbsp sunflower oil 
1 medium onion, chopped 
2 garlic cloves, minced 
2 stalks celery, chopped 
2 carrots, chopped 
2 bay leaves 
4 tsp paprika 
3 cups (710ml) tomato juice 
1 tbsp tomato puree
2 - 2 1/2 tsp dried thyme 
1 small green bell pepper, seeded and chopped 
1 small red bell pepper, seeded and chopped 
3 cups (710ml) vegetable bouillon 
1 (15-oz) can coconut milk 
½ cup (100g) long-grain rice 
1 (15-oz) can red kidney beans 
sea salt and black pepper for the croutons 
3 cups (150g) day-old bread cubes 
2 tbsp olive oil 
Method

Heat the oil in a large saucepan, then add the onion and cook over medium-high heat for 5–7 minutes until the onion is soft. Add the garlic, celery, carrots, peppers, bay leaves, and 2 teaspoons of paprika, and cook for another 5 minutes. 
Stir in the tomato juice, tomato paste and thyme leaves, then cook for 5 minutes. Add the bouillon, coconut milk, and rice. Bring to a boil, reduce the heat, cover, and simmer for 30 minutes. 
Add the kidney beans and cook for another 15 minutes. Remove the bay leaves and season to taste with salt and pepper before serving garnished with croutons. 
To make the croutons, toss the cubes of stale bread with the olive oil, 2 teaspoons of paprika, and thyme. Spread in a single layer on a baking sheet, and bake at 375°F for 4–5 minutes until golden brown. 
Recipe from '500 Vegan Dishes' by Deborah Gray, published in 2011 by Apple Press Ltd. Photography by Ian Garlick.