Our top storage hacks and tips for making the most of your cooking space – because everyone deserves nutritious, tasty food no matter their living situation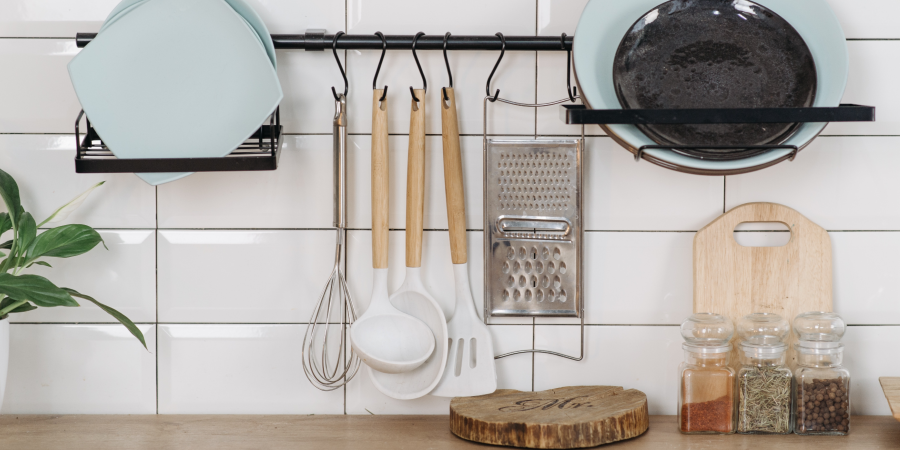 Not everyone has the luxury of a big cooking space with a large fridge and spacious pantry with all the latest gadgets. Whether you're sharing a small kitchen with several other people, or you find yourself in temporary accommodation with limited cooking and storage space, we've compiled a list of small kitchen storage ideas to help you make the most of your space and to prepare nutritious and tasty meals on a tight budget. 
Maximising storage space

When space is at a premium in your kitchen, it's important to make the most of it. Organising your cupboards using separate storage boxes will help you to see what you've got at a glance. You don't need to buy kitchen storage solutions – a small cardboard box for your teas/spices/baking ingredients is just as good.
Create extra cabinet space by hanging pots and pans on walls or from the ceiling, and adding hooks inside cupboard doors. Hooks can also be added under cupboards for mugs or a kitchen roll holder to create valuable counter space. You can buy stick-on hooks if you live in rented accommodation.
When it comes to bulk buying items, consider any spare space you have in other rooms in your house or flat that could be used for extra storage. Keeping a crate of plant milk at the bottom or your wardrobe, or a 5 kg bag of rice in an empty space in the cupboard under the stairs, could help you save money.
Spice it up

Prioritise your favourite herbs and spices. Learning to substitute spices in recipes will help you to avoid buying non-essential flavourings you'll never use again. A recipe that calls for a whole spice rack can be altered to what you have on hand.
Do you use all-purpose seasoning? You can often find it in the world food section at the supermarket. It can be a real gamechanger for those of us who only have space for a few spices.
Get creative

Ensure your cooking repertoire includes adaptable recipes. Check out the Live Vegan for Less Hub for inspiration! Soups, stews and curries are especially good, because you can sub in whatever vegetables, beans and spices you have on hand at any one time. They have the added bonus of being one-pot-wonders, saving on countertop space and washing up. You can also serve these dishes in a variety of ways – with rice, pasta, potatoes, bread … you name it! 
Minimise wastage

Food waste is always best avoided, but even more so if you're already working in a limited space. Planning meals is also important when you can't store much food, so try to set aside a bit of time each week to think about the meals ahead.
Another great tip is to get into the habit of frequently checking your fresh food to see what needs to be used up next. This is a good way to make decisions about what to have for dinner and to prioritise using up the food with the shortest shelf life.
You can also have a 'use next' section in your fridge or cupboard, where you gather products that are on the verge of tipping over into unusable.
Freezer space

Freezer space can be a real gamechanger for keeping your weekly shopping budget low – especially when it comes to freezing batch cooked meals. But what to do when you've only got a small space like access to one drawer or less? Prioritise cheap, nutritious and adaptable items in your freezer such as frozen peas and frozen berries. Other ideas include freezing ginger root to grate into stir-fries and curries. Any additional freezer space can be used for preserving bread, and batch-cooked meals in reusable food storage containers. 
Kitchen equipment

Not everyone has an oven, but this doesn't have to prevent you from making tasty dishes. More energy efficient than ovens, microwaves can keep your energy bills down. They can also be picked up cheaply at discount electrical shops or places like eBay. Did you know that not only can you make porridge, popcorn, hummus and baked potatoes in a microwave – you can also make cakes, soups and lasagne? Search for recipes online and let us know how you get on!
We want to hear your small kitchen hacks! Get in touch at campaigns[at]vegansociety[dot]com or tag us on socials and use the hashtag #LiveVeganForLess.
The views expressed by our bloggers are not necessarily the views of The Vegan Society.