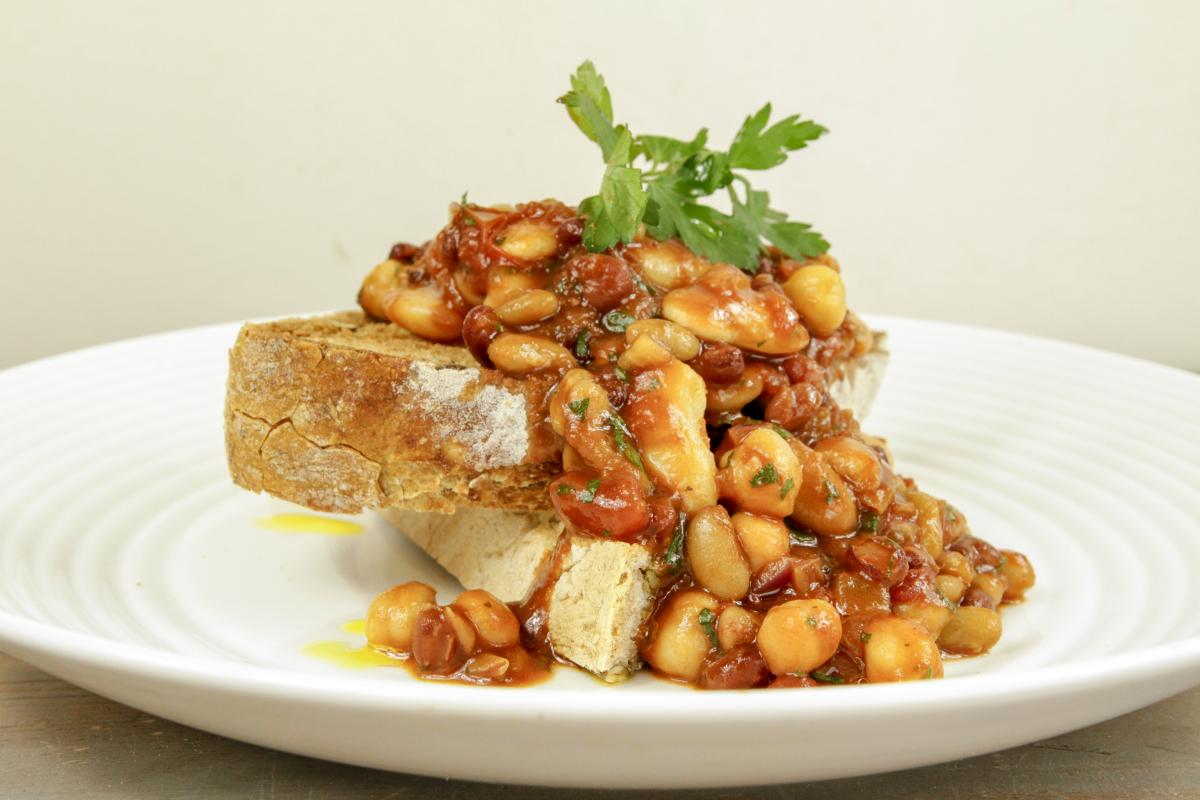 Ingredients

Spray oil
1 large onion, chopped
2 tsp garlic puree
1 tsp smoked paprika
2 tsp chopped fresh thyme (1 tsp if using dried thyme)
1 tin cooked butter beans, drained
1 tin cooked red kidney beans, drained
1 tin cooked haricot beans, drained
1 tin cooked chickpeas, drained
50 g tomato puree
250 g cherry tomatoes
1 tbsp dark treacle
½ bunch fresh flat leaf parsley, chopped
Black pepper or chilli, to taste
2 slices wholemeal toast or a baked wholemeal pitta, to serve
Method

Heat the oil in a large pan, add the onions and cook until tender. Add the garlic puree, smoked paprika and chopped thyme and cook for a further 2 minutes. Add the beans, chickpeas, tomatoes, tomato puree and treacle and mix together.
Add just enough water to cover and bring to a simmer
Cook for 15 minutes until all of the flavours have married and the sauce has started to thicken up. Add the chopped parsley and cook for a further 5 minutes.
Check the seasoning – you can add black pepper to the sauce or chilli if you like it a little spicy – and serve with crunchy wholemeal toast or baked pitta.
Nutritional analysis per serving (1/4 recipe) - just the beans
| | | | | | | | |
| --- | --- | --- | --- | --- | --- | --- | --- |
| Kcal | Carbs (g) | Fibre (g) | Protein (g) | Fat (g) | Saturates (g) | Sugars (g) | Salt (g) |
| 303 | 49.0 | 20.1 | 18.2 | 5.3 | 0.6 | 12.4 | 0.30 |
Nutritional analysis per serving (1/4 recipe) - with two slices wholemeal toast per person
| | | | | | | | |
| --- | --- | --- | --- | --- | --- | --- | --- |
| Kcal | Carbs (g) | Fibre (g) | Protein (g) | Fat (g) | Saturates (g) | Sugars (g) | Salt (g) |
| 476 | 82.6 | 25.7 | 25.7 | 7.3 | 0.9 | 14.7 | 1.1 |