If you're a vegan setting off on your travels soon, you might be wondering about sourcing vegan options in your chosen destination. Luckily, Veggies Abroad, a vegan travel planning blog, has shared some of their top vegan travel tips with us, as well as some ideas on vegan food products you can take with you on your journey.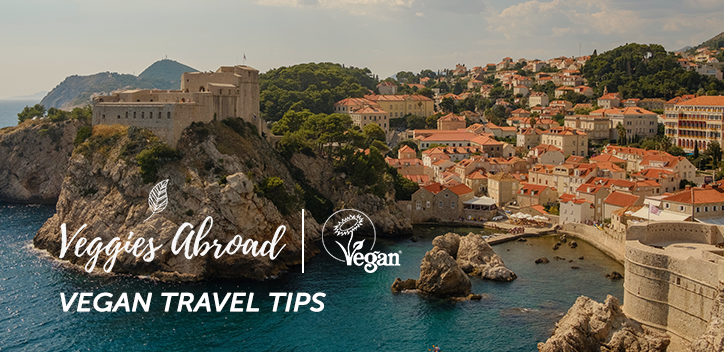 8 Tips for Savvy Vegan Travellers

It wasn't all that long ago when travelling as a vegan was a rather bland affair — from black bean patties or iceberg lettuce salads, the array of options wasn't exactly vast, even just 10 years ago.
Fast forward to today; whether you're exploring the German Bavaria and curious about veganised schnitzel or strolling the Champs-Élysées and craving a cream-filled crepe, eating vegan can be much easier these days.
What's even better, the options don't just end at delicious vegan food! You can find quaint vegan B & Bs, major hotel chains with revamped menus and cruelty-free toiletries, vegan restaurants and even vegan tour companies to help you explore the world on a vegan diet and lifestyle. 
Although options are becoming more plentiful and awareness is growing, travelling as a vegan still takes a little effort, no matter where you're going. Before you hit the road or take to the skies, don't skip over any of these tried-and-true vegan tips for travel!  
#1 Get to Know Where You're Going or Want to Go

Some places are more vegan-friendly than others, so it pays to do pre-trip research before booking that flight, especially if you want a particular experience. 
When researching, check and see if vegan food options are more plentiful in certain parts of a city; maybe you'll want to base yourself there. If you want to go to Italy or France and sip vegan wines, do a little research, find wineries, and shoot them a note — more and more wineries are ditching animal products to clarify their wine, but not all. 
While researching, also look for vegan B & Bs or hotels that offer vegan meals — you might be surprised by what you'll find! Also, if you end up staying somewhere that isn't super friendly, leave feedback — hotels won't be enticed to change unless they know there is demand for it.
If you find out that the city you're visiting is lacking options for vegan restaurants, this gives you time to find nearby markets and ensure your accommodations have a kitchen. If you didn't do any of this research ahead of time, you'd end up wasting precious vacation time figuring it out. 
If the idea of countless hours of research has you overwhelmed, you could always consider utilising the services of a vegan travel agent.
#2 Learn Key Phrases

No matter where you're going, don't assume they will speak or understand your language. It's incredibly important to know key phrases to be polite and to express what you can and cannot eat. Before I take off, I make a cheat sheet of common phrases like "Good morning," "Excuse me," and "I don't understand," along with key vegan phrases like "I don't eat meat or dairy," "I'm a vegan," "Is this vegan," etc. 
You might be thinking, but can't I just depend on Google Translate? Google doesn't always get it right, plus it's more meaningful that you're trying to communicate rather than relying on a device. 
It helps to bring the cheat sheet with you so that when you're in stores or talking with people, you can reference it, or if the language barrier is high, you can always show them what you mean. One other tip: when trying to understand pronunciation, check out YouTube! Many fantastic language teachers share short videos that are perfect for travellers.
#3 Google Maps is Your Friend

When you find restaurants and shops you want to visit, pin them on your Google Maps. This is helpful for three reasons.
One, it can help you build an itinerary around what you want to do, see, and eat. Two, when you're out and about, you can see what places you're near. Three, if the city has a lot of options, it can help keep them a little more organised instead of just reading them from your notepad. 
Aside from keeping track of your vegan goodies, it's also helpful to save sights, train stations, hotels, and other key information here. Before you go, download the map just in case your cell service is spotty. 
#4 Get Local Advice 

Locals, especially vegan locals, are some of the best travel guides you'll meet! When you're visiting a vegan food spot, chat with the staff! Find out where they love to eat and go — this is also an opportune time to ask them about vegan options and things you're considering doing because other vegans in the city may have advice on if it's worth the time or money.
I have changed my itinerary based on local advice, and it's always been worth it!    
#5 Health is Wealth

Sometimes time zone changes, poor sleep, and decadent food can throw your body for a loop, making you feel less than stellar. It's essential to make sure you're getting a healthy dose of the recommended vitamins and minerals before you hit the road and while you're gone. A fantastic way to do that is with The Vegan Society's VEG 1 supplement.
It was developed by vegans, for vegans — so you know it's packed with all the good stuff you need to support your health. On top of it being good for you, it's also good for Mother Nature as it's in plastic-free packaging — hooray! 
Another great thing to bring along with you to help support normal digestion is a good probiotic. The Deva Vegan Probiotic, also certified by The Vegan Society's Vegan Trademark, is an excellent option for travelling as it doesn't require refrigeration. You just need to store it at room temperature. 
#6 Don't Forget the Snacks

No matter how near or far you're travelling, you can't leave home without snacks! It's essential to pack various snacks for all situations, like if the airline messes up your vegan meal or you get delayed — jet lag + being hangry = disaster! 
A few vegan foods useful for travel that are certified by The Vegan Society's Vegan Trademark include The Squirrel Sisters Peanut Raspberry Snack Bar, savoury Rawsage snack bars, and for a sweet treat, you can't go wrong with Love Chock's lineup of raw vegan chocolate bars — all of them are gluten-free too!
If you need a little more than a snack, don't forget to pack the Vegan Protein Blend from MyProtein. The powder can easily be mixed with water or your favourite plant milk (if I need a morning boost, I will mix it with cold brew coffee). It comes in some fab flavours like chocolate peanut caramel, coffee and walnut, cacao orange, and many more!
#7 Pack Lightly & Sustainably

Packing light can be a big bonus to your wallet as baggage fees continue to rise, but it also makes it easy to get around, and you don't have to stress about lost luggage. While packing light is a big bonus for you, packing sustainably is good for the environment as it means less plastic waste. 
There are some super easy ways to be a more sustainable traveller, and with a few easy swaps, you'll be well on your way! First, evaluate all of your liquid toiletries in plastic packaging — many can easily be switched for something that works wonderfully but is also eco-friendly. Consider swapping tubes of toothpaste for toothpaste tabs; a great option is Lush's "Dirty" Tooth Tabs; and instead of shampoo and conditioner bottles, use bars!
Hairy Jayne and Vatika Naturals have shampoo and conditioner bars that can leave your hair silky smooth. All of these products are registered with The Vegan Society's Vegan Trademark, so you can rest assured that they are not tested on animals and are free of animal ingredients.
If you're eating on the road or camping, consider picking up a reusable bamboo cutlery set to pair with a water bottle and thermos — this way, you're not creating unnecessary rubbish.
#8 House Sit for Insider Tips & Kitchen Access

If you love animals, want access to a kitchen, and want to save money, this vegan travel tip is a can't-miss! Housesitting is an excellent way to see the world in exchange for caring for someone's home and/or pets. 
Aside from using a kitchen and possibly making a new furry friend, another bonus is you get the opportunity to chat with someone who most likely knows the city you're visiting well. You can get the inside scoop on everything from new restaurant openings to bus routes. 
There are multiple housesitting platforms you can try, but the opportunity to chat with a resident and not always have to eat out is priceless.  
About Veggies Abroad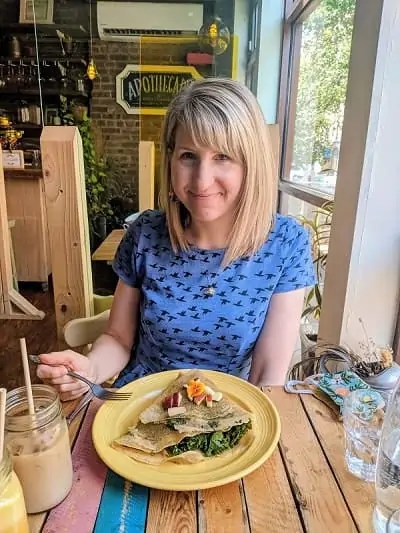 Rebecca Gade Sawicki is the founder of Veggies Abroad, a popular vegan travel blog and travel agency. It's a one-stop shop for vegan and veg-curious travellers around the world, whether they want to use the blog's free resources to plan their trip, find vegan food abroad or hire an expert to curate the perfect vegan-friendly and sustainable itinerary.
Veggies Abroad features mouthwatering lineups of vegan food, action-packed travel guides, tips, and everything else you could need for a vegan trip.
Make sure to tag @vegantrademark on Instagram or Twitter to join in the conversation. We'd love to see your ideas!
The views expressed by our bloggers are not necessarily the views of The Vegan Society.