With a colourful stand, and an engaging debate on plant-based solutions for public health at The Green Party of England and Wales Spring Conference 2014 in Liverpool, The Vegan Society continues to make the political case for veganism.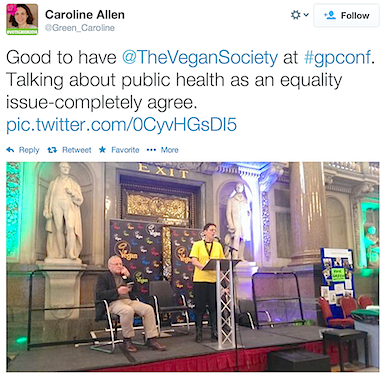 Our Fringe discussion, ' Ecological Public Health : bringing together policies for health, social justice and sustainability' was led by Dr Geof Rayner and Professor Claire Molloy.  Dr Rayner has as a collaborator Professor Tim Lang of City University, who is known for coining the term 'food miles'.  Professor Molloy is the Director of the Centre for Human Animal Studies at Edge Hill University in England. 
Commentators declared that our session was excellent, featured  great speakers, was 'brilliantly' chaired by your Senior Policy Officer Amanda Baker, and covered a topic that was long overdue. Caroline Allen, Green Party Prospective Candidate for the European Parliament in the London area, and Green Party of England and Wales National Spokesperson on Animals, speaking in her own capacity tweeted her agreement. 
See also The Vegan Society at the 2013 Green Party of England and Wales Autumn Conference.