Veganism is an important lifestyle choice that people make for life – and Miley Cyrus was sure to let everyone know about her commitment to the cause by getting a tattoo inspired by The Vegan Society's symbol on her left underarm. 

The singer uploaded a snap of her new tattoo alongside a graphic of our iconic Vegan Trademark on her Instagram yesterday, captioning it as 'Vegan for life', proving how mainstream and widespread veganism has become.
The photo caused an avalanche of positive feedback from Miley's vegan fans as well as a lot of vegan-curious people holding discussions in the comments section. 
With Google searches for 'vegan' almost doubling last year compared to 2015 and three and a half times as many vegans in Britain now as a decade ago, celebrity endorsement has massively helped to further the cause for animal liberation.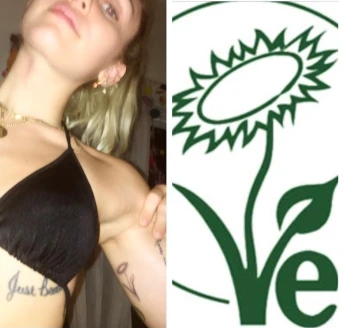 Abigail Stevens, Trademark Relations Officer at The Vegan Society, said: "We've supported and influenced the growth of the vegan movement since day one, and we always applaud celebrities like Miley who use their platforms to raise the profile of veganism and animal rights. 
"We're thrilled that she's so strongly committed to a vegan lifestyle. The sunflower artwork that Miley has chosen is that of our Vegan Trademark and can be seen on vegan products around the world."
Miley and her partner Liam Hemsworth are both vegan and last month called on their Instagram followers to watch What The Health, a powerful Netflix documentary that explores the health impact of meat and dairy products consumption. 
Donald Watson, co-founder of The Vegan Society, coined the word 'vegan' in 1944.
The society has been registering products with its Vegan Trademark since 1990. Today, over 24,000 products from 53 different countries carry the logo, which is widely acknowledged to be the most credible vegan label in the market.
Products from household names such as Flora, Alpro, Asda, IKEA, LUSH, Costa Coffee and Caffe Nero are registered with our Vegan Trademark. 
We have also recently launched our #YesItsVegan campaign, which highlights our work to improve vegan product labelling around the world. 
Why not thank Miley for all she does for the animals? Head over to her Instagram account here.