In November we announced the formation of 'VegAPPG': a group in Parliament formed of politicians from all parties with the aim of encouraging legislation change to support vegan issues. This month we held our second successful meeting on vegan catering in institutions.
On 1 March the second All-Party Parliamentary Group (APPG) on Veganism and Vegetarianism was held at parliament, a group co-sponsored by The Vegan Society, the Vegetarian Society and Vegetarian for Life. This meeting focused on the topic of institutional catering for vegetarians and vegans.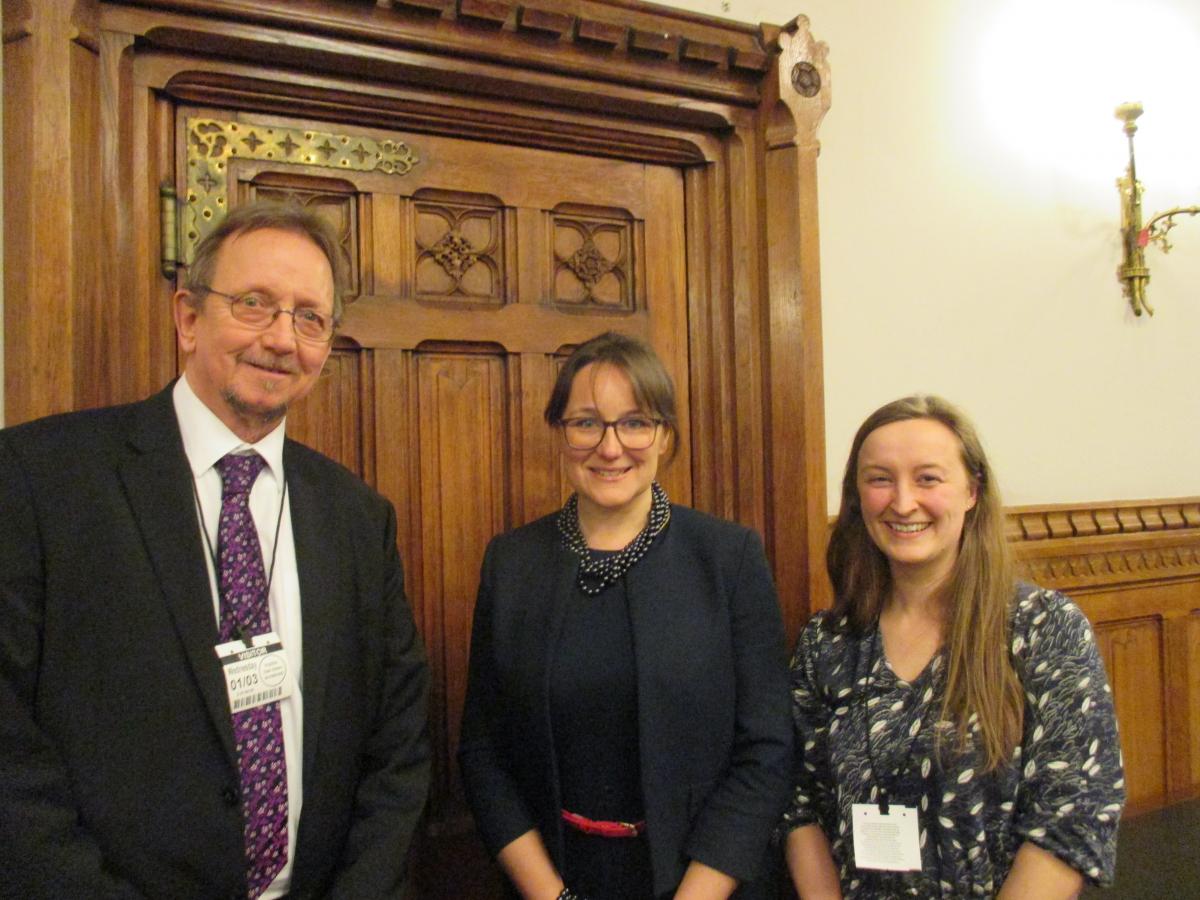 Christina Rees MP, Chair of the VegAPPG, began with news of an action which had resulted from discussions in the previous meeting. A letter has been sent to Health Secretary Jeremy Hunt, which highlights the fact that vegans and vegetarians are unable to access vegan medicines.
The first speaker was Heather Russell, a Dietitian who works for The Vegan Society. Heather spoke about nutritional challenges faced by vegans and vegetarians in institutional settings. Issues include a lack of clear lines of communication between care staff and kitchen workers, a lack of vegan options including tube-feeds and high-calorie supplements for those who are nutritionally vulnerable, and a lack of training and understanding in staff about what vegans can and do eat. Heather then spoke about further challenges, such as a lack of free vegan milk alternative in schools and vegan Healthy Start vouchers for low-income families. She provided practical advice for what those in government can do to address these issues.
Leonie Miller, the CEO of the Association for Nutrition, spoke next. The Association for Nutrition is a voluntary regulatory body for professionals who provide nutrition advice, from dietitians to staff in health and social care, catering, fitness and leisure. Leonie addressed the fact that of those professionals who provide nutrition advice as part of their role, very little have the required training and experience to do this job effectively. Regulating those individuals, and ensuring that all who provide nutrition advice are trained in plant-based nutrition, will go a long way to improving the situation.
The Ambassador on Senior Cohousing, Maria Brenton, spoke next about government support for cohousing schemes. Maria has been instrumental in setting up the very first senior cohousing scheme in the UK, and spoke about the ways senior cohousing can help to combat loneliness and isolation in the older population. This is relevant to the vegAPPG as cohousing schemes are set up for groups of people with a shared set of core beliefs and values – such as veganism. This could provide a far more attractive option to living alone throughout later life, or in a non-vegan care home.
Our final speaker was Norman Dinsdale, Senior Lecturer in Hospitality Management at Sheffield Hallam University. Norman spoke about ways in which caterers could improve the services they offer in care homes, and about the matters of dignity and respect in later life which should be prerequisites to good care. He highlighted some ways in which care catering could be improved, such as providing trained staff to assist residents to make suitable meal choices, to assist residents who struggle to feed themselves, and to provide meals when they are required, as opposed to adhering to a strict timetable.
Our thanks go to all of the speakers, MPs, parliamentarians and attendees who were present, and to Vegetarian for Life and the Vegetarian Society as co-sponsors of the group. The next VegAPPG will be held in June, and will focus on the environmental impact of animal agriculture.