It's a football first! On World Vegan Day, November 1st, Forest Green Rovers are dedicating Saturday's Conference League match to The Vegan Society.
World Vegan Day will see The Vegan Society staff and members joining the crowds to cheer on Forest Green Rovers as they take on Lincoln City. However this is a match with a difference. Earlier this year club chairman, Dale Vince, suggested that Rovers host a match in aid of The Vegan Society for our 70th Anniversary, with all of the food served at the match being vegan.
We want you to join us at the match to celebrate this special day, so we have 20 free tickets to give away to members! All you have to do is email info[at]vegansociety[dot]com with your name and membership number or postcode, and include the subject line 'FGR'. The first 10 members to email us will each receive two free tickets for the match. Each ticket entitles you to free entry and a special vegan goody bag upon arrival!
The match kicksoff at 3pm, but members can join Vegan Society staff and special guests in the Carol Embrey Suite for the cutting of our anniversary cake at 2pm. The Vegan Society 70th celebration cake will be made by Leicester cake wizards 'The Vegan Cakery' who have been Trademark holders for over two years and donate all their income to rescue and animal advocate organisations.
Our CEO, Jasmijn de Boo comments, "We are very grateful to Forest Green Rovers and their parent company Ecotricity for inviting us to join them for this 'first of it's kind' match, to celebrate the founding of a movement that is growing at an astonishing rate. I'm looking forward to cheering on Forest Green Rovers and hope that they have a extremely successful season leading to a much-deserved promotion to The Football League in 2015."
Forest Green Rovers have been promoting sustainability since they were taken over by Ecotricity in 2010. They hit the news and our TV screens when Sky Sports News and the BBC covered their switch from hot dogs and meat pies to a completely vegetarian menu. The cameras showed the shock on the faces of fans when they realised the burgers they were eating were completely meat free. The players have been following a vegetarian diet as part of their training plan.
Dane Vince, Stadium Manager says: "Here at Forest Green Rovers we are looking forward to celebrating with The Vegan Society for their 70th birthday. We are introducing a special menu for the day to raise awareness. It's about promoting the football and welcoming Vegan Society members."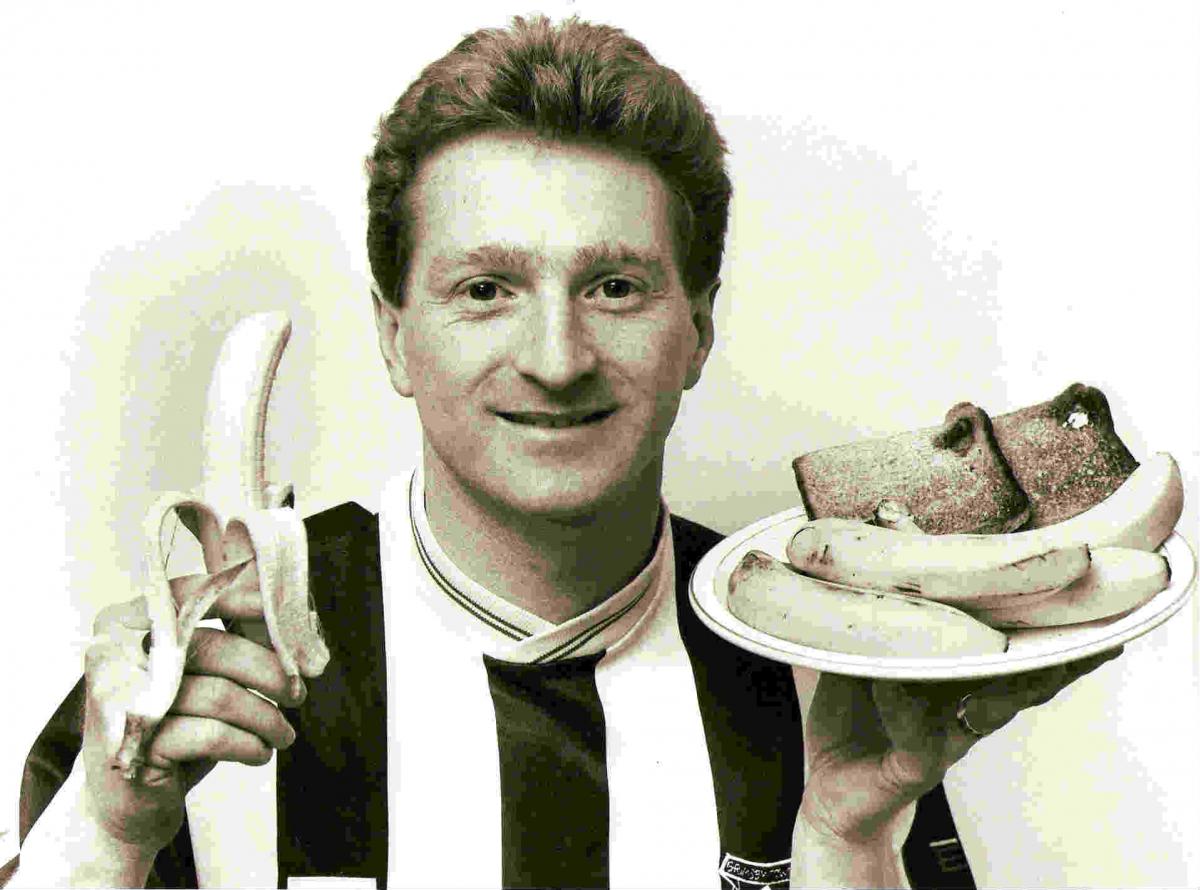 The world's first professional vegan footballer will also be appearing at the event to give a half time talk to gathered fans. Neil Robinson was born close to Everton's ground in Liverpool in 1957 and was already vegetarian when he joined the Goodison Park club at 16. His move to Swansea City in 1980 coincided with switching to a vegan lifestyle. The 5th September 1981 is a key date in vegan sporting history as Neil scored for Swansea against West Bromwich Albion; the first goal scored by a vegan in a top-flight match, and only four miles from the current home of The Vegan Society. Since retiring from professional football in 1990 Neil has been on a nationwide tour, giving a variety of talks at major events across the country. Neil maintains a high level of personal fitness and strength and offers guidance on extending sporting ability through a plant-based diet.
The pitch on which Neil will stand to give his half-time talk is the world's first organic pitch and it is kept in perfect condition thanks to a special compost tea feed and the club's rainwater harvesting system. The office lighting is powered by solar panels and the floodlights uses electricity from Ecotricity. The grass is cut by a robotic mower also powered by solar panels. Rovers have plans to replace their current floodlights with arrays of LED bulbs that will reduce energy consumption by as much as 60%