The Vegan Society works towards making veganism an easily adopted and widely recognised approach to reducing animal and human suffering

Below, a select few from our small but dedicated team working tirelessly to promote veganism explain the many different ways they get the job done.
Amanda

Senior Advocacy and Policy Officer

"I cover three main areas – advocating on behalf of vegans in vulnerable situations; lobbying policy-makers and elected politicians to consider plant-based, vegan-friendly solutions; and getting vegan-friendly policies into practice in organizations including hospitals, care homes and schools.  For example, we are lobbying for the UK Government to subsidise healthy fortified plant milks in the free school milk scheme.

I attend important events such as Food Matters Live – a major show exploring the relationship between food, health and nutrition – to champion stockfree growing and plant protein for healthy, sustainable, inclusive and compassionate nutrition in a debate about 'lab grown meat' and 'insect farming'. I liaise with the Hospital Caterers Association, and the BDA – the Association of UK Dietitians, to bring vegan-friendly nutrition to every health care user and hospital in the UK. I advocate on behalf of those raising children on a vegan diet, informing health care professionals on healthy breast-feeding and weaning in order to keep babies with their guardians. I also am working towards getting vegan-friendly meals into every school."
Please become a member to help Amanda carry on their work. They need your support to advocate on behalf of those raising children on a vegan diet. 
George 

CEO 



"I develop the Vegan Trademark and encourage more companies to get their products registered. With an increased global interest in veganism, our registered logo gives veganism even more exposure on high streets, in restaurants and on websites all around the world. When a product is successfully registered with our trademark, it encourages their competition to match their vegan credentials, which ultimately creates more vegan products. The Vegan Trademark has even instigated big businesses to go back and change their formulations in order to ensure that the end product is vegan-friendly and can be registered by us, thus reducing would-be animal suffering enormously.

By purchasing products registered with the Vegan Trademark, you are investing in the future of a market which is free from animal products and free from animal testing, which in turn has the potential to save the lives of millions of animals around the world."
Heather Russell 

Dietitian 

"I help to ensure that The Vegan Society's nutrition information is practical and up to date, and regularly answer phone and email queries about healthy vegan living. As a registered dietitian with NHS experience, I am used to helping people on a daily basis, and it's great to be supporting the vegan community."
By becoming a member, you'll help Heather be able to continue to provide up to date nutrition advice for new and struggling vegans.
Alex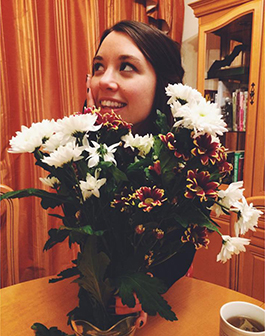 Volunteering and Engagement Manager

 "I recruit and work with hundreds of our valuable volunteers and provide the resources to support them in their vital vegan outreach work: whether they're promoting veganism via street stalls, vegan potlucks and other social events, or going into schools to demonstrate to younger generations that veganism is a compassionate choice for animals, people and the planet, this work is critical to expand and develop the vegan movement."
Do you want to make sure Alex can keep on inspiring grassroots activists by providing training, resources and grants? Become a member today.
Sarah Cook 

Office Manager

"I keep the office running smoothly, and make sure the team have everything they need to do their jobs effectively. I'm the person you are most likely to speak to if you call or email us. I answer queries from vegans old and new, the general public and businesses, helping people understand veganism and giving folks ways of going (and staying) vegan. I often have a parent on the line asking what to feed a newly turned vegan and by the end of the call I've convinced them too!" 
Let Sarah continue to help and inspire new vegans: become a member.
Andy

Supporter Services Officer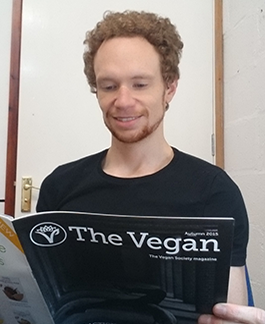 "I enjoy attending events where we can talk to novel and unlikely audiences about veganism, as well as signing up new members and seeing our current members renewing. The more people we have behind us, the more influential we can be, thus the bigger impact we can make."
Can you support us with this work, thus helping us achieve our goals? By becoming a member, you allow us to do all this and more. As we expand our team and resources with your help, we can aim to achieve our vision of a vegan world.