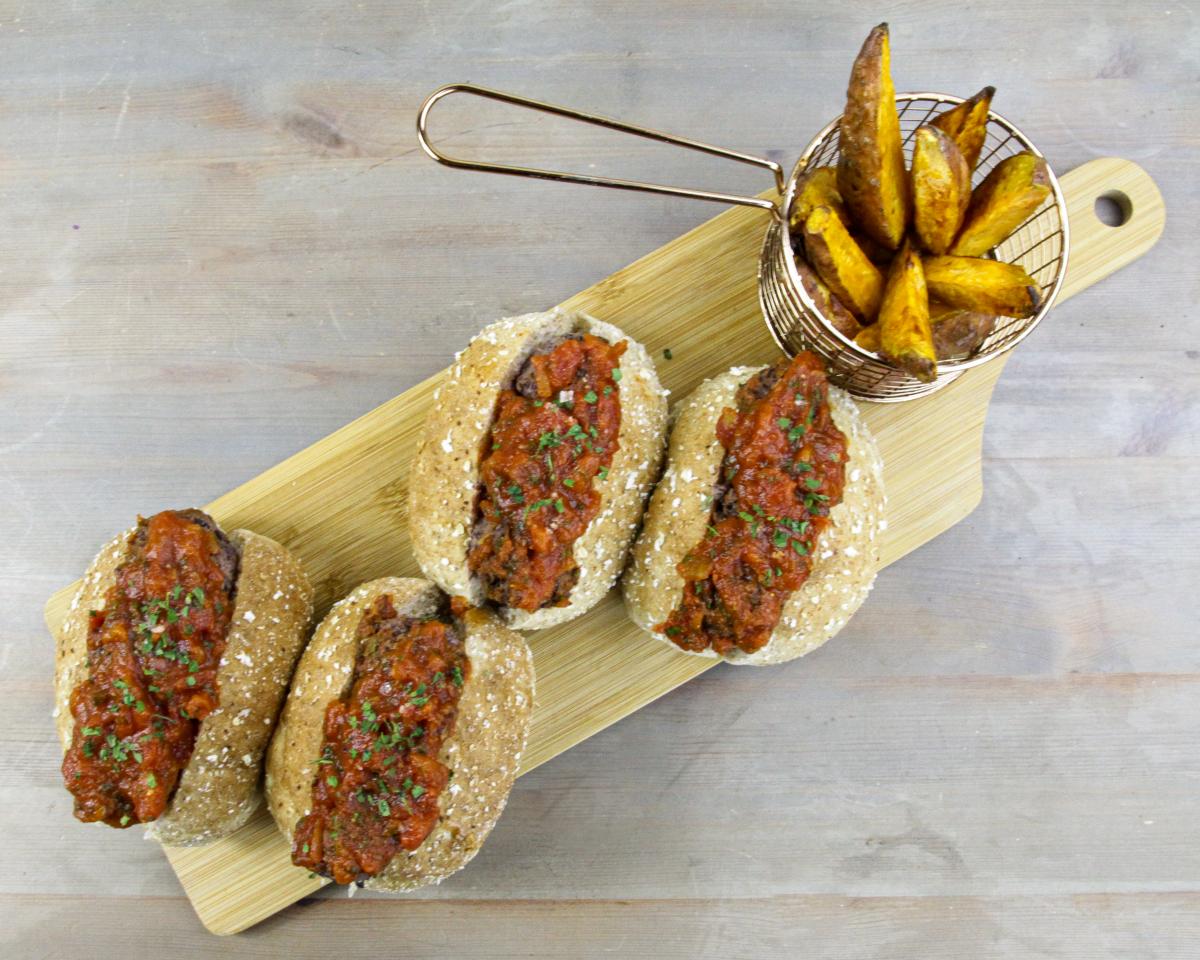 Ingredients

For the beanballs

2 tins black beans, drained
1 clove garlic
1 carrot, peeled and grated
1 red onion, finely diced
50 g frozen peas
20 g chia seeds
50 g gram (chickpea) flour
1 tbsp chopped fresh coriander
Black pepper, to taste
For the sauce

1 tin chopped tinned tomatoes
1 clove garlic
2 tablespoons tomato puree
1 tablespoon chopped fresh basil
To serve

4 sweet potatoes cut into wedges
1 tbsp vegetable oil
4 wholemeal sub rolls
1 tsp smoked paprika
Method

Put the ingredients for the black bean meatless balls into a food processor and pulse to combine. Divide into 30 g balls and place into an ovenproof dish, leaving space between each ball.
Put all of the sauce ingredients into a saucepan and bring to a simmer. Cook for 5 minutes and season.
Mix the sweet potato wedges with the oil and smoked paprika and place onto a lined baking sheet.
Pour the sauce over the meatless balls and place them and the wedges into an oven preheated to 180°C. Cook until the wedges are coloured and soft and the meatless balls are firm.
Serve the meatless balls in the subs with the sweet potato wedges. These also go great with wholemeal spaghetti.
Nutritional analysis per serving (1/4 recipe)
| | | | | | | | |
| --- | --- | --- | --- | --- | --- | --- | --- |
| Kcal | Carbs (g) | Fibre (g) | Protein (g) | Fat (g) | Saturates (g) | Sugars (g) | Salt (g) |
| 548 | 106.3 | 19 | 17.8 | 8.1 | 1.3 | 20.7 | 1.24 |