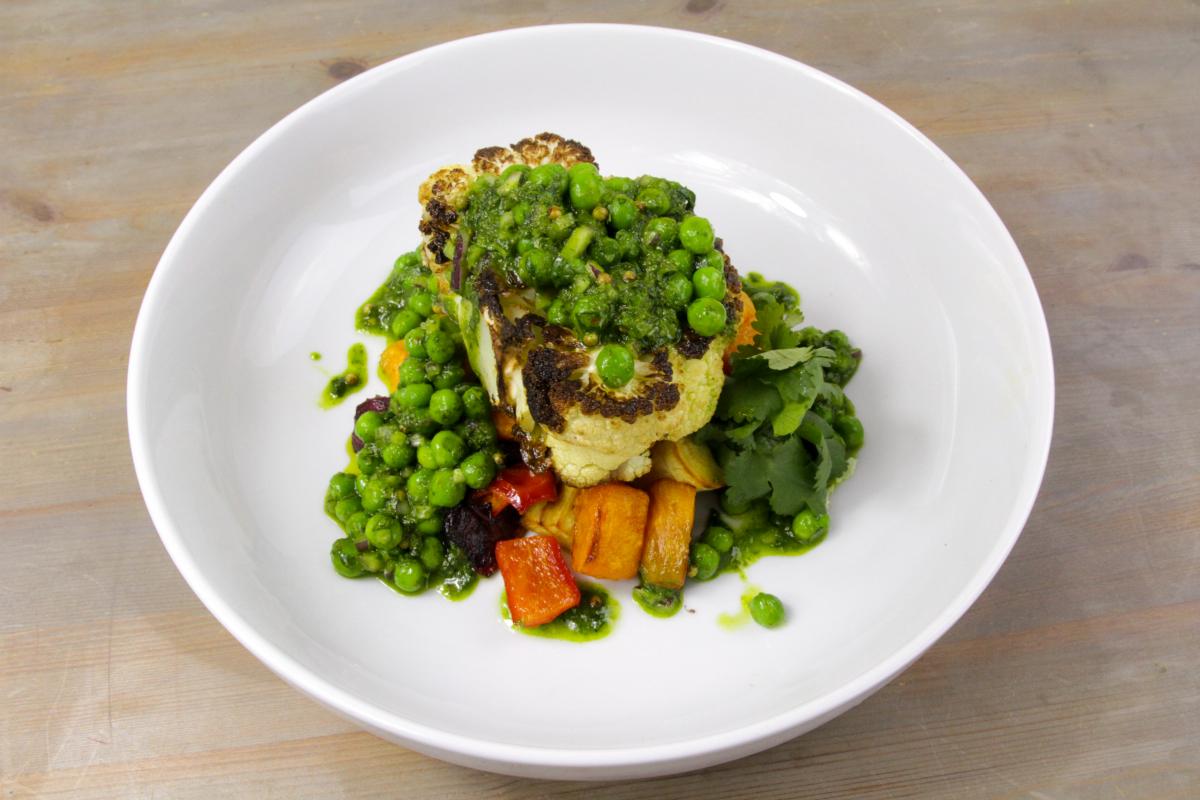 Ingredients

For the chimichurri sauce

2 tbsp water
2 tbsp white wine vinegar
½ tbsp sugar
1 red onion, fine dice
1 tsp coriander seeds
1 tsp caraway seeds
½ tsp dark mustard seeds
1 bunch fresh coriander, chopped
50 g flat leaf parsley, chopped
1 clove garlic
1 green chilli, fine dice
3 tbsp vegetable oil
Black pepper, to taste
For the steaks

1 sweet potato, diced
2 red peppers, diced
1 large carrot, peeled and diced
1 large parsnip, peeled and diced
2 fresh beetroot, diced
1 large cauliflower
Spray oil
Black pepper, to taste
300 g frozen peas
Method 

For the chimichurri sauce

In a saucepan, heat together the water, vinegar and sugar until the sugar has dissolved. Add the onion, coriander seeds, caraway seeds, mustard seeds and bring to a simmer. Remove from the heat and allow the flavours to develop. To finish the sauce, add the rest of the ingredients to the onion mix, combine thoroughly and season to taste.
Store in an airtight container in your fridge for up to two days. It's best to make this sauce in advance so the flavours have a chance to develop.
For the cauliflower steaks

Mix together the sweet potato, pepper, carrot, parsnip and beetroot and roast in the oven. 
Cut the cauliflower into two 1" thick steaks, reserving the trimmings for another dish. Spray the steaks with the oil and season.
Heat a large frying pan over a medium heat and add the cauliflower steaks to the pan. Cook the cauliflower until it has coloured well on both sides. You may need to add 100 ml of water to the pan at this stage so the steam cooks the cauliflower through.
When cooked, remove from the pan and add the peas and some chimichurri sauce and heat through. Serve the cauliflower steaks on top of the roast veg and dress with the pea chimichurri.
 
Nutritional analysis per serving (1/4 recipe)
| | | | | | | | |
| --- | --- | --- | --- | --- | --- | --- | --- |
| Kcal | Carbs (g) | Fibre (g) | Protein (g) | Fat (g) | Saturates (g) | Sugars (g) | Salt (g) |
| 330 | 46.5 | 16.0 | 12.7 | 12.1 | 1.1 | 28.4 | 0.27 |