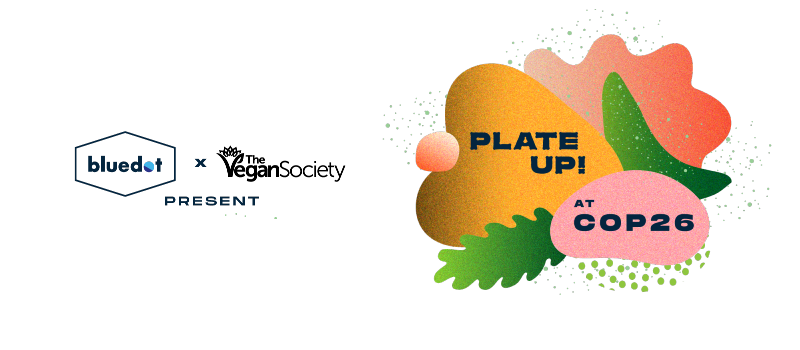 Read all about the events artists and contributors performing at the bluedot x Vegan Society Plate Up! Fringe Festival, featuring panels, live music, DJ sets, comedy and spoken word.
Don't miss out! Get your tickets now. 
Comedy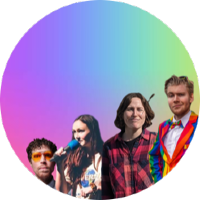 "The Diversity Quota is Glasgow's most diverse and varied comedy night; championing and celebrating the diversity of Scotland's rich tapestry of talent. The Diversity Quota strives to give platforms to performers from all backgrounds and to actively cultivate a space that's always varied, welcoming, and safe for all artists."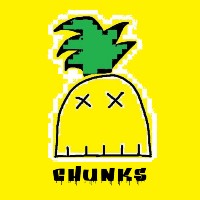 "When we set up CHUNKS back in 2014 the idea was to run a night dedicated to utter unashamed silliness. We wanted it to be fast, chaotic, energetic, and crucially not feature any traditional stand-up. It was set up to be somewhere all the funny people we'd got to know on the Scottish comedy scene could let their hair down and do whatever they wanted. 
It makes me so happy to see the night we thought wouldn't get to show #2 is now its 7th year. Annually, we now programme an entire venue for the Glasgow International Comedy Festival to create CHUNKStival – a sensational line-up of alternative comedy acts and experiences. Its growing cult appeal and live reputation has allowed us to bring in more brilliantly funny and unique acts from across the country and south of the border. 
It's the thing I looked forward to most every month and missed dreadfully through the pandemic. I hope it's given the audiences as much uncontrollable laughter as it's given me. Through CHUNKS I've witnessed moments of inspired insanity that are now forever burned into my brain and for that I'm glad." – Donny Vostok (Co-creator of CHUNKS) "
Panels and talks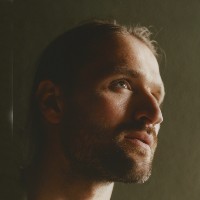 "Hayden Thorpe is the Cumbrian solo artist, formerly of Wild Beasts. Following the release of critically adored Diviner (2018) Hayden presents his second album Moondust For My Diamond, released on 15 October 2021. In Hayden's words: "I'm interested in the meeting point between science and religion, the grand struggle for reality that shapes so much of our time. Diviner was a record that very much favoured the inner world. With Moondust For My Diamond the gaze is outward. What about nature? What about the cosmos? What about all these things that break through the tyranny of the self? Our sense organs bring the world inside of us after all, I just had to sing it back out.
The pastoral evolution of last year's Aerial Songs EP hinted at an expanding palette that reflected Thorpe's return to the natural environment he grew up surrounded by. This new record is all about walking the mountains, feeling the earth beneath your feet and contemplating the cosmos above and within you."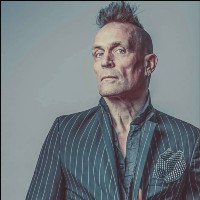 More information coming soon!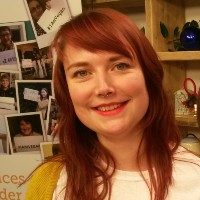 Elena Orde is Senior Communications and Campaigns Officer at The Vegan Society, and Editor of The Vegan magazine. She leads on multiple public-facing campaigns and works closely with creatives across a range of disciplines to bring our messaging to life and inspire long-lasting behaviour change.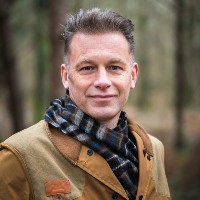 "Chris Packham is one of the UK's leading naturalists and wildlife TV presenters, inspiring audiences young and old to take notice of, get involved with and care for our natural environment. He is currently one of the hosts of BBC 2's Springwatch, Autumnwatch and Winterwatch. His autobiography, Fingers in the Sparkle Jar was a number 1 Sunday Times bestseller, and a Radio 4 Book of the Week.
As a campaigner Chris is a vociferous opponent of the badger cull, HS2 and has called for the banning of driven grouse shooting. Along with Mark Avery and Ruth Tingay he is a founder of Wild Justice, an entity which seeks legal reforms to protect the UK's wildlife. In 2018 he organised the 'Peoples Walk for Wildlife' and collated 'A Peoples Manifesto for Wildlife'. He was awarded a CBE in 2019 for services to conservation."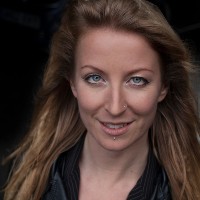 "Claire is a pioneer for sustainability in live music and events. Co-founder of A Greener Festival (AGF) in 2006, setting the standard for green events certifying hundreds globally for 'A Greener Festival Award', from Glastonbury to Roskilde Festival. Claire created the Green Artist Rider with Paradigm Agency in 2019, delivers sustainable events training globally, consults with major music, sports and events organisations for their sustainability strategy and actions, and has a network of trained AGF Assessors in over 30 countries.
Claire is organiser of the annual Green Events and Innovations Conference (GEI), established in 2008, in partnership with the International Live Music Conference (ILMC), London.
The Greener Arena and Greener Tour certifications were spearheaded by Claire, working with agents, promoters, artists and major venues (including home of COP26 – the SEC), uniting the industry towards common sustainability targets and actions. As Head of Consultancy at AGF Claire advises the RHS, World Air Race Championships, is Sustainability Director for the Queens Platinum Jubilee Pageant, sustainability advisor to LIVE Green, and Chair of the Association of Electronic Music's Green Working Group.
Claire is Show Producer and Aerial Performer with Arcadia Spectacular at Glastonbury Festival and international tours, and Director of the not for profit arm "Arcadia Reach CIC". Formerly General Manager of the Association of Independent Festivals; and flew off the London Olympic Stadium roof dressed as a Mary Poppins in the 2012 Olympic Opening Ceremony, to defeat Voldemort with a brolly."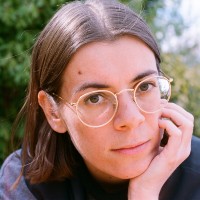 More information coming soon!
Music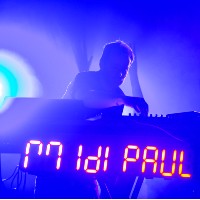 "Midi Paul is the alter ego of Edinburgh bassist/producer Phil McBride. Expect stuttering drums, spliced up disco, wobbly arpeggios, and some computer funk. The debut EP 'Old Future' was released in June 2019 on Precog records and featured guest contributions from Nikki Kent (Digital Jones/Nik Nak) and Katherine Aly. It received play on BBC radio Scotland by Vic Galloway, BBC 6 Music and was well received by the wider electronic music community.
On stage, the music evolves like a DJ set but in place of the turntables you will get live bass, dirty analogue synths and old school breakbeats."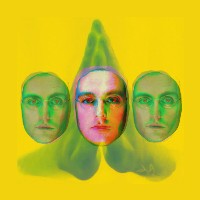 "Schooled on the writings of Guy Debord and a diet of Metro Area and Laurie Anderson, Pleasure Pool are a band that explore the intersection between performed live music and club culture through a mixture of Cage-ian improvisational techniques and hard dance-floor bangers. It's the iconic 80's New York discotheque Paradise Garage's business model in true skin and bone form."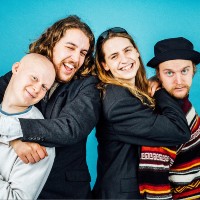 "First time I saw Bull was way back in the putrid summer of 2013. Just the shell of the man I am now my mum took me to the Arts Barge Tent at the Galtres Festival in Helmsley, it was raining so I was just happy to enter a sheltered area. In that tent is where I first laid eyes on the band, live in the flesh making noises I had only dreamed of after an intense day of eating creme eggs. These sounds, these vibrations, they caused a change in my 14-year body made me see the world in a different light. I started eating all my vegetables, started listening to Pavement, I threw all my top man v-neck tees away and most importantly of all I started loving myself. Since then, I have seen Bull countless times each time bringing me back to the life changing moment. And you can experience this change too, all you have to do is come on down to the Rumsey Wells on Saturday and get ready for some of the best noises that can be processed by the human brain." – Aled Vernon-Rees 2018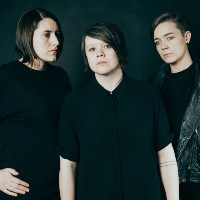 "Winners of the Manchester Evening News CityLife Awards Breakthrough Act 2020, LIINES are a post-punk three piece from Manchester – Zoe McVeigh (vocals, guitar), Leila O'Sullivan (drums) and recently joined by bassist Anna Donigan (Honeyblood; formerly-PINS).
LIINES formed in 2014 and has built a reputation as one of the most exciting acts to emerge from Manchester in recent years. 
They have toured with Sleaford Mods, supported the likes of Ash, Hot Snakes and Slow Readers Club. They've been handpicked by Tim Burgess for slots at Kendal Calling and Cotton Clouds. They were Glastonbury Emerging Talent Competition finalists (and performed twice at the festival). They were selected by BBC Introducing for bluedot festival. And they've received radio play from a number of Music DJs, Radio X's John Kennedy, BBC Introducing, Amazing Radio and more."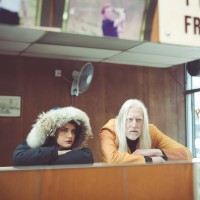 "David Wrench and Evangeline Ling threw absolutely everything at their 2018 debut album Now! (in a minute), a hectic, head-spinning blast of freewheeling freak-pop genius. On its follow-up Astro Tough, they've somehow found a way to ramp things up even further, concentrating their chaotic energy and inherent weirdness into a record that's bigger, deeper, and more powerful than even its predecessor."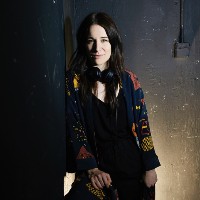 "Fay Milton is co-founder of Music Declares Emergency, a group of artists, music industry professionals and organisations that stand together to declare a climate and ecological emergency and call for an immediate governmental response. The group has now over 5000 signatories including some of the biggest artists, record labels, festivals, and live promoters in the industry. 
Fay is also drummer in the London-based post-punk band, Savages, and producer of new collaborative project 180dB. Savages have been nominated twice for the Mercury Prize and are critically acclaimed for their intense live shows."