Ingredients

Beefy Mushroom Stew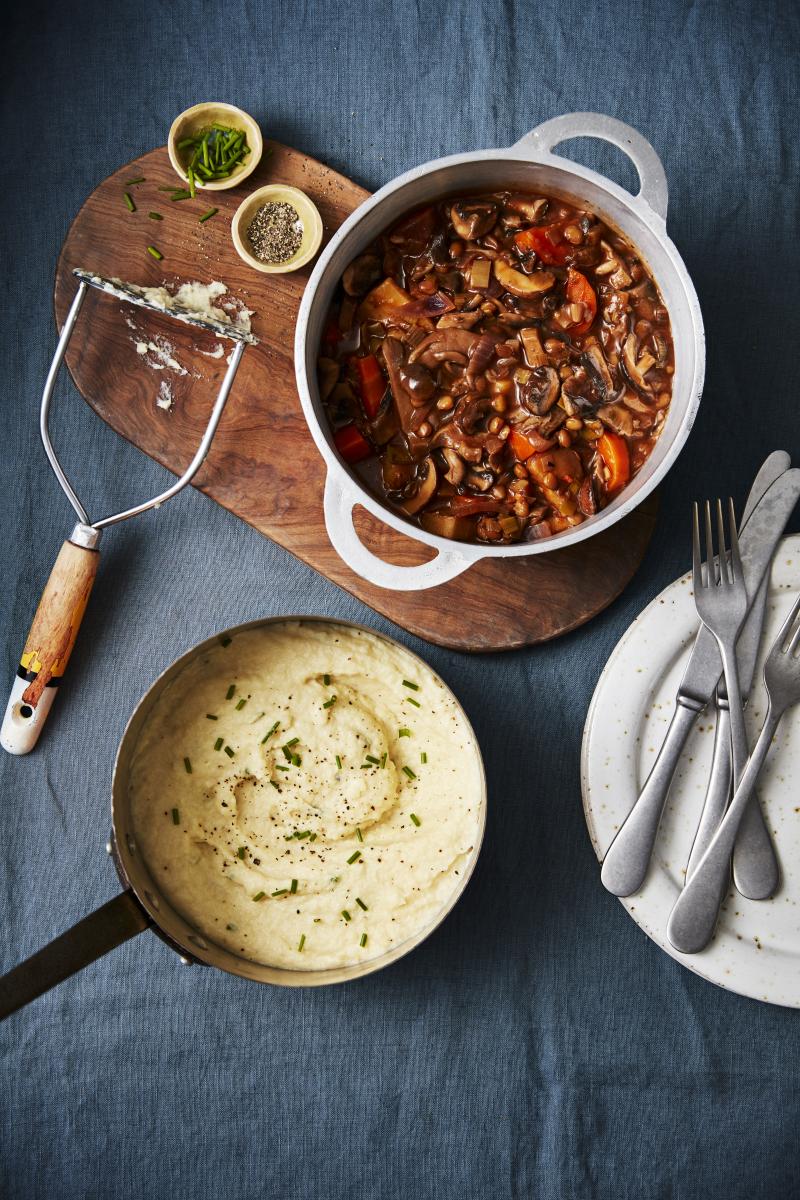 1 red onion, thinly sliced
1 carrot, peeled and sliced
3 garlic cloves, crushed
1 tbsp balsamic vinegar
1 tsp yeast extract or miso paste
1 tbsp tomato purée (paste)
300g/10½oz portobello mushrooms, roughly chopped
200g/7oz mixed mushrooms, such as shiitake or chestnut (cremini), sliced
2 tbsp plain (all-purpose) flour
350ml/12fl oz (1½ cups) vegetable stock
1 x 390g/13¾oz can of green lentils, drained and rinsed
a large handful of baby spinach, washed
Cauliflower Mash
1 large head cauliflower, broken into florets
2 tbsp dairy-free butter
2 garlic cloves, finely chopped
a small pinch of ground turmeric (optional)
4 tbsp unsweetened dairy-free milk
a small handful of chives, chopped
sea salt and ground black pepper
Method

Add the oil to a large frying pan over a medium heat and sauté the onion, carrot and garlic for 5 minutes, until softened. Add the vinegar, yeast extract or miso paste, tomato purée and mushrooms and cook for 10 minutes.
Stir in the flour until fully incorporated, then pour in the vegetable stock. Bring to the boil, then reduce the heat and simmer for a further 15 minutes, until the stew is rich and thick.
Stir in the lentils and spinach, allowing the spinach to wilt for a minute in the pan.
While the stew is cooking, make the cauliflower mash. Bring a medium saucepan of water to the boil and place a colander on top. Add the cauliflower florets to the colander and put a lid on top. Steam for10 minutes, or until they are very soft.
Drain the pan and add the butter and garlic. Fry over a medium heat for 2 minutes, then stir in the cauliflower. Season with salt and pepper, add the turmeric, if using, and add half of the milk. Mash well with a potato masher, or use a stick blender for a smoother texture, adding more milk if needed. Stir in the chopped chives.
Serves 4-6 / Approximate cost* per portion: £1.10
Recipe taken from Great British Vegan by Aimee Ryan, White Lion Publishing.
*Approximate cost based on 6 portions and calculated using average prices from three main supermarket retailers in the UK. Price data accurate as of December 2021.