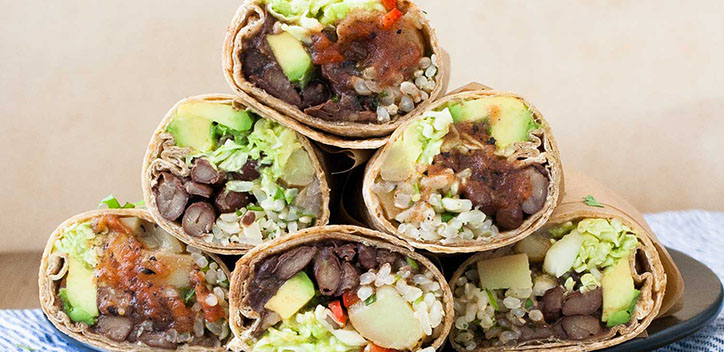 Ingredients

Rice

300 grams white rice, rinsed and drained
720 millilitre water
1 lime, juiced
30 grams coriander
Hash browns & onions

8 small red potatoes
1 red onion
2 – 4 tablespoons vegan butter or vegetable oil
Salt and Pepper
Black beans

370 grams black beans
1/2 teaspoon cumin
garlic powder
chilli powder
Avocado Slaw

1/2 avocado
2 limes, juiced
180 grams of purple cabbage
green cabbage or radish
thinly sliced 2 jalapenos, seeds removed, thinly sliced
Serving

4 large vegan flour tortillas
Salsa (optional)
Method

Add the rice and water into a saucepan and bring to a boil. Once boiling, reduce the heat to low, cover and simmer for 15-20minutes until all water is absorbed and the rice is fluffy.
As the rice is cooking, heat a saucepan to medium heat and add the vegan butter. Chop potatoes into small pieces and onions into small rings. Add these to the sauce pan, season with salt and pepper and then cover. Cook these for 5 minutes before flipping and cooking for another 5 minutes. Remove from heat.
Add the beans to a saucepan over medium heat and season with cumin, garlic powder, and chilli powder. When bubbly, reduce the heat to low to keep warm.
To make the slaw, mash together the avocado and lime juice, then add the cabbage and jalapeno and toss to combine. Season with a pinch of salt and set aside.
To the cooked rice, add the juice of one lime and the coriander. Toss to combine.
To soften the tortillas, warm in the microwave for 30 seconds or in a 180 °C oven for 1-2 minutes.
Add the fillings in any order. Roll up, slice in half and serve. Serve any extra potatoes, black beans or rice on the side along with salsa or additional avocado.
Serves 4
From the Minimalist Baker

A full English breakfast generates 2.1 times more CO2e than breakfast burritos.
Looking for more vegan breakfast inspiration? Then why not check out our tasty take on a classic fry up with this vegan English breakfast.