Harira soup is a delicious, nourishing, hearty and traditional soup from Morocco that is commonly 
served during Ramadan. It is a made up of a base of onions, celery, tomatoes, lentils, chickpeas and flavoured with spices such as garlic, ginger, cinnamon, and turmeric. It is usually served as part of a larger meal alongside dates, fruit and snacks such as pakoras. The recipe can be adapted to your taste by adjusting the spices. You can also add Rice instead of Vermicelli to the Soup and can use green lentils instead of brown lentils.
Serve 4-5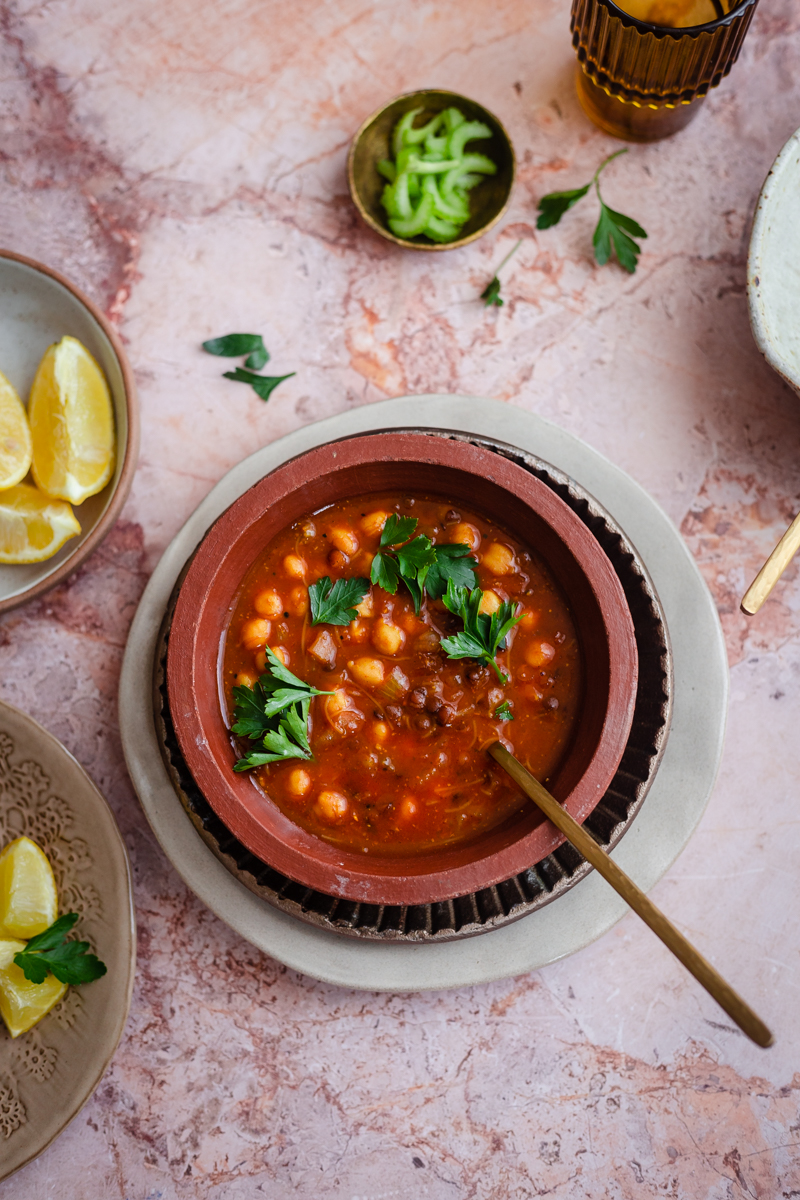 Ingredients

2 tbsp Vegetable Oil
1 Onion, sliced finely
1 Celery stalk, chopped
Salt
5 Garlic Cloves, crushed
1 tsp ground Black Pepper
1 tsp ground Turmeric
1 tsp Paprika Powder (I use Smoked Paprika)
1 tsp ground Cumin
1 tsp Ground Ginger
1/2 tsp Cinnamon Powder
1/2 tsp Cayenne Pepper
250g Plum Tomatoes, pureed
2 tbsp Tomato Puree
80g Brown Lentils
400g tin Chickpeas, drained
3 tbsp Cornflour
1.75 l Vegetable Stock
4 tbsp Vermicelli (Rice), broke into 2 inch pieces
Method

In a large pot, add oil over medium high heat.
Once hot, add the Onions, Celery and Salt. Cook till the onions are lightly golden (5 - 7 minutes).
Add the Garlic and cook for 1 minute.
Stir in the Black Pepper, Turmeric, Paprika, Cumin, Ginger, Cinnamon and Cayenne and cook for 2 minutes. Add a splash of water if it is sticking.
Pour in the pureed tomatoes and add the tomato puree.
Cook covered over low heat for 10 minutes.
Add chickpeas and lentils.
Add the Cornflour to the vegetable stock in a large jug/bowl and whisk till fully incorporated. Then add to the soup.
Bring to a boil, then turn the heat down and simmer covered for 30 minutes.
Add vermicelli and cook for 5 minutes.
Serve with lemon wedges.
Recipe development and photography by Safira Adam.