Friday, 17 September, 2021
Many of us use period or menstruation care products, or need to buy them for loved ones, but did you know, many commercial menstrual products can contain animal-derived ingredients (think fragrances and adhesives), and can be tested on animals? Luckily, we certify a range of care with the Vegan Trademark so you can choose products that are kinder to you, the planet and the animals.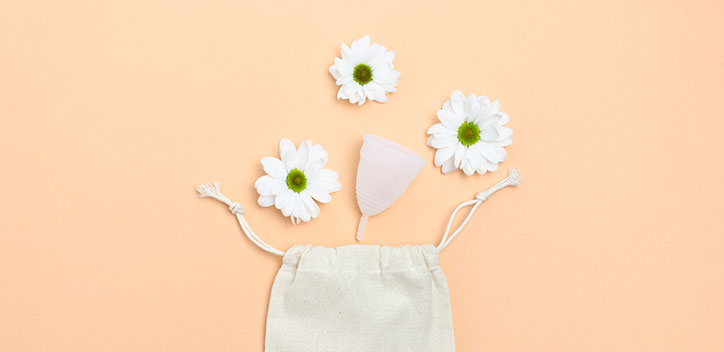 From pads and tampons to reusable alternatives and pain relief, check them out:
Pads and Tampons

TOTM Pads and Tampons
TOTM don't use unnecessary plastic, chemicals, dyes or fragrance that could cause discomfort and irritation to your sensitive intimate area. They have a range of care items including certified organic cotton Liners, Pads, Applicator Tampons and Non-Applicator Tampons (and cups). You can shop them at TOTM's website, Tesco, Superdrug, Ocado and ASOS.
Cheeky Pants Reusable Pads
Along with period pants, Cheeky Pants also offer reusable Cotton Cloth Pads – the first reusable pads to be registered with the Vegan Trademark! They're available in various patterns and sizes including Liners, Day and Night/Maternity.
DAME Reusable Pads and Organic Tampons
DAME makes periods positive for people and the planet. Their reusable period products including pads, liners, a dry bag and period pants (launching soon!) are all Vegan Trademark certified, along with their organic cotton, biodegradable and plastic-free tampons. DAME believe everyone who bleeds deserves to feel comfortable and confident on their period. That's why they've reimagined period products from the ground up and created comfortable, sustainable alternatives. They're chemical-free, carbon negative, and come in stylish packaging that you'll happily keep in plain sight. DAME is also a certified B Corp and Carbon Negative brand, and their cotton is GOTS certified. Shop on their website, or at Sainsbury's, Waitrose, Ocado, Boots, ASOS, Planet Organic and several independents.
Period Cups

Period cups are another sustainable and reusable option and there's no shortage of cups registered with the Vegan Trademark that are also taking part in some great initiatives!
Mooncup
The original silicone menstrual cup and Vegan Trademark certified since 2010! The Mooncup is now available for free in state schools and colleges in England as part of a wider initiative to tackle period poverty. Shop in two sizes at mooncup.co.uk or Boots.
Rubycup
Every Rubycup sold includes a donation of a cup to a person without access to safe period products. Available in two sizes and a range of colours at rubycup.com.
Lunette Cup and Cleansers
Lunette do some great work educating people on period awareness, inclusivity, and sustainability. They've delivered over 150,000 education booklets around the world, 500 education packs for healthcare professionals every year, donated over 30,000 cups and more. Shop Lunette in two sizes and various colours at Holland & Barrett and uk.lunette.com, along with their Cup Cleanser and biodegradable and compostable Cup Wipes (for when you're on the go).
TOTM
TOTM are helping the world be more period positive and they support Endometriosis UK and Binti International. They donate 1% of online sales to Endometriosis UK (that's over £20,000 so far) and they support Binti International through their donation checkout, subscription service, and workplace scheme. As well the as organic cotton pads, tampons and liners mentioned above, TOTM also have soft and flexible Menstrual Cups available in three sizes available on their website and at Tesco.
Hevea
Hevea's Loop Cup, available in three sizes, is a new and innovative menstrual cup, developed based on cup users' experiences and wishes for the ideal menstrual cup. It's made of natural rubber; a vegan, plastic free and biodegradable material which is flexible and soft, making it comfortable and healthy to use. The unique design makes for easy folding and insertion and removal again, with the loop stem ensuring a good grip. The anti-suction is designed to make for ease of use with and IUD.
AllMatters Cup and Cleansers
AllMatters (formerly OrganiCup) use their platform to elevate conversations about periods in a positive and factual way to help end stigma and taboo. They work with NGOs in developing and developed countries to ensure those in need have access to period products and receive menstrual health education. Shop their Menstrual Cup in three sizes, as well as their Cup Wash and biodegradable cotton Cup Wipes at allmatters.com and Holland & Barrett.
Period Underwear

WUKA Period Pants
WUKA make period pants that can replace disposable period products, preventing over 200 tampons and pads from polluting oceans or going to landfill per person. They're also working to help end period poverty by campaigning for the UK government to remove 'luxury' tax from ALL period products, regularly donating pants to those in need and lowering the price of their products. The pants have integrated absorbent and leakproof layers which hold your flow. Shop them at wuka.co.uk, Sainsbury's, Ocado, Planet Organic, Whole Foods and independent retailers. Vegan Society members get 10% off at WUKA – become a member today.
Cheeky Pants
Cheeky Pants' reusable period pants come in range of styles, absorbencies, and sizes so you can just go with the flow. Pick a style or fill out their online questionnaire for a personalised recommendation from Team Cheeky. Their pants come in nine certified vegan styles from high-waist to low-rise, including Feeling Comfy, Pretty, Sassy, Fearless, Confident, Free, Cheeky, Sporty and Limitless. There's certainly something to suit all moods!
Vitamins and Pain Relief

VEG 1 Multivitamins
It's always important to maintain your recommended vitamin levels, especially during this time of the month. VEG 1 is The Vegan Society's daily vitamin supplement made for vegans and contains all the vitamins you need to be at your best – particularly during your cycle when you're battling period cramps, tiredness and a whole host of other symptoms. With VEG 1 now packaged in a completely plastic-free container and at just £2.20 per month, it's sustainable and cost effective. Buy them on our website or Etsy.
If the old hot water bottle trick doesn't do it for you when tackling period cramps or you want something more convenient, here are some other suggestions:
BeYou Monthly Patches
BeYou's discreet and lightweight cooling Monthly Patches give up to 12 hours of comfort and are designed to save you the inconvenience of bulky heat pads or refilling hot water bottles. They contain menthol and eucalyptus to provide pain relief and are suitable for use during work, sleep, exercise or travel. Shop them at beyouonline.co.uk and Cult Beauty.
Hemptouch CBD Oil
CBD can help to ease menstrual cramps with its anti-inflammatory and natural body relaxing effects. Check out Hemptouch's CBD Oil Gold in 300mg, 500mg, 1000mg, 1500mg and 3000mg or their CBD Peace & Harmony Spray. Make sure to understand and follow instructions carefully.
Chocolate
Whether it's for pain relief, cravings or to celebrate your body doing amazing things, there's always room for chocolate! Here's a small selection:
Is there a vegan period product you love that isn't certified by us? Let your favourite brands know you'd love their products to be verified by us to help others shop vegan with ease and confidence! Get in touch and ask them to consider applying for the Vegan Trademark.
By Vegan Society Brand Marketing Officer, Nishat Rahman.
The views expressed by our bloggers are not necessarily the views of The Vegan Society.