It's World Egg Day (13 October) and we're celebrating with thirteen vegan egg swaps to prove you don't need the real thing.

Whether it's utilising the magic of wholefoods or the countless Vegan Trademark certified products readily available in shops, there's a myriad of options. If you've not quite cracked it with egg alternatives, are a new vegan, or catering for vegans, read on for some gems that'll have you whipping up some delicious vegan treats!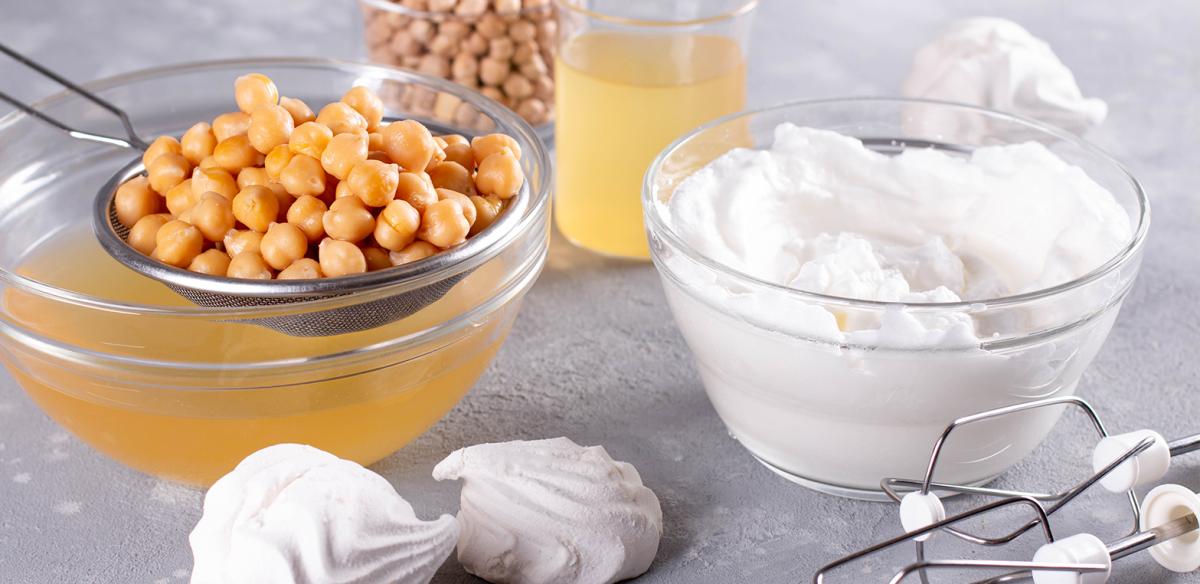 Chia and Flax Eggs

Hands up if, as a long-time vegan, your egg swap journey began with one of these two whole foods? They're incredibly easy to whip up and a great source of vegan omega 3.
Chia Egg

To make a chia egg, mix one tablespoon of chia seeds with two and a half tablespoons of water, stir and let it rest for five minutes to thicken, and your chia egg is ready for your eggless bakes and recipes! You can use Creative Nature's Vegan Trademark certified Organic Chia Seeds, available on their website, Ocado and independent health stores.
Flax Egg

To make a flax egg you'll need milled/ground flaxseed, such as Everyday Superfood's Organic Milled Flaxseed (shop on their website, eBay and Amazon). Combine one tablespoon of milled flaxseed with two tablespoons of water and allow it to sit for five minutes. Then, add to your recipe as you would an egg!
Banana Egg

This is another quick, easy and delicious (if you love bananas) egg substitute for vegan pancakes and French toast. Simply mash a ripe banana and mix into your pancake batter in place of eggs, or with plant milk and your desired spices and flavourings and dip your slices of bread in before cooking.
Aquafaba (aka Chickpea Water) Egg White

Another long-time vegan go-to! Swap chickens for chickpea water, and you've got your egg white replacer, ready to whisk, shake and mix into your bakes (vegan macarons, anyone?), cocktails/mocktails and cooking. Who knew the humble chickpea could be so versatile? Pick up a can of KTC chickpeas on your next supermarket visit, drain the chickpeas over a bowl (set the chickpeas aside for a savoury dish) and whip up the chickpea water until you have the desired whipped egg white-like consistency for your recipe.
You can also buy chickpea water (sans chickpeas) off the shelf in the form of OGGS Aquafaba. Their 200ml carton is great for home bakers and shakers, with larger 1L and 10L options that are ideal for professional bakers, manufacturers, chefs and bartenders. Available at Asda, Waitrose, Ocado, Holland & Barrett, Brakes, Vegan Store, TheVeganKind Supermarket and Freaks For Food. Their Aquafaba Guide has some fantastic tips.
Into mixology? Give OGGS' vegan Gin Sour cocktail a try, or their Oggnog to impress your guests over the festive season.
Readymade Whole Egg Replacers

The vegan food scene has come a long way! If you just don't have the time or patience to trawl the internet for weird and wonderful egg alternative recipes, you're guaranteed to find countless Vegan Trademark certified whole egg alternatives in your local supermarket, ready to buy and incorporate into your recipes. Whether it's for vegan cakes, quiches, scrambled vegan eggs and omelettes, pancakes and more, check out these:
OGGS Whole Egg Alternative

Fluffy scrambles on toast, savoury omelettes and quiches, creamy carbonaras, Yorkshire puddings and more are possible with OGGS' Whole Egg Alternative. Find your nearest stockist.
Crack'd No-Egg Egg

Made from all-natural pea protein to help you cook without eggs, Crack'd have created an award-winning No-Egg Egg replacer. The secret to vegan Yorkshires, gooey brownies and birthday cakes. Find your nearest stockist, get your spatula out and have some fun in the kitchen! While we're here, did you know Crack'd recently launched vegan no-egg quiches? They include Quiche Lorraine, Cheeze Broccoli and Caramelised Onion, and can be eaten cold or warmed in the oven.
The Tofoo Co

If you like your vegan scrambled eggs well done, you can crumble up The Tofoo Co's Extra Firm Naked Tofu, season with salt (and a touch of black salt for an eggy taste), pepper and turmeric and cook with some vegan butter. If you'd rather cut out the work, simply get your hands on their readymade Scrambled tofu. Find Tofoo at these stockists.
Clearspring Organic Tofu – Silken and Smooth

If you prefer your scrambles on the softer side, try silken tofu. Silken tofu also works brilliantly for recipes that require a dense but moist texture, such as muffins or pound cakes, and they're great for mousses. To make an egg replacement out of silken tofu, take 1/4 cup of Clearspring's Organic Tofu (shop at Sainsbury's, Waitrose and Ocado) per whole egg and pulse in a blender or food processor until smooth and silky. Then fold, whisk or mix into your recipes as required.
Custard Swaps

No need to lament over not being able to enjoy the delicious comfort of hot custard poured over your vegan cakes and crumbles because we have some readymade suggestions! Try The Coconut Collaborative's Vanilla Custard, available at Ocado, Sainsbury's and Waitrose, or Alpro's Vanilla Custard, available at Asda, Sainsbury's, Tesco, Morrisons, Waitrose and Ocado.
Pour them over your puddings, use them in trifles, or why not try your hand at vegan pastel de nata? If you try this – you MUST share the recipe with us!
Fizzy Pop Swaps For Sponge Cakes

We heard through the Vegan Society sunflower fields (our Teams chat) that you can use a can of fizzy pop in your cakes to make them rise in place of eggs! The trick is to use a fizzy lemonade for plain, vanilla or lemon flavoured sponges, and cola for chocolatey sponges. We've tried and tested cakes made by our staff using this method and we're pleased to report, it works!
Check out Gusto Organic's range of sparkling drinks including their colas, Sicilian Lemon with Yuzu or Sicilian Blood Orange for your orange flavoured cakes. Available via their website, Ocado, Whole Foods Market and more.
With so many delicious and exciting egg alternatives around, we hope you've been enlightened on how easy it is to eliminate eggs from your recipes and live a lifestyle that's kinder to our non-human animal friends. If you try any of the egg swaps we've mentioned in upcoming recipes or Halloween and Christmas treats, be sure to share them with us and tag @vegantrademark on Instagram and Twitter.
By Vegan Society Brand Marketing Officer, Nishat Rahman.
The views expressed by our bloggers are not necessarily the views of The Vegan Society.