Pregnancy and parenting are exciting and pivotal times in anyone's life, but they can be daunting, especially if you're a new or vegan parent for the first time. Luckily, there's time to prepare, and our trusted Vegan Trademark is here to make shopping for vegan parenting much simpler.

Whether you're impatient with excitement or feeling apprehensive and clueless, we hope our starter guide of vegan products helps you navigate vegan pregnancy and parenting with more ease. Everything is Vegan Trademark certified and, therefore, suitable for vegan parents and babies!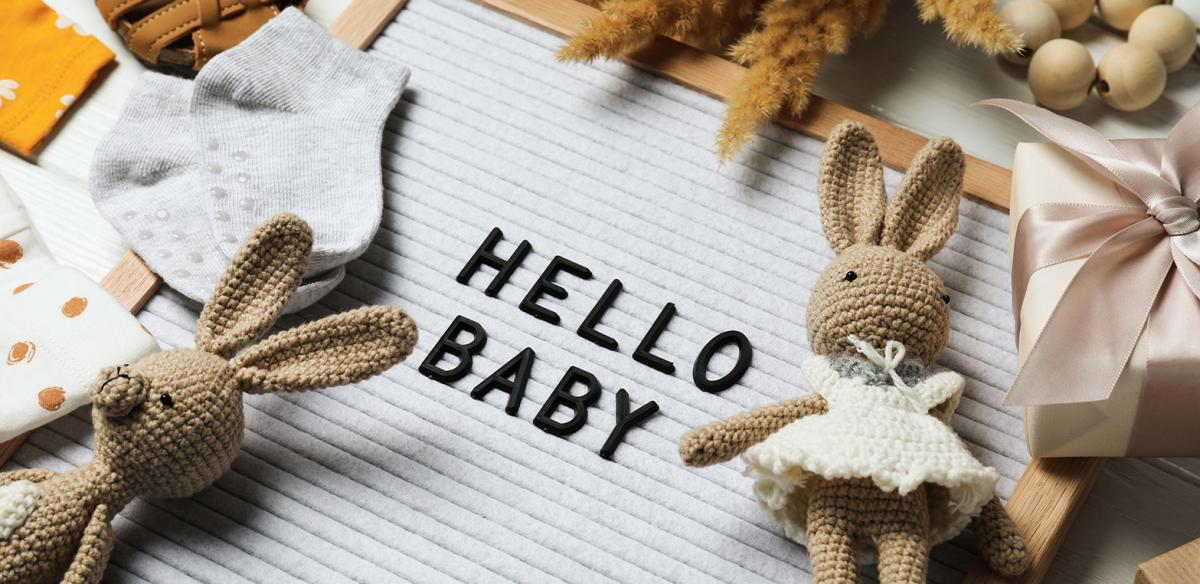 Vegan Pregnancy: Looking After You

You're in for a wild ride full of changes and new experiences. Making dedicated time for your own rest and well-being, as you will for your newborn, can support the transition to parenthood.
Nutrition – What To Eat When You're Pregnant

We don't have a list of all the best and healthiest foods to eat when you're pregnant, given the challenges of pregnancy-induced food aversions and nausea. If you are experiencing this, all you can do is try to eat the best you can. Here are a few essentials, however:
Pregnancy Vitamins & Omega-3

As well as taking additional pregnancy vitamins with the support of your doctor, you may want to consider omega-3. Omega-3 supplementation is an important consideration for children and those who are pregnant or breastfeeding due to its role in brain, nerve and eye development. You can obtain omega-3 fats DHA and EPA (normally found in fatty fish) by consuming rich sources of ALA daily, including walnuts, flaxseed (ground linseed), chia seeds and hemp seeds. Alternatively, if you're concerned about getting enough of those foods daily, Ethical Nutrition's Vegan Omega-3 supplement contains high-potency omega-3 oil derived from algae and provides 420mg DHA, 140mg EPA and 30mg DPA per serving.
Snacks & Drinks To Help With Nausea

Pregnancy hormones can sometimes leave you feeling a bit queasy and delicate at the slightest of things. Plain and bland flavours can be much easier to stomach, and making sure you always have a snack to hand can make things more manageable. Keep easy-to-grab foods like dates, nuts, and packaged snacks by your bedside and within reach throughout the day to snack on frequently. Try Asda's Multigrain Crackers, Free From Digestive Biscuits, Nim's Apple Fruit Crisps and Myrtle & Maude's Morning Sickness Vitamin B6 Bon Bons.
Staying hydrated is crucial during this time, so drink plenty of water, ensuring you take sips instead of big gulps. If you're a lover of hot drinks, try Myrtle & Maude's Organic Morning Sickness Tea.
Self Care

Feeling as relaxed and rested as possible will support you through the journey from bump to baby. Feel refreshed with Mama Mio's Megamama Shower Milk and Lotion, and enjoy long, not-too-hot soaks with Myrtle & Maude's Therapeutic Pregnancy Bath Soaks which also helps soothe stretch marks and itchy skin. As you're getting ready to welcome your baby, you'll be thinking more about what you put into and use on your body. Mama Mio's Oh Natural Pregnancy Deodorant is a gentle and pregnancy-safe option.
Moving onto products for birth and labour, you can help prepare your perineum for birth with massages using Mama Mio's Push Partner Perineum Oil, designed to be used from week 34 in pregnancy. If you're thinking of incorporating hypnobirthing techniques in labour and are able to use a diffuser, Tisserand's Clary Sage Essential Oil is a great option. Don't forget to make a playlist, too, with a mix of your favourite calming and motivating tracks to get you through the mighty task ahead.
Postpartum care

Stretch Marks & C-Section Recovery

We think stretch marks are beautiful! If they are something you personally would like to smooth out, or would like some products to help relieve the itchiness that comes with earning your tiger stripes, along with Myrtle & Maude's Bath Soak mentioned above, you could try the following during and after pregnancy:
Postpartum Bleeding

It's the last thing you want to be worrying about when you're looking after a newborn. WUKA Period Pants are a hassle-free, sustainable and comfortable option for postpartum bleeding. They can be worn for up to 8 hours at a time and are leak-free, so you have more time to spend with your baby.
WUKA recommend their Ultimate High Waist Heavy Flow Pants, which are particularly popular for postpartum bleeding and sit above where you may be recovering from a c-section. Their Ultimate Boxer Shorts are also recommended for sleeping in, with a gusset that sits high at the front and the back - one less thing to worry about when you're up in the early hours doing night feeds!
Postpartum Hair Loss

If you're worried about post-partum hair loss and experiencing poor-quality hair growth, stock up on Myrtle & Maude's Postpartum Hair Growth Mask and Tonic.
Naydaya's Crowning Glory is a multi-tasking goddess for your hair and scalp and can help reduce hair loss during and after pregnancy. They also have a Vagina Victory Oil for relief from discomforts caused by pregnancy and childbirth, and it's suitable for pre and post-natal perineal massages.
Feeding your baby

Exclusive breastfeeding is recommended by WHO (World Health Organization) for the first six months of your baby's life.
Be gentle with yourself and try products that could help make things a little easier if you're choosing or able to breastfeed, including:
If you'd like guidance on breastfeeding as a vegan or what to do if this is not an option for you personally, The Vegan Society's qualified dietitians have put together some useful information.
You'll also need to consider supplementation for your little one. Breastfed babies are recommended to take vitamin D drops from birth, such as Viridian Kids Vitamin D3 Drops. In the UK, it's recommended that all children aged six months to five years take a daily supplement containing vitamins A, C and D. Fortunately, The Vegan Society has developed a supplement for this age group. It includes a vegan source of the recommended nutrients plus vitamin B12, iodine and selenium specifically for vegans. Shop VEG 1 Baby and Toddler on our webshop, Etsy and eBay.
Baby Body Care

From nappies to bath time, here are some things to stock up on before your baby's arrival:
Nappy Changes

Dealing with soiled nappies is never going to be one of the perks of parenthood, but at least these vegan alternatives will be kinder to animals, even if the person on nappy duty feels hard done by!
Bambo Nature's Eco Nappies in sizes 0-6 as well as Overnight Nappies in sizes 3-6.
For baby-friendly wipes, check out The Cheeky Panda's Bamboo Baby Wipes and Bambo Nature's Wet Wipes - both biodegradable.
Contrary to popular opinion, being a baby is hard work; exploring a new world, all that sleeping, being fussed over, feeding through the night and soiling yourself on the regular, with the latter commonly leading to a sore bottom. Your baby will thank you (unlikely) for the relief from said ailment with Organii's Protective Nappy Cream or Childs Farm's Unfragranced Nappy Cream.
If you're incorporating reusable cloth nappies for some or all changes, get your Bamboo Nappy Boosters from Cheeky Wipes. Keep them clean and sanitised with Bio D's Nappy Fresh detergent.
For sanitising when you're out and about, try Bentley Organic's Mother & Baby Hand Cleanser.
Bath Time

Bath time can provide wonderful moments to bond and play with your baby. Here are some products that are not only kinder to animals but to your baby's delicate hair and body too:
Organic Cotton Baby Vests

We recently certified our first-ever vegan baby wear by Flourish! Their ethically produced vegan Babysuits are made using premium, organic, Turkish GOTS-certified cotton. Organic cotton has natural hypoallergenic properties and lasts longer as it washes and wears better than conventional cotton, as well as being more sustainable. Shop them on Etsy in a range of designs and colours. These are perfect for gifting, too!
Vegan dads and second parents

The role of fathers or second parents and birthing partners is so important to both the health of your partner and baby during pregnancy and post-partum. Ensuring you are healthy, eating well and rested will allow you to take the best care of your loved ones during this special but challenging life stage.
VEG 1

Keep on top of essential nutrients and vitamins by taking The Vegan Society's very own VEG 1 supplement made for vegans, by vegans, alongside a healthy and balanced vegan diet. Shop via our webshop, Etsy and eBay.
Gentle Skincare & Toiletries

Check out Green People's For Men range, made without harsh chemicals, or their vegan certified unscented toiletries like their Scent Free Bath/Shower Gel, for dads and second parents so you can get plenty of gentle and scent-free skin-to-skin bonding time with your little one.
Family & Friends

If you're a friend, colleague or family member of parents-to-be, all of the products we've mentioned would make for some great, practical gifts! Sharing this blog with them may be super helpful, too.
We hope you found our round-up useful. If you need more detailed information on pregnancy and breastfeeding as a vegan, don't forget to check out the guidance from our registered dietitians, and be sure to always consult your doctor or midwife if you have any concerns.
By Vegan Society Brand Marketing Officer, Nishat Rahman
The views expressed by our bloggers are not necessarily the views of The Vegan Society.