At last – the sun and the longer warmer days are back, and the wanderlust that goes along with this. If you are travelling to the south of Germany this season, one thing that should be on your to-do list is visiting the famous beer gardens. A tradition that goes back 200 years and delights tourists and locals alike.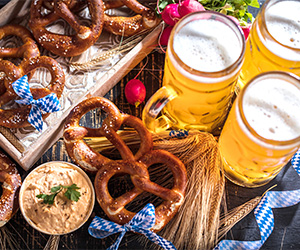 Beer gardens are not just outdoor pubs in Munich, they are a way of life, an institution. Sitting under big old trees, making friends with people you share the beer bench with and simply letting the time pass by just like the locals would do. But if you know Bavarian cuisine, you might be sceptical about how to have a great vegan experience that goes beyond some dry rolls, radish and the "Maß" (one litre) of beer.
The Vegan Trademark is an internationally recognised trademark, helping you easily spot vegan essentials wherever you are– especially handy when there's a language barrier!
Read on for our five tips on how to get the most out of your Biergarten visit as a vegan:

You have the choice of visiting the big biergartens, such as Augustiner Keller, Hirschgarten or Aumeister, all easily accessible by public transport and most likely will have at least one vegan savoury dish for you to enjoy. You could also choose a smaller & lesser-known establishment to immerse yourself into the foreign culture completely, learn some local phrases and get the local gossip from your table neighbours. You could even venture out of the capital and visit picturesque villages with beer gardens nearby such as Tutzing, Herrsching or the Schliersee. Public transport, such as buses, metros and suburban trains, will help you get to your chosen destination.

Once you decide on your Biergarten of choice, check their menu. Most biergartens will have little to no vegan choices. Especially in rural places, you may find it more of a challenge to have a good day out. We suggest looking for their menu on their website or social media channels to avoid settling for a portion of chips and ketchup. Luckily the German beer follows the "Reinheitsgebot", literally translated as the "purity order".  Due to this regulation adopted in 1516 in Bavaria, most beers are restricted to only four ingredients: water, barley, hops and yeast – making most traditional beer options vegan! Not a fan of beer? Do not worry, you will have a variety of beverages with and without alcohol that you can choose from.
While the Biergarten staple of a pretzel is usually vegan, always double-check with knowledgeable staff, as the brine might derive from animals. The same goes for some juices such as apple juice that might not be vegan friendly. However, the friendly staff will be able to clarify this for you.

While the pretzel and your choice of drink might not fill your belly, we have a little secret for you to avoid hunger and the disappointment of no vegan options on the menu: Thanks to King Maximilian I of Bavaria, since 1812, there has been no obligation to purchase food with your beer, but you are allowed to bring your own "Brotzeit" a small picnic (as long as you are buying a beverage from the beer garden itself). The Vegan Trademark has certified a number of tasty staples you can pick up for the trip – opt for the vegan and gluten-free seed loaf from Alnavit. Pair with the Gourmet Spread Mixed Peppers cream cheese from Simply V or try something more traditional such as vegan onion lard from Alnatura for your spreads. Add some snacks to your picnic basket, such as olives with garlic,  rice cakes, or mini pretzels . You can also fancy it up and create your own cold platter with some vegan Bavarian sausages or a spicy Chorizo, both from Wheaty. Well, now that sounds delicious!

Feel like you're missing out on trying local delicacies? Two of the popular Biergarten staples are potato salad and a camembert spread called Obatzda. With a bit of prep, you can enjoy these made vegan- here are two easy recipes to follow:
For the potato salad, cook up some peeled potatoes, add diced onions, salt, pepper, fresh parsley and some oil. For extra flavour, we suggest adding some vegan Turkish Sucuk slices. For the Bavarian cheese delicacy, Obatzta, mix your vegan spread and your choice of vegan camembert or some vegan grated cheese (both from Simply V)  together, chop your onion and add paprika powder, salt & pepper to taste. This spread pairs perfectly with a salty pretzel of course.

With all that delicious food packed, don't neglect protecting your skin, sitting out on those hot spring and summer days. A good sun lotion will protect you from getting a sunburn. And the After Sun Gel, both from i+m NATURKOSMETIK BERLIN will give you the cool aftercare that your sun skin needs. Stay fresh and hydrated with a mint lip balm you can pick up at Rossmann and an unscented, pure deodorant from Ben and Anna. We recently talked about the importance of skin protection on the blog – make sure to check that out!
All products listed are available in Germany in shops such as Edeka, Rewe, DM & Rossmann, and you can rest assured they are certified vegan, so why not try some new products while exploring a new place?
We hope you've gained some useful insights into experiencing Bavarian Biergartens while vegan. If you enjoyed this blog and want to share your stories about Biergarten experiences, make sure to tag @vegantrademark on Instagram or Twitter to join in the conversation. You can also follow us on Pinterest and follow our Vegan Travel Guides board to get inspired and plan your own trip.

By Ludmilla Schmidt, Senior Marketing Officer
The views expressed by our bloggers are not necessarily the views of The Vegan Society.