As some of you may remember, in June 2021 we re-launched our VEG 1 multivitamin with plastic-free packaging. Since then, a lot has happened! As we're celebrating our one-year plastic-free birthday, we've taken some time to reflect over the past year and share seven key highlights with you.
1.    First off, a big thank you

We had to start with our biggest highlight of all, our customers! In the past year since re-launching VEG 1, we have sold just under 144,000 pots. As a result of switching the packaging, we have saved 4032kg of plastic*! For context, that's roughly the weight of 8 polar bears, 9 grand pianos or two and a half medium cars. We're proud to see the small impact that the packaging of our product is having on the planet. And we'd like to say a massive thank you to everyone who supports our charitable work by purchasing VEG 1!
2.    Wherefrom leaders

The main driver behind our packaging switch in June last year was to make our product more sustainable. To help us with this journey, we signed up to Wherefrom.org, the sustainability review platform that allows users to rate products on factors such as packaging, ingredients, and quality. This gives our customers a chance to leave us feedback, and us a chance to listen and learn from it.
Wherefrom recently produced a vitamin and supplements report, and we're proud to say that VEG 1 was rated the most sustainable supplement product by wherefrom users. Scores were based on crowdsourced ratings out of 10, and VEG 1 scored 9, topping the leaderboard! After only being on the platform for a few months, this was such great news for us to receive and we're pleased that our customers champion the product as much as we do. Head to LinkedIn to see the full report.
We have loved reading your reviews on the platform over the last year and take on board every bit of feedback we receive. If you've not yet left us a review and would like to, you can do so here.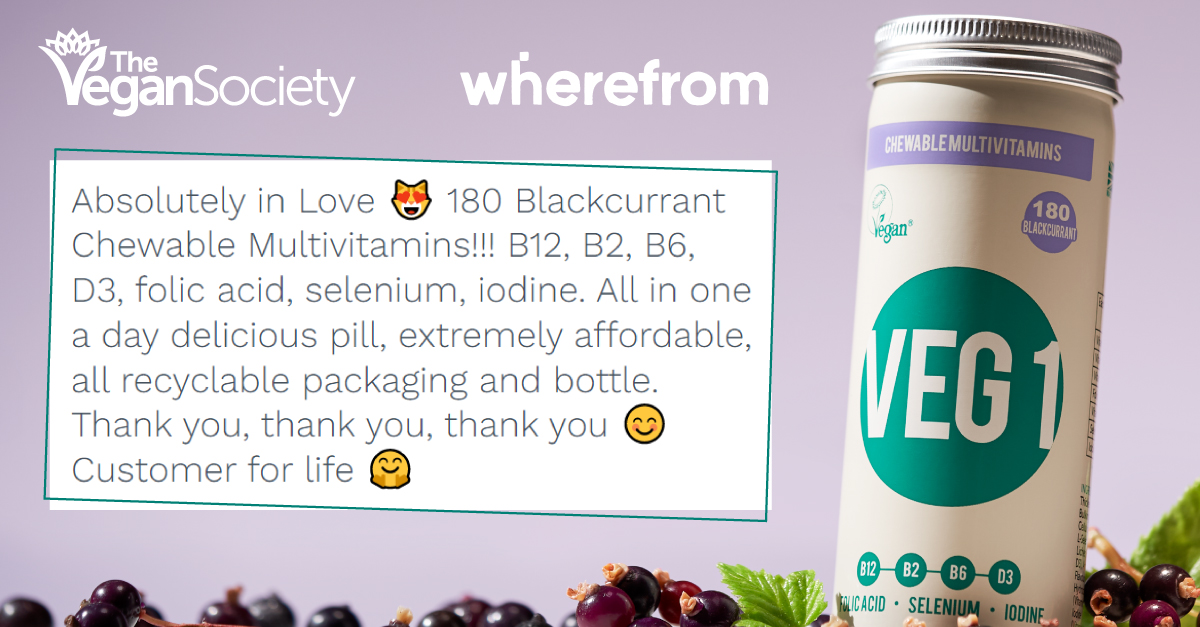 3.    Forest Green Rovers sponsorship

Forest Green Rovers (FGR) is described by FIFA as the greenest football club in the world due to being carbon-neutral and only serving vegan food registered with the Vegan Trademark. Towards the start of 2022, VEG 1 became an official sponsor of Forest Green Rovers, with staff from The Vegan Society attending a VEG 1 sponsored match and presenting the man of the match, Jamille Matt, with the vitamin supplement in the game against Mansfield. 
Not only was this a fun event for our staff to attend, but it was also a great opportunity to give VEG 1 the spotlight it deserves, and branch out to a new audience of eco-conscious football fans. We can't wait to continue our work with FGR!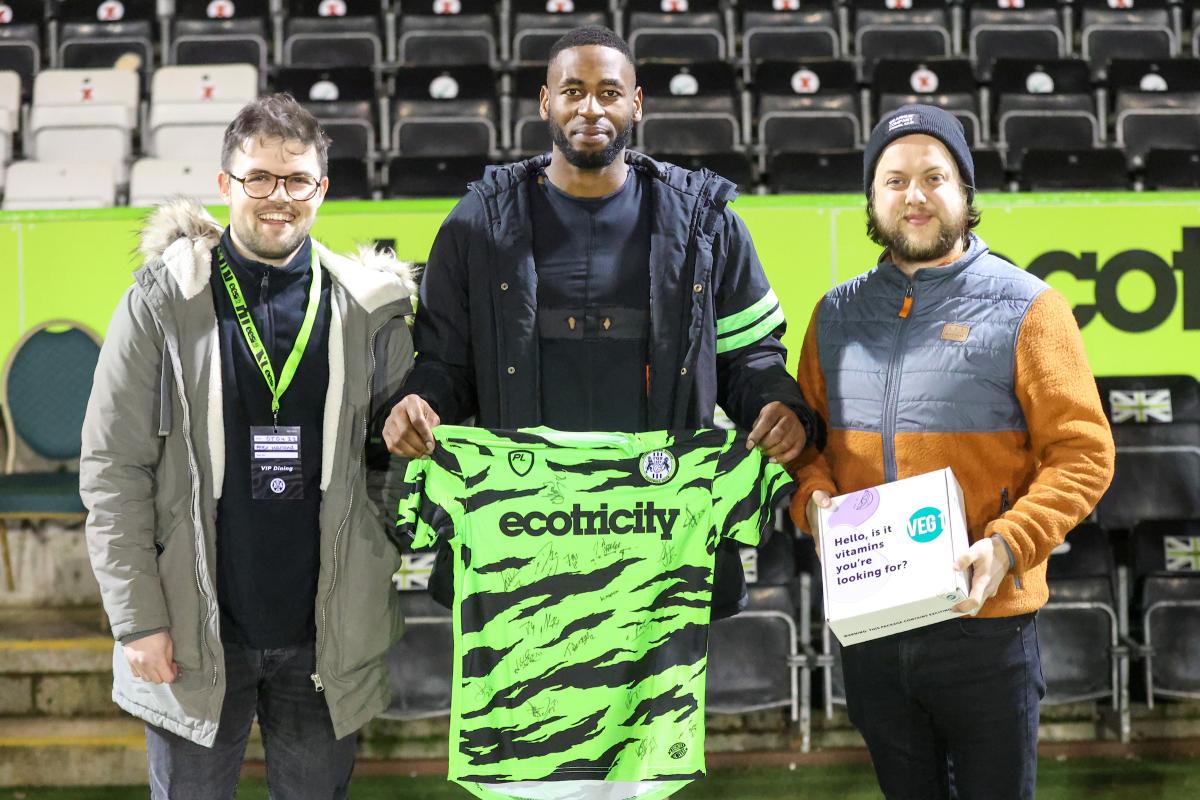 4.    We got crafty 

With sustainability at the front of our minds, over this past year, we have shared some creative and crafty ideas for re-purposing your VEG 1 tins. Although aluminium is one of the few materials that is infinitely recyclable, re-purposing and finding another use for your tin before recycling can be a friendlier option for the planet. Instead of buying a new pen pot, vase, or plant pot, you can save some money (and C02!) by using your old VEG 1 tin. We had so much fun giving our tins a makeover and sharing our ideas with you, and we've loved seeing yours even more. To everyone who shared and tagged us in their re-purposed tin, thank you!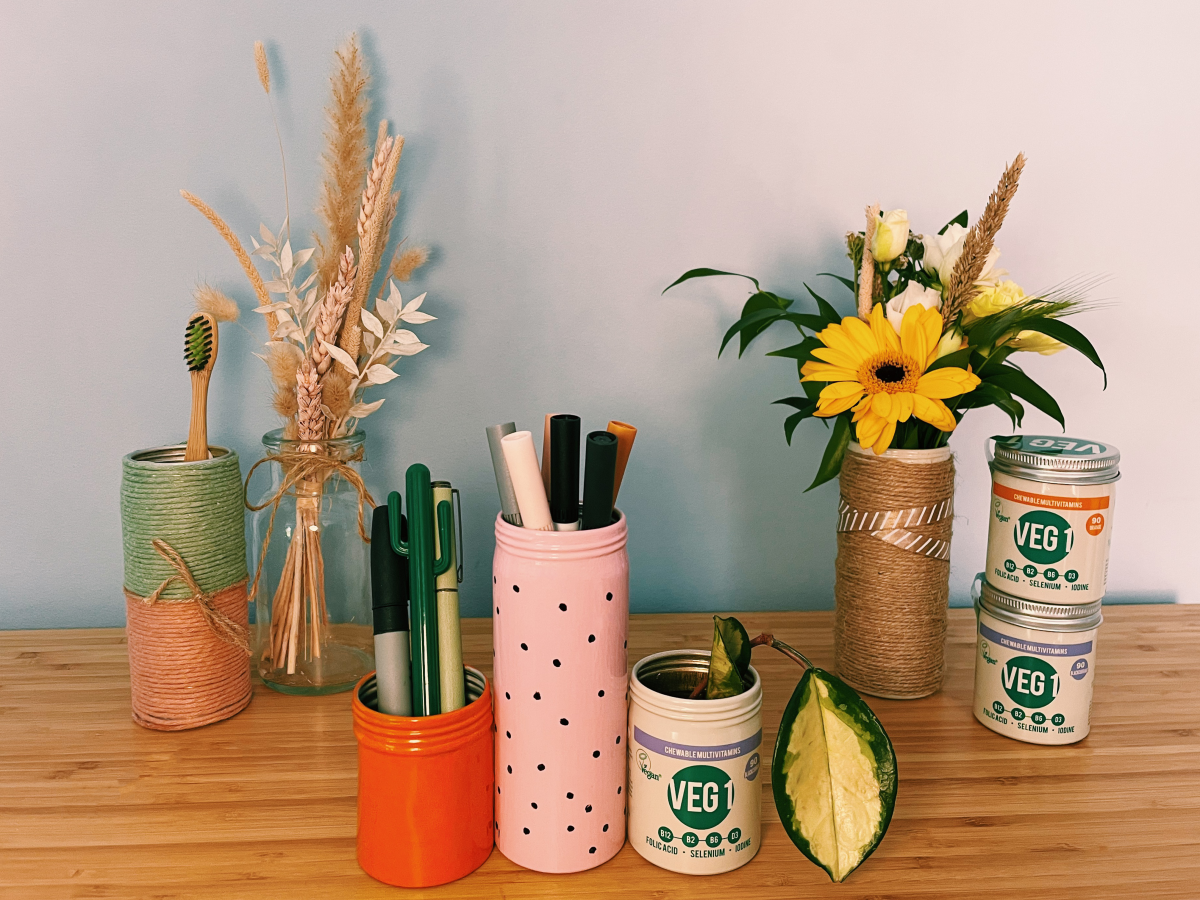 5.    Available to buy on The Vegan Kind

TheVeganKind is a one-stop-shop for everything vegan, that makes doing your weekly or monthly shop more fun than chores. It has everything you can think of, from food and cosmetics to cleaning products and animal companion care. The best bit is that it's all vegan, so you don't even need to double-check anything on there! TheVeganKind Supermarket has added a new addition to its shelves this past year, and we're so happy that you can now add VEG 1 to your TVK basket while shopping for your groceries and save on those postage fees. Check it out!
6.    Attending our first in-person events in over a year

From June 2021 to June 2022, we attended eight in-person events with VEG 1, from Just V Winter to Natural and Organic Products Europe (NOPE) and many in between. These events were not only our first with the newly packaged VEG 1, but also our first back since virtual events took over during lockdown, making them extra special. We love connecting with our customers and it has been a highlight of our year to hear your feedback on the new packaging face-to-face after seeing it physically for the first time.
We've got plenty more events to come for the rest of 2022, so keep a lookout for our stand. We will be at Vegan Life Live this weekend (11th and 12th June) and Just V London in July!
7.    Launched an Etsy store

Last but not least, we began selling VEG 1 on Etsy, and quickly became a bestseller and 'Etsy's pick'. We want to make your VEG 1 purchase as hassle-free as possible so that you could even do it in your sleep if challenged. Etsy is a loved platform and for good reason. It's easy to use and you can favourite items to buy later as well as review past purchases. Our hope is that having VEG 1 available to buy on multiple platforms will make it more accessible so that more and more vegans can reap the nutritional benefits that it offers.
All in all, it's been a great year for us in the VEG 1 team and we can't quite believe plastic-free VEG 1 is already one year old. Time flies when you're having fun! It's lovely to share some of our favourite highlights from the past year with you. Thanks for reading, and here's to constantly improving our product. We promise there are more exciting things coming soon!
*Calculated by multiplying the number of units sold this past year by the weight of an empty VEG 1 plastic tub.
 
Written by Beth Dandy, VEG 1 Marketing Officer
The views expressed by our bloggers are not necessarily the views of The Vegan Society.